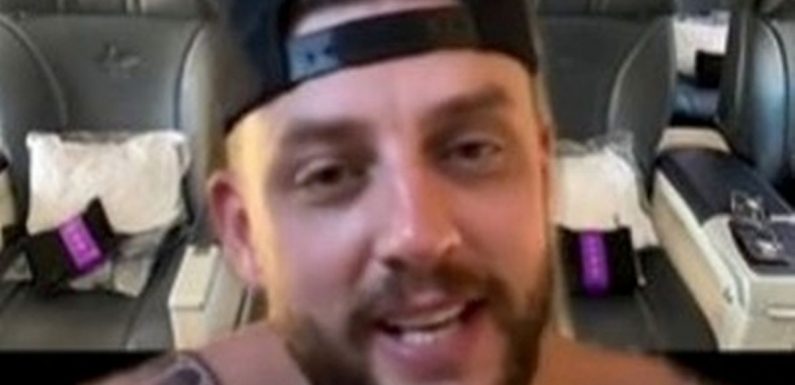 A business class passenger fuming that he wasn't refused a chance to swap seats with another bloke has split opinion online.
Jay Kloss, who posts online under the username @jaykloss_, filmed a video explaining that he was travelling with his girlfriend for her birthday but the pair were made to sit apart.
The bloke explained that he was sitting in the aisle seat on the right, while his girlfriend was sitting in the window seat on the left with someone sitting beside each of them.
READ MORE: 'I'm plus sized and love to travel the world – I just ignore the haters'
But the pair assumed they would be able to convince someone to swap seats with them so they could sit together – an assumption they would soon regret.
In the video, which had gained more than 6,000 likes, the bloke explained: "We have a real rant today, a serious rant. I encountered an absolute f***wit on the plane.
"So when I booked the flight – we booked Virgin business and there's only eight seats on the plane – Zoe booked there (on far left) and I was sitting here (aisle seat)."
He went on to explain that he asked the man, who had the seat booked next to Zoe, whether her "would you mind moving so I can sit with my missus, it's her birthday."
But the man ignored him – prompting Jay to continue asking him.
"I was like, 'I have this seat, it's sort of the same is it possible if you switch to here,' but he just doesn't respond and then he's like, 'No, I won't,'" he added.
Jay said the passenger said he would only move if he swapped with Zoe, who had the window seat – but Jay said that wasn't possible as she gets sick on flights and feels better in a window seat.
Zoe then asked the bloke if there was a problem – to which he replied: "'No, no problem just not moving.'"
The couple eventually were able to sit together as the passenger next to Zoe agreed to swap with her.
For the latest breaking news and stories from across the globe from the Daily Star, sign up for our newsletter by clicking here.
But Jay wanted to find out if he was the one in the wrong and posted the video to TikTok, which has now divided opinions among viewers who took to the comments to give their thoughts.
One user wrote: "Nah mate, you didn't book the seats together."
Another argued: "I'm so glad that guy didn't move for you."
A third commented: "You're in the right bro."
"This backfired on you dude," a fourth added.
READ NEXT:
'I'm a plus size travel blogger – I love my wetsuit but won't sit on plastic chairs'

Stunning influencer shows how models fake perfect beach snaps despite 'cellulite'

Plus sized woman 'in tears' over plane seatbelt – and cabin crew warn her to speak up

Plus size influencer says people 'don't need to shrink ourselves' to travel the world
Source: Read Full Article