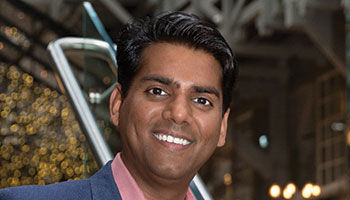 Boutique hospitality brand Ovolo, which has long had a foothold across Hong Kong and Australia, has stayed busy throughout the pandemic. In late 2020, the company took the restaurants across its Ovolo Hotels portfolio all-vegetarian. Over the past 12 months, Ovolo has opened a second Melbourne hotel, the Ovolo South Yarra, and its first Bali outpost, the Mamaka by Ovolo urban resort. With seven Ovolo Hotels and six properties under its By Ovolo Collective offshoot, the group is now eyeing further expansion. Hotels editor Christina Jelski recently spoke with Ovolo Hotels CEO Dave Baswal to get an update on where the brand may pop up next.
Q: On the heels of Ovolo's foray into Bali, what other new markets are you eyeing?
A: We've been nurturing this brand for 20 years and have done a lot of work to build our presence in Hong Kong, key cities in Australia and now Bali. We're family-owned and independently operated, and we're happy with where we are, but we think we've created something really unique and relevant in these markets and that it's time for us to go a bit faster and expand further. Obviously, we want to grow more in Asia-Pacific and cement our position here, but we're also now very open in looking for other opportunities. We'd love to go for destinations like Tokyo, Singapore, Bangkok and Phuket, [Thailand]. We've also just started our journey into Europe. We have started looking at assets there, and we're probably 12 to 18 months away from finding an entry into the European market.
Q: You mentioned Ovolo's unique positioning. Can you talk about what specifically differentiates the brand from others in the boutique lifestyle space?
A: Our hotels are focused on all-inclusive hospitality. That doesn't mean that all F&B is included, but your breakfast and a daily social hour event, [with complimentary drinks and light bites], as well as various other perks are all included in the experience. And everything in your room is included, whether that's WiFi or all the items within the minibar. It's an important differentiator for us, because we don't have a loyalty program. It's basically a long list of small things that we've included, but they're simple things that make a big difference for our guests.
Q: You've also committed to keeping the restaurants at your Ovolo Hotels-flagged properties 100% vegetarian. Is that expected to continue to be a brand pillar moving forward?
A: Absolutely. We plan to keep owning the space when it comes to vegan and vegetarian food. We love this space. We have very good know-how, and we're not doing it in a way that the majority of the market is doing it. We're creating a variety of experiences around vegetarian food, whether that's offering a vegetarian restaurant inspired by Tel Aviv or partnering with [celebrity chef] Matthew Kenney from the U.S. and celebrating the raw side of vegetarian cuisine.
Q: Parts of the Asia-Pacific region have lagged quite a bit when it comes to the pandemic-era tourism rebound. How has your portfolio fared?
A: It's true that some [Asia-Pacific] markets are taking longer to open and rebound, which causes some concern, but having said that, our hotels in Australia have done exceptionally well. Obviously, the landscape in 2020 and 2021, and even through January and February of this year, was challenging, but through March, April, May and June, occupancy has been strong, and for the month of May, our ADR was almost 7% higher than in 2019. And the restaurants are also full and doing very well. There are still labor challenges, and the cost of operating is slightly higher these days, but in terms of the bottom line, we're [on par with] or better than 2019 across the majority of our assets. 
Source: Read Full Article