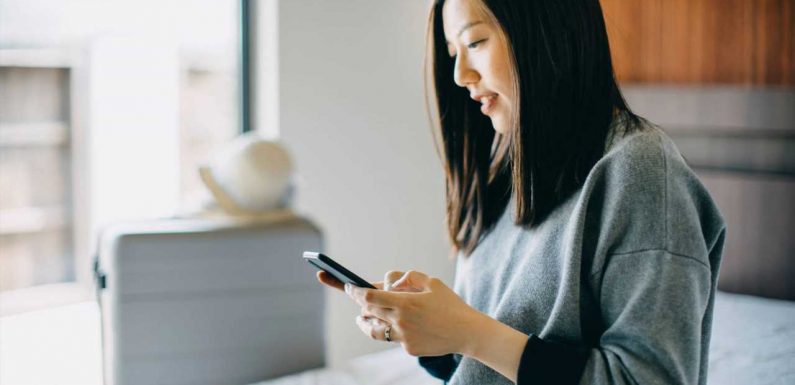 Load Error
Over the past year, flexibility has become more important than ever for travelers, and we've seen the industry respond accordingly. Some airlines dropped change fees, travel credit cards added new redemption options and travel companies such as Uber and Airbnb added new features — all centered around flexibility.
Travel planning and booking app Hopper is the most recent company to join the party as it releases a new feature for all app-users today: price freeze for hotels.
The new feature — which has been in beta but fully releases to all users on June 16 — allows travelers to search for hotels on the app and then pay a deposit to lock in that specific price for a specific window of time. If the price rises within the time between you freezing the price and booking your stay, Hopper will cover up to $100 of the difference.
"[Our customers told us] they wanted to travel, but that they didn't feel confident booking," Hopper's head of hotel fintech, Anwesha Bhattacharjee, told TPG. "We realized that our customers needed a way to feel comfortable planning a trip without necessarily making the monetary commitment until they were absolutely ready."
Want more travel news and advice delivered to your inbox daily? Sign up for the TPG newsletter. 
Here's a breakdown of how it works: Let's say you are planning a trip to New York City to watch the Macy's fireworks show this year, and you find a hotel you think you want to book that is listed on Hopper for $300 per night. You aren't entirely sure you'll be able to get off work to travel yet, so you put down a deposit for the price freeze feature. Three days later, everything is in order for you to make the trip, but the price has risen $50 per night for your planned two-night stay. When you book the hotel through Hopper, you'll only be charged for the original price you locked in. Hopper will cover the $100 difference, and your deposit will act as a credit toward the cost of the stay.
If you decide you don't want to book that hotel, your deposit amount can be applied toward a future price freeze or toward another booking if you decide to go with another hotel instead.
It's important to note that when you use price freeze on a hotel on Hopper, you are not making a reservation with the hotel. The feature is more like price insurance on a particular hotel stay. Your reservation is not guaranteed with the hotel until you book and pay for your room, so you'll still want to book as soon as early use as you can — especially for busy holiday weekends like the upcoming Fourth of July. If the hotel does happen to run out of availability between you putting a price freeze on the hotel and booking, Hopper will refund the deposit you paid.
Deposits vary in price depending on a number of factors, including length of stay and price per night at that hotel. When I poked around the app, I was able to find hotels in NYC I could price freeze for $16 per night. And remember, the deposit will be applied to your booking. Generally, the price freeze tool can be used to lock in a price until seven days before the trip dates or as much as 60 days in advance of the stay.
Price freeze will benefit budget travelers booking last-minute trips the most, especially those traveling in groups where you need to coordinate accommodations for multiple people.
There are, however, a few downsides to consider.
The first is that Hopper is a third-party booking tool, which means you may not receive elite night credits or have your existing status honored when you book a hotel through the app. This won't matter as much if you're a casual traveler with no interest in elite status or if you're regularly booking stays at boutique hotels that aren't part of a major hotel brain, such as Hyatt or Hilton. But if you are an elite status holder or you're trying to make elite status a reality this year, booking direct is always the better option.
Something else to consider is that the price freeze tool will only save you a maximum of $100 on your total booking. So if the price changes $150 for the entire stay, Hopper will only cover $100 of that and you'll still be on the hook for the $50 difference. According to Hopper, customers who use the price freeze tool save on average $43 per stay (or $17 per night), so the savings aren't lucrative.
But even if this specific tool alone doesn't offer hundreds of dollars in automatic savings, it is another addition to Hopper's broader product that helps travelers — especially beginner travelers and budget travelers — plan trips. Hopper uses predictive technology to determine the best time to book with what the company claims is a 95% recommendation accuracy. You can set up alerts for price drops for flight routes and hotel stays, and there is a similar price freeze feature available for flights.
Related: The best flight booking apps 
And this tool is only a hint at what is coming up next for Hopper.
"We're always innovating," said Bhattacharjee. "There are a bunch of new products that are either out or on their way."
Hopper is teaming up with Capital One to power the credit card issuer's revamped travel portal launching in the second half of 2021, and it's likely we'll see Hopper's tools — including the new price freeze tool — integrated into the experience for cardholders. Additionally, Hopper plans to roll out the ability to price freeze for specific room types soon.
For road warriors and elite status holders, this tool may not be a gamechanger for you. But budget travelers and beginners who are still experiencing a bit of booking anxiety as destinations reopen and travel returns in some regions of the world can use this tool to help plan trips and get excited about traveling once more — without having to put hundreds of dollars down on a hotel just yet. I personally might put this tool to use the next time I plan out a girls trip with friends, in case prices increase while the group chat comes to a final consensus on whether to book the hotel or not.
Featured image by d3sign/Getty Images.
SPONSORED: With states reopening, enjoying a meal from a restaurant no longer just means curbside pickup.
And when you do spend on dining, you should use a credit card that will maximize your rewards and potentially even score special discounts. Thanks to temporary card bonuses and changes due to coronavirus, you may even be able to score a meal at your favorite restaurant for free. 
These are the best credit cards for dining out, taking out, and ordering in to maximize every meal purchase.
—
Editorial Disclaimer: Opinions expressed here are the author's alone, not those of any bank, credit card issuer, airlines or hotel chain, and have not been reviewed, approved or otherwise endorsed by any of these entities.
Source: Read Full Article