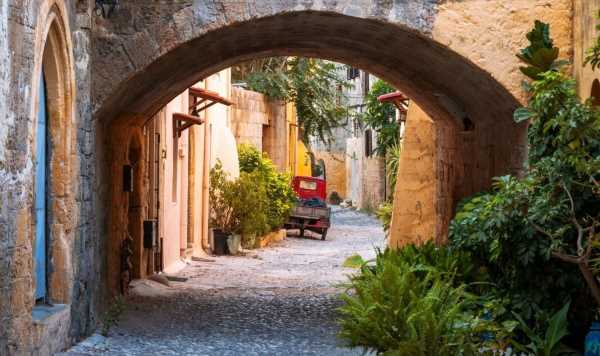 We use your sign-up to provide content in ways you've consented to and to improve our understanding of you. This may include adverts from us and 3rd parties based on our understanding. You can unsubscribe at any time. More info
Although Greece is a popular British tourist destination, many travellers head to Mykonos and Santorini. Another island has been named the world's most underrated destination.
New research from Bounce has uncovered the world's most underrated city break hotspots.
The team said: "When you think of a city break, the same destinations probably come to mind: Rome, Barcelona, Berlin and so on…
"And with good reason too, as these cities offer incredible cultural, culinary, shopping and sightseeing experiences.
"But if you fancy trying somewhere a little further off the beaten path, where are the most underrated city breaks in the world?"
The team looked at the number of attractions and reviews to find the most underrated destination.
Most underrated holiday destination 2023
Rhodes, Greece
Marrakech, Morocco
Porto, Portugal
Heraklion, Greece
Rio de Janeiro, Brazil
Krakow, Poland
Lima, Peru
Honolulu, USA
Hurghada, Egypt
Nice, France
Rhodes on the stunning Greek island was named the world's most underrated holiday destination for 2023.
Bounce said: "38 percent of the attractions here in Rhodes have been rated five star, including its famous medieval city, one of the best-preserved in Europe and a UNESCO World Heritage Site."
Tourists won't be far from the beach in Rhodes and the Greek island has a stunning coastline.
A tourist who visited Ialysos Beach wrote on Tripadvisor: "This is a lovely beach with a gorgeous range of shades of blue."
Marrakech, one of Morocco's top destinations, was named the second most underrated spot for 2023.
Morocco's tourism officials are expecting a busy year after the country's football team impressed at the World Cup.
The bustling Moroccan city is known for its incredible souk, delicious cuisine and relaxing hammans.
Porto, in northern Portugal, took the third spot with a glass of local port wine a highlight for many tourists.
At the other end of the scale, Paris was named the world's most overrated tourist destination.
The French capital failed to impress many visitors, with just 19 percent of its attractions rated five star.
New York also landed at the bottom of the table with under a quarter of its attractions given five-star reviews.
London, Istanbul and Milan also ranked at the bottom of the table, with many travellers finding them overrated.
Source: Read Full Article