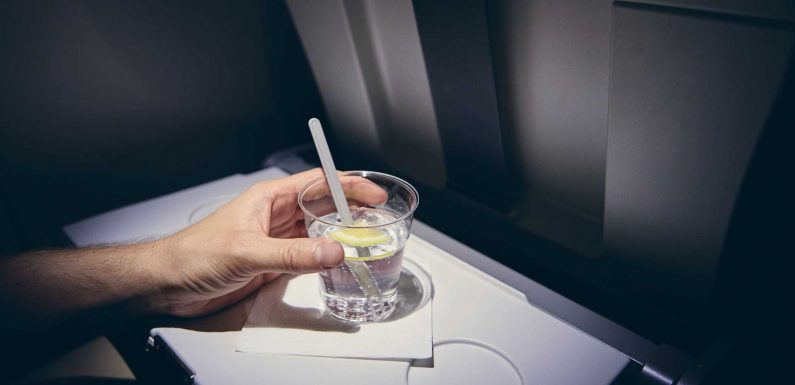 Load Error
The FAA announced its latest round of fines against disruptive passengers on Monday May 24, adding nearly $65,000 to the sum that it has collected from unruly travelers over recent months.
A total of five passengers were fined in the latest round.
Want more airline-specific news? Sign up for TPG's free new biweekly Aviation newsletter!
A passenger on a February 22 JetBlue flight from Miami to Los Angeles was fined $15,000 after becoming belligerent when a flight attendant tried to take back several items from the Mint cabin that another passenger had given to her. The passenger had been handed the business class cabin passenger's champagne and headphones. When the flight attendant took them back, the passenger in the main cabin allegedly yelled obscenities at the flight attendant, followed him up to the Mint section at the front of the plane, and body-slammed him. The flight diverted to Austin and the passenger was pulled from the aircraft.
Another JetBlue passenger was fined $15,000 after an incident on a January 10 flight from Fort Lauderdale to Los Angeles.
That passenger allegedly drank alcohol that he brought onboard himself — a violation of FAA rules — even after a flight attendant told him it was illegal. The passenger also spoke on a cellphone — despite rules prohibiting that during a flight — and yelled at a flight attendant who tried to tell him to stop.
A third passenger was fined $15,000, this one for allegedly assaulting a flight attendant who was documenting cases of passengers refusing to wear facemasks on an Alaska Airlines flight from Washington-Dulles to Seattle-Tacoma on January 7.
A passenger on a March 17 JetBlue flight from Orlando to New York allegedly refused to wear a face mask properly and was fined $10,500. Flight attendants tried to ask him to wear it, and he allegedly cursed at them each time. The boarding door was reopened and the passenger was asked to leave, at which point he became combative, the FAA said, which led to police boarding the plane and removing him.
The final fine — $9,000 — went to a passenger on a February 20 Southwest flight from Oakland to Houston. That passenger allegedly refused to wear a mask, despite several warnings from a flight attendant. The flight continued to Houston, where police met the passenger.
More: Masks still required during air travel as CDC loosens indoor mask guidelines for fully vaccinated people
In recent months, the FAA has announced hundreds of thousands of dollars in fines against disruptive passengers, although that may only be the tip of the iceberg. The agency told TPG that that since February, it has received more than 1,300 reports of unruly passengers from U.S. airlines. So far, 370 of those cases have been flagged as potential violations, with enforcement action taken against 27 to date.
Passengers have 30 days to respond to the FAA fines, which are considered a civil penalty. The response can involve an appeal, but there is no guarantee of the fine being changed.
The fines come a week after the FAA issued a record-breaking fine — $52,500 — against a passenger, and several months after the FAA said it would continue to crack down on disruptive behavior aboard planes. Numerous incidents have involved passengers drinking their own alcohol or refusing to wear masks on board flights — although new CDC guidance allows for relaxed mask use among fully vaccinated people, masks are still required on public transportation until at least September.
The recent fines have been highly publicized actions taken under a zero-tolerance policy that the FAA implemented in January following numerous disruptive incidents on flights surrounding the Jan. 6 attack on the U.S. Capitol building.
Under the zero-tolerance policy, the FAA said it will pursue legal enforcement against anyone involved with an "unruly passenger" incident on a flight. Normally, the FAA uses discretion to choose from among several approaches, including formal warnings and counseling.
Sara Nelson, head of the Association of Flight Attendants, praised the FAA's actions.
"Wear a mask. It's required. Period. The freedom of flight depends on all of us following the rules and treating others with respect," Nelson said. "Flight Attendants are charged with the safety, health, and security of everyone in the cabin. Our instructions to the traveling public keep everyone safe. Listen up and do your part. The consequences are steep if you do not and the FAA isn't playing around on this."
Featured image by Chalabala/Getty Images.
SPONSORED: With states reopening, enjoying a meal from a restaurant no longer just means curbside pickup.
And when you do spend on dining, you should use a credit card that will maximize your rewards and potentially even score special discounts. Thanks to temporary card bonuses and changes due to coronavirus, you may even be able to score a meal at your favorite restaurant for free. 
These are the best credit cards for dining out, taking out, and ordering in to maximize every meal purchase.
—
Editorial Disclaimer: Opinions expressed here are the author's alone, not those of any bank, credit card issuer, airlines or hotel chain, and have not been reviewed, approved or otherwise endorsed by any of these entities.
Source: Read Full Article