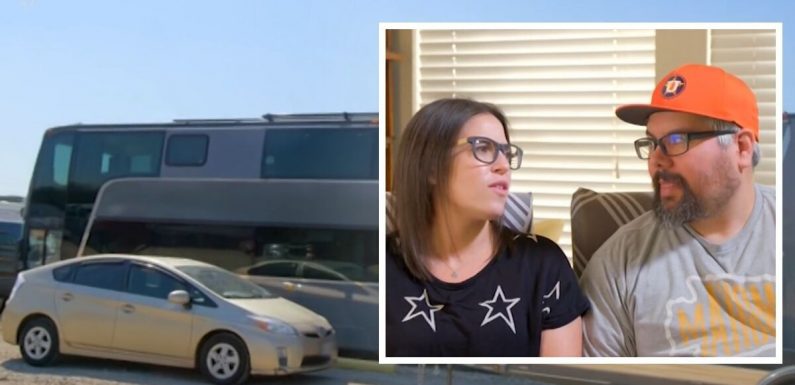 Million Pound Motorhomes: Texan family embark on journey
We use your sign-up to provide content in ways you've consented to and to improve our understanding of you. This may include adverts from us and 3rd parties based on our understanding. You can unsubscribe at any time. More info
Million Pound Motorhomes show motorhome owners with a range of different vehicles. One family spent nearly half a million pounds converting their double-decker bus to spend two years touring every state in America.
The Texan couple, Dane and Deena Eyerly, are planning a two-year motorhome adventure to visit every state in America.
However, they are "total novices", the narrator claimed on the programme.
The couple has six children, aged between nine and three.
In order to live on the road as a "super-sized family", the couple decided to buy a £1million double-decker bus.
The couple said: "We saw a big double-decker bus online for sale and we're like, maybe that could work!"
The bus used to be a hotel on wheels, meaning it had the space the couple was after.
They added: "We got started with this idea when we went on a road trip.
"Being on the trip with our kids travelling so well, we were just like how do we make this work, to do this more frequently?"
Dane commented: "So we talked about it, made the plans and arrangements to leave my job and spend more time with our family – that's really what matters most to us is family."
Having previously worked in IT, meant Dane would be able to work on the road.
He claimed: "As long as I have Internet, I'm good to go."
Meanwhile, Deena decided to be in charge of homeschooling during their travels.
Dane continued: "We're nearing our two year marks of planning for this at this point.
"We sold our home and that went along with selling the 80, or 95 percent of our belongings."
According to the show, the conversion cost for the double-decker bus cost around £400,000.
The narrator said: "They've created their ideal home on wheels with enough room for this intrepid family of eight."
The bus makes enough room for a fridge and freezer combination with a "spacious" kitchen area.
In the seating area, the backs of their seats fold up to create a dining room table, which is very convenient.
There is one bathroom on the ground floor with another upstairs.
Halfway up the stairs, the couple built a shower.
Dane said: "We wanted to make sure we had a 7-foot shower so we built it halfway into the stairwell."
Finally, on the top floor, they created a playroom for their six children.
Source: Read Full Article