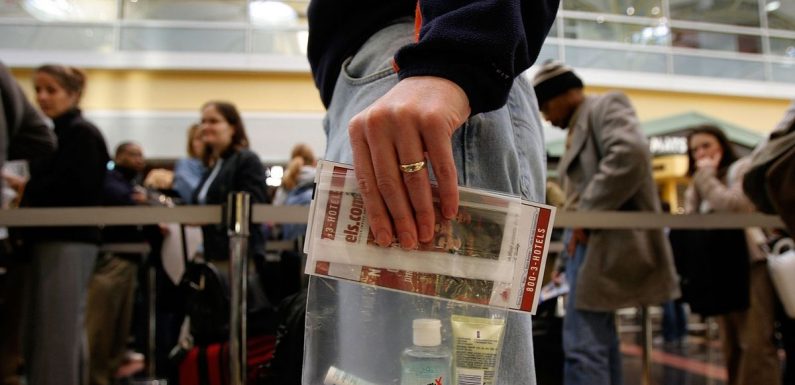 An airport in London will be the first to completely scrap the 100ml liquids rule.
While airports across the country are moving towards changing the restriction London City Airport will be the first to do so – and in time for the Easter holidays too.
Currently Brits and tourists must remove their liquids from their hand luggage and put them through the security scanners in a separate clear, plastic bag.
READ MORE: Hand luggage rules explained ahead of 100ml liquids rule being scrapped
This includes all liquids, gels and pastes like makeup, drinks and even some food items.
Now, brand new CT machines using x-rays will be able to take high-resolution 3D snaps of luggage.
This lets security workers analyse the contents more thoroughly eliminating the need to remove bottles and tubs from suitcases.
At the moment, the 2D scans cannot provide enough detail to make the removal of liquids uneccesary.
You won't just get to leave your liquids in your bag though – you'll also get to bring more with you.
Right now, those travelling from the UK can only bring up to one litre of liquids separated into 100ml bottles into the cabin.
Now, you'll be able to bring two litres in total.
Anyone who's had to leave their sunscreen and lotion at home and buy it abroad will be grateful for the additional liquid allowance.
On top of the liquids rule change you also won't need to take your laptop out of your bag to go through security.
The changes will come into play at London City from the end of this month, states the Times.
That means that holidaymakers going abroad during the Easter weekend will be able to take advantage of the new limits.
Airports around the UK and Europe are all hoping to make the switch to the new CT scanners in coming years.
British airports _ including Gatwick and Heathrow – aim to be converted by June 2024.
Robert Sinclair, CEO of London City Airport, told The Times: 'The good news for anyone planning a holiday or a business trip is that we will be the first mainstream UK airport to offer a fully CT security experience from the end of this month.
'The new lanes will not only cut hassle but also queuing times, which I know passengers will love.'
READ NEXT:
How long does passport renewal take? Latest update as some Brits face 10-week waits

Spain, France and Turkey travel advice updated due to Covid-19 and earthquakes

Can you wear makeup in UK passport photos? Latest rules explained for Brits

Hand luggage rules including ban on food items like cheese and hummus
Source: Read Full Article