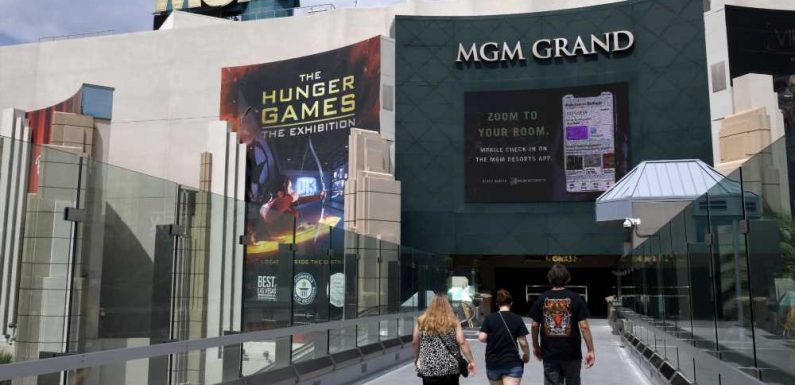 Several casinos in Las Vegas dropped mask requirements this week for vaccinated visitors following the Centers for Disease Control and Prevention's latest guidance for Americans who got the jab.
At MGM Resorts International — which owns MGM Grand Hotel & Casino, the Bellagio Resort & Casino, the ARIA Resort & Casino, and more — mask requirements were eliminated for vaccinated guests.
Similarly, Caesars Entertainment — which owns several resorts including Caesars Palace Las Vegas, Bally's Las Vegas, Harrah's Las Vegas, and Planet Hollywood Resort & Casino — said the company has "maintained strict adherence to CDC, state, local and regulatory guidance throughout the COVID-19 pandemic and will continue to do so," including when it comes to masks.
At Wynn and Encore Las Vegas, guests and employees who are at least two weeks out from their final dose of a vaccine will no longer be required to wear masks "while on property."
Video: What To Expect as You Start To Make Travel Plans for the Summer (Buzz60)
Can Your Dog Sense Your Pregnancy Before You Can?

Buzz60


Prince Harry Calls This Amendment "Bonkers"

Buzz60


Kitchen Items You Should Always Buy When You See Them at a Thrift Store

Buzz60


Prince Charles Already Has Specific Plans for When He Becomes King

Buzz60


Maximize Your Fuel Economy With These Simple Tips

Buzz60


An Indiana Zoo is Home to Three Adorable Chacoan Peccaries!

Buzz60


Many Americans 'Foster Fail' and End Up Adopting the Pets They're Fostering

Buzz60


Home Renovation Must-Do's to Add Value to Your Home

Buzz60


Here Are Some Foods You May Not Want to Reheat in the Microwave!

Buzz60


Summer Travel 2021: Deals, Restrictions and Why You May Want a Travel Agency

Buzz60


These Are the Top Three Over-Hyped Shows of the Pandemic

Buzz60


Many People Believe This Is When Summer Actually Starts

Buzz60


Doggie Dilemma! Here Are Some Burning Questions You Wanted To Know About Dogs!

Buzz60


Heart-melting Moment the First Person in the World to Receive COVID-19 Vaccine Meets Baby Giraffe Born on that Same Day

Buzz60


Egging-On! Adorable Puppy Refuses To Give Egg Back to Owner During 'Egg Challenge'

Buzz60


Can Your Dog Sense Your Pregnancy Before You Can?
While there's no conclusive research that proves that our furry friends know when a woman is pregnant, many experts and dog lover's agree that the idea is not too far fetched!


Buzz60



Prince Harry Calls This Amendment "Bonkers"
Prince Harry shared quite a few thoughts on the podcast, Armchair Expert including his thoughts on the First Amendment. Buzz60's Keri Lumm has more.


Buzz60



Kitchen Items You Should Always Buy When You See Them at a Thrift Store
When thrift shopping it's easy to think everything looks a bit like someone else's junk, but there are some pretty good gems one can find if you know what to look for. Buzz60's Maria Mercedes Galuppo has the story.


Buzz60

"If you are not fully vaccinated, please take the proper precautions and wear a face covering," the company added.
Load Error
And at The Cosmopolitan, fully vaccinated guests will not be required to mask up indoors or outdoors, but unvaccinated guests must continue to wear one inside the resort.
While many individual businesses eased mask policies, the Nevada Gaming Control Board tweeted casinos in Sin City could choose to implement "more restrictive" protocols. Additionally, the board said it wouldn't prohibit Nevada businesses from confirming guests' vaccination status.
Las Vegas has remained open through much of the pandemic and has previously required masks as part of COVID-19 safety protocols, including when playing table games.
Beyond face coverings, several casinos were also allowed to return to 100% capacity on gaming floors following the approval from the Nevada Gaming Control Board, the Las Vegas Review-Journal reported.
Casinos aren't alone in easing mask restrictions. Several Florida theme parks, including Disney World and Universal Orlando, eliminated masks outdoors, while New York's Radio City Music Hall said it would reopen next month with full-capacity, maskless audiences.
While mask protocols are changing, they are still required in certain places, including on planes.
Alison Fox is a contributing writer for Travel Leisure. When she's not in New York City, she likes to spend her time at the beach or exploring new destinations and hopes to visit every country in the world. Follow her adventures on Instagram.
Source: Read Full Article