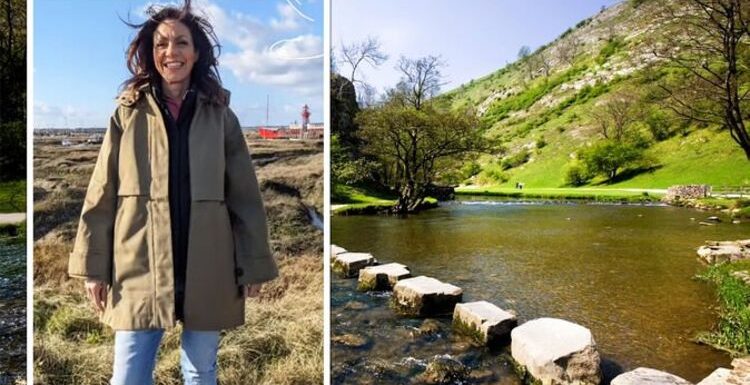 We use your sign-up to provide content in ways you've consented to and to improve our understanding of you. This may include adverts from us and 3rd parties based on our understanding. You can unsubscribe at any time. More info
Julia Bradbury, 51, is the former presenter of Countryfile and Watchdog. She has hosted a number of other walking themed programmes, and walking is a passion of hers.
The mum-of-three recently told Express.co.uk walking has helped with her recovery during treatment for cancer.
She announced she was diagnosed with breast cancer on 19 September last year and had a mastectomy the following October.
Now she has detailed her favourite walks across the UK to Express.co.uk readers.
They include the stunning Dovedale Valley in the Peak District of England.
View this post on Instagram

A post shared by Julia Bradbury (@therealjuliabradbury)
Julia Bradbury's must-do UK walks
Dovedale Valley along the River Dove
Julia said: "This reminds me of walking with Dad when I was a little girl; plus, it is gorgeous and peaceful along the river."
Castle Crag in the Lake District
"There are plenty of mighty walks in the Lakes but this fell has a special charm," the presenter said.
DON'T MISS
The UK's best walk named as Malham Cove route in Yorkshire [FULL LIST]
Lake District weekend: A two day relaxing getaway [REVIEW]
Trek through the unspoilt Lincolnshire countryside [TRAVEL]
Black-a Tor Copse in Dartmoor
Julia said: "I am a tree lover and hugger.
"These incredible living organisms that filter our air, water and soil are just magical (and essential) and this high altitude ancient oak woodland is remote enough to mean visitors need to be fairly determined to get there and bathe in its magic."
The West Highland Way
Julia told readers: "This walk, in the Scottish Highlands, is quite a commitment but you can choose sections of this wild and dramatic hike to take on if you're not quite up for the full 96 miles."
Isles of Scilly
"This walk is around the island of St Martins," Julia said.
"I'm lucky enough to have been to the IOS a few times and I adore all of them, but this is the walk I filmed for my Cornwall and Devon Walks series for ITV.
"I can't get enough of the ridiculously long pristine white sandy beaches and stunning shorelines of these islands. The Scillonians are lovely."
Julia discussed the health benefits of walking with Express.co.uk while addressing her cancer diagnosis.
She encouraged all Britons to get outside and embrace nature.
Julia said: "Honestly, walking and getting into the great outdoors has saved me, kept me sane, been my therapist, and continues to help my recovery in ways I can't explain.
"Humans have evolved in green spaces and we are not meant to be spending hours hunched over a blue screen.
"Do yourself a huge favour and make sure you take regular breaks and get that much-needed vitamin D from daylight, which helps set your circadian rhythm, refreshes your concentration, and helps optimise your hormones."
Source: Read Full Article