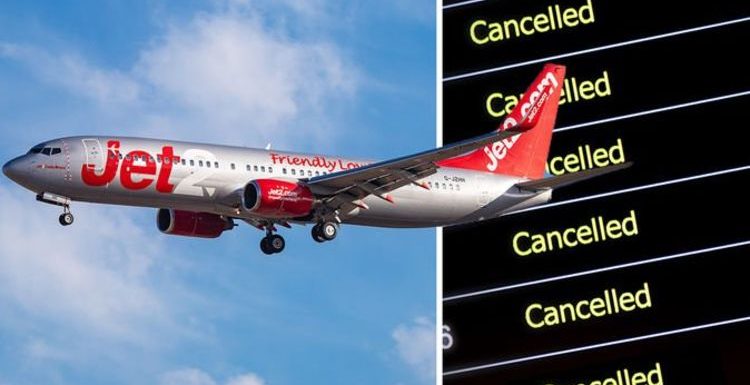 Travel: Paul Charles warns travel testing is 'recipe for chaos'
Jet2 holidays and flights have been axed until March 25. The move came amid the "ongoing uncertainty and travel restrictions caused by the COVID-19 pandemic," said the popular tour operator. This is an extended date on the company's previous flight and holiday suspensions.
Jet2 will be cancelling all impacted bookings and giving customers refunds.
They will be in touch in due course with those due to travel after March 25.
"Due to the ongoing uncertainty and travel restrictions caused by the COVID-19 pandemic, we have taken the decision to extend the suspension of flights and holidays up to and including March 25, 2021," said Jet2 in a statement on Tuesday.
"Where customers yet to travel are affected by any programme changes, our approach to providing smooth and speedy refunds has been widely praised, and we will be automatically cancelling affected bookings with a full refund."
We will use your email address only for sending you newsletters. Please see our Privacy Notice for details of your data protection rights.
Jet2 continued: "Since the onset of the pandemic, we have always respected that customers should receive their money back if we have not provided their flight or holiday.
"We know that customers will remember this approach, and the way we have looked after them will play an important part in our long-term strategy to continue to grow successfully and become the UK's Leading and Best Leisure Travel business."
The operator added: "For customers due to travel from March 26 onwards, we will provide further updates closer to the time as appropriate."
Jet2 continues to offers sales for future holidays, with summer 2021 offers currently available.
"There is a lot of demand for our award-winning flights and holidays and with a huge choice of popular destinations available from across our network of ten UK bases, customers can take advantage of some fantastic deals for Summer 21, Winter 21/22 and Summer 22," said the tour operator.
"Our customers work hard and save hard for their holidays, and we are very excited to take them away on holiday again."
"We would like to thank our valued customers for their patience and understanding."
In recent Jet2 news, the company announced this week that it will commence flights and holidays to Lisbon in Portugal from September.
Services will operate to the new destination from Manchester and Birmingham Airports.
"From September 3 to October 29, the company will operate Monday and Friday services from Manchester Airport," said Jet2.
"From September 30 to October 28, Thursday and Sunday services will operate from Birmingham Airport."
In more positive news, Jet2 has been found to perform well in returning refunds to customers.
Consumer site Which?'s new refund satisfaction survey was revealed today in which Jet2 nabbed a satisfaction score of 76 percent.
Eight in 10 passengers told Which? they received their refund within 28 days, with one in three saying they received it within the legal time frame of seven days. None reported waiting more than three months.
"While the airline did not always proactively inform customers of their right to a cash refund, instead encouraging them to rebook for another date, customers told us it processed refunds without quibbling when they were requested," said Which?
"Jet2 was also the only airline in the survey to be named a Which? Recommended Provider."
Source: Read Full Article