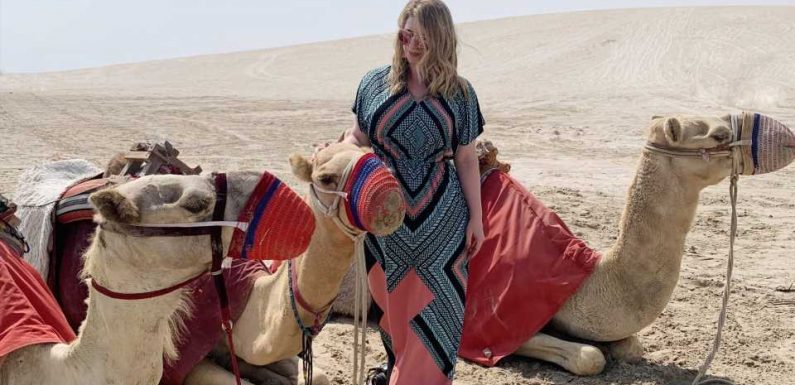 I didn't venture outside of the United States until I was a junior in college—a two-week educational journey through Egypt as part of my university's January term. That trip changed everything for me. Since then, I've prioritized seeing as many corners of the world as possible, which has resulted in visiting more than 30 countries, five continents, and even living in South Korea for a year. To say that I've made some missteps along the way would be an understatement, but I've come out on the other end all the better. Hopefully, you can learn (the easy way!) from some of the mistakes I'll never make again.
Pushing my luck with luggage weight and size
Airlines are in this industry to make money, and the likelihood of getting away with an oversized or overweight bag—carry-on or checked—is slim to none. This is particularly true when you're abroad (the United States does tend to be a smidge lax with this) and flying budget airlines. I have been charged $200 at the gate for a carry-on that was a few pounds over the weight limit, and I have seen flight attendants come through with measuring tape to ensure everyone's bags meet the airline's regulation. Not only is it more expensive to pay these last-minute baggage fees, but it also creates unnecessary stress and worry leading up to check-in and boarding. Read up on the airlines' baggage protocol to make sure you're good, and just pay the fee ahead of time if you're toeing the line.
Load Error
Not allocating enough time between layovers
There are few things more fear-inducing than having a delayed flight eat into your already short layover time. That fear quickly turns into full-blown panic as you're running through the airport to make your connection, and panic melts into tears as you watch your flight to Ireland pull away from the gate. #truestory
Worse things can happen (though it may not seem like it while you're sans toothbrush at the nearest budget motel waiting for tomorrow's flight), but you can avoid this mess by ensuring you have a two- to four-hour layer at your connection. Layover times become even more important when you're traveling internationally because you have to go through immigration, customs, and security again (and if you've checked a bag, back to baggage claim first). I recommend researching your connecting airport to familiarize yourself with the terminal layout and get a feel for what wait times are like. For example, Ireland has you go through U.S. immigration before departing the country ("pre-clearance"), which requires more time at the airport. In case you were wondering: Yup, it was a close call on the way back home, too!
That extra time in the airport can be productive, too. Here are 10 things to do during your next airport layover.
Not knowing airlines' lost luggage reimbursement policies
For the most part, I've switched to the carry-on-only life, but sometimes you have no choice but to check your bags. This, of course, puts you at risk for lost luggage—something that's happened to me both internationally and domestically. After this happened to me the first time, a fellow travel buddy filled me in on an airline secret: Many have a special budget for reimbursing their travelers for delayed, lost, or damaged luggage. If your bag is missing, file a claim immediately at the airport and ask about their protocol. Usually, the reimbursement is for bags that have been completely lost or damaged, but some do offer vouchers if you're without bags for 24 hours so you can purchase necessities like underwear, toiletries, and a clean outfit. If an airline does lose your luggage, these are the 7 things you need to do next.
Skipping a destination because of overhyped media stories
Researching a location's safety is arguably task number one when deciding where to plop yourself in the world next. For me, this usually involves referring to the U.S. Department of State's Travel Advisories page to see if there are any notable travel warnings. I also read through news stories to make sure I have a feel for the destination's political and social climate, and then—to temper it all and gain some real-world perspective—I read through first-person experiences from those who've recently traveled there via blogs, social media, and online travel groups.
That last step is crucial because some news stories do tend to get overhyped. In fact, I have to admit that I recently almost skipped going to the Dominican Republic, a destination that's been on my bucket list since I was in high school, due to last summer's news. It turned out to be an incredible trip rich with culture (did you know their national dance, the merengue, is classified as tangible cultural heritage by UNESCO?), delicious food (seafood lovers will not be disappointed), and beautiful ocean views. I'm so glad I didn't write off the destination.
The bottom line: Exercise common sense and be safe, of course, but don't let panic-driven news cycles prevent you from seeing the world.
Spending too much time in big cities
Planning a trip abroad is complicated, and sometimes the simplest thing to do is to land at your destination and stay put. Spending 48 to 72 hours in a big city like Paris, London, São Paolo, or Tokyo is great, but I also urge you to get out there and explore the smaller towns.
One of my biggest travel regrets is flying into Bangkok and not leaving the city for the two weeks I was there. It's a great city, but Thailand is so much more than its capital! Research the small towns around your destination, take advantage of public transit, rent a car and drive the countryside, or jet to another locale across the country. One of the most memorable trips I've ever taken was to Brazil, and it's because of how much I was able to see. In three weeks, I visited Salvador Bahia, Manaus, the Amazon rainforest, Rio de Janeiro, and Foz do Iguaçu. These are the 50 most overrated tourist attractions in the world.
Eating near big tourist sites
Sure, it's convenient to eat just outside the Vatican or the Louvre, but if you want great food at a great price—without the lines or frustrated waitstaff—it's best to walk a couple of blocks away to find your fare. I had one of the worst pizzas of my life, in fact, just outside of the Vatican. Conversely, one of the best meals I've ever eaten was on a quiet street in Paris, a mere 10-minute walk away from the Champ de Mars with the Eiffel Tower still visible through the trees and buildings.
There are a few exceptions to this rule, naturally. For example, sometimes you just want to drink a giant beer and eat a sandwich in the center of it all in, say, Munich's Old Town Square. Just be mindful of the fact that many tourist sites aren't surrounded by the highest-quality restaurants and you'll often pay more for the (subpar) food.
Being unfamiliar with local scams
While researching your upcoming trip, make sure to read up on common scams in the area. This is particularly important in larger cities, which tend to have higher petty crime rates. In my early travel days, I was suckered more times than I'd like to admit by local scams, and each time the scam was already widely documented and therefore could have been avoided.
For example, I was told the Golden Temple was closed in Bangkok (it never closes, FYI), only to be taken to a local silk shop, and I was put on a camel at the Great Pyramids of Giza and not allowed down until I coughed up money. A friend recently had an experience in Budapest where a supposed transportation authority official told her she didn't purchase the right fare and demanded payment. She later realized the "Tram Scam" was quite common, and the two others I mentioned are, as well. Simply being aware of the common scams where you're traveling can help you avoid them. Of course, scams are everywhere. You should also be aware of these 10 summer travel scams—and take them seriously.
Fearing solo travel (especially as a woman)
While it's true that women need to exercise a higher level of caution when traveling alone—and that some countries are certainly safer than others—completely avoiding solo travel is a major missed opportunity. After separating from my partner (and travel companion) of 12 years, I remember feeling like my travel might need to come to a halt. However, instead of canceling plans and forgetting about my destination bucket list, I started researching solo female travel and realized there was an entire community of powerful women who wanted to explore the world on their own. (If you're hesitant to travel solo, check out tour groups that allow you to travel alone but together.)
I entered the world of solo travel slowly. I planned a trip to Iceland with a girlfriend from college and had an incredible time, and about a year later, I spent a week in Israel by myself. Since then, I've learned to relish solo travel. It's an opportunity to do whatever you want and nothing you don't, to learn more about yourself, to connect with strangers, and, of course, to not have to share dessert.
Plan your next adventure with this list of the 15 best (and safest) places to travel alone.
Knee Surgeons Are Losing It Over These Knee Sleeves (Here's Why)


Ad
Microsoft

Incredible Blanket Instantly Puts Humans In A Deep Sleep In Minutes


Ad
Microsoft
There's no such thing as too many shoes!
Shoes…Sometimes you love them, other times you hate them—especially when you're running out of space to put them in your house and they end up scattered all over the place!
If you're one of those people who's always looking for small closet ideas since yours is constantly overflowing with shoes, it might be a sign that you need to invest in some other forms of shoe storage, whether that means buying something from a store or DIYing something yourself.
Either way, having more shoe storage will be a life-changer. It'll not only help you keep your closet looking clean, but it'll help you maximize the space you do have—all while preserving the life of your shoes, too.
So no matter if you're a fashionista and want to find a stylish way to display your shoes out in the open for everyone to see, or if you need a way to discreetly hide them away, we've got just what you need.
While learning how to organize a closet and finding the best closet organizers and best closet systems can be tricky, we've made the job easier by rounding up nine different shoe storage ideas and walk-in closet organization ideas you'll love—from stackable shelves you can keep adding onto as your ever-growing shoe collection grows to over-the-door shoe storage racks perfect for small closets.
Check out all these smart shoe organizers below. Some of these closet shoe storage ideas are simple and some are more over-the-top, but no matter which style you choose, it'll tidy up your space, keep shoes from getting squished or scuffed in the bottom of your closet, and help you find that perfect pair you're looking for quicker than ever.
Over-the-door shoe storage: Whitmore 36 Pair Shoe Rack
If you lack closet space for all of your shoes, this is a great solution because it lets you store your shoes along the backside of your door. That way, they are still hidden within your closet but don't take space away from your clothes. This shoe holder lets you organize 36 pairs of shoes and makes your closet space look super-clean and organized as well.
Shop Now
Stackable shoe rack: Wood Crate Shoe Storage DIY
When it comes to coat closet organization, create a DIY stackable shoe rack that your family can store their shoes in with old empty wood crates. (You can usually find wooden crates at your local thrift store for pretty cheap.) Once you have a few, you can stack them on top of each other and beside each other in any shape you want. If you like the rustic farmhouse style they give off you don't even need to paint them. Not up to DIYing? Then consider this Shabby Chic Wooden Shoe Rack option from Etsy. Talk about a cute idea for a shoe holder!
Shop Now
Shoe rack: Furinno Revolving 4 Tier Shoe Rack Organizer
Are you looking for a beautiful way to display your shoes? Consider a shoe carousel! They are round in shape and have places for shoes on every side. This one has four tiers, can fit 16 pairs of shoes, and will look like a decorative piece in whatever room or walk-in closet you put it in. Thanks to it, your shoes will be orderly and look like they're on display in a fancy store.
Shop Now
Vertical shoe rack: Nordic 4 Tier Shoe Ladder
Just lean this ladder up against a wall, and fill it up all the way to the top. Or upcycle an old ladder to make your very own shoe rack. It'll look great in pretty much any setting and is perfect for hanging up all of your heeled shoes. You can even paint the ladder to make it pop or stain it for a more natural finish.
Shop Now
Shoe stand: NZND Z-shape Shoe Rack
When it comes to kid's closet ideas, adding a shoe stand to your child's room is a good way to help with shoe storage issues. A cute one like this that is painted a pretty color and has a zigzag shape will keep their shoes from being scattered all over their floor and can be hidden away in a closet or kept out.
Shop Now
Wall-mounted shoe rack: Wayfair Basics Pegboard Shoe Storage DIY
If you have a board with pegs on it, you can transform it into a playful DIY wall-mounted shoe rack in a snap! Try hanging it in your entryway or mudroom to keep your family's most-worn shoes easily accessible all in one place. The trick to this DIY project is to make sure the pegs are properly spaced so that each shoe can hang without overlapping on another shoe. Once you've got your spacing down and your pegs in place, you can paint it a fun color or leave it as is.
Shop Now
Tall, narrow shoe cabinet: Organziedlife Wood Shoe Cabinet Storage
Standing at six feet tall, this product is a dream for shoe lovers. It includes five-drawer racks that open and close. Plus, thanks to its mirror exterior, this tall shoe cabinet will look elegant on display anywhere in your home. Nobody will ever know all of your shoes are inside it!
Shop Now
Shoe shelf: ClosetMaid 25 Pair Stackable Shoe Rack
A bookshelf style provides ample room for shoes and can be pushed flush against the wall. Or since closet shoe storage can be expensive DIY yourself a shoe shelf instead to help cut costs. You can turn a tall unused bookshelf into one in no time at all. Just move it into your closet and then wherever a shoe would go on the shelves, place a piece of anti-slip safety grit tape vertically so that your shoes will stay put better and not slip off.
Shop Now
Shoe box: The Container Store Small Drop-Front Shoe Box
If you want to organize your shoes in your closet, try investing in individual shoe boxes. Make sure you choose clear ones so you can see which shoes are in each box without you having to open them up. Not only do they look classy and picture-perfect, but you can also stash them on an upper shelf of a small closet or along the floor of a small portable closet that contains your capsule wardrobe.
Shop Now
The post I've Been to 30 Countries and These Are the Travel Mistakes I'll Never Make Again appeared first on Reader's Digest.
Source: Read Full Article