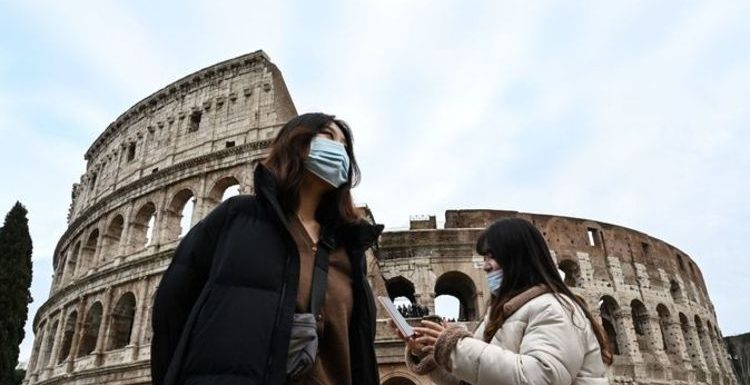 Vaccine: Expert says Italy and Germany may operate alone
When you subscribe we will use the information you provide to send you these newsletters. Sometimes they'll include recommendations for other related newsletters or services we offer. Our Privacy Notice explains more about how we use your data, and your rights. You can unsubscribe at any time.
The Italian government has announced a new coronavirus "green pass" will be issued as the country attempts to relax travel restrictions. Italy lifted some restrictions on domestic travel on April 26, but travel to and from higher-risk red and orange zones remains forbidden for non-essential reasons.
What is a green pass?
The green pass – also being called an immunity card – will certify that the holder had either been fully vaccinated, had tested negative for coronavirus within the past 48 hours, or had already contracted and recovered from COVID-19, according to a Government statement issued last week.
The pass will reportedly be a paper certificate at first, with the eventual goal of having it as a digital passport in smartphones, according to news outlet The Local It.
The certificate will be valid for six months for those who are vaccinated or recovered, and it can be issued by the vaccination centre, or in the case of recovery, by a hospital, family doctor or paediatrician.
Certificates obtained by testing negative are to be valid for 48 hours and can be issued by testing centres or pharmacies.
While paper certificates can easily be forged, the penalties if you're caught doing so are severe.
The Government has said the possible prison term for anyone using counterfeit or altered official documents will be increased by a third.
Anyone found making false statements to obtain the pass could be fined up to 3,000 euros.
How will it work?
The green pass would allow people to travel to any areas in the country, even those still classed as high-risk.
The document would need to be shown before boarding at airports or train stations, and if stopped by police at a checkpoint if travelling by car.
Italy has already launched some 'Covid-free' train services which only allow passengers to board if they can show a negative test certificate.
The Government is also reportedly considering making the pass a requirement to attend certain cultural and sporting events, such as concerts and football matches, which are to be allowed to reopen in lower-risk yellow zones.
Holders will need to keep their pass with them whenever travelling for non-essential reasons, for example for a holiday, to regions of Italy that are classed as higher-risk red or orange zones.
If someone is travelling for essential reasons, such as medical or work reasons, a green pass won't be required with the current self-certification form sufficient.
And if someone is travelling from one yellow zone to another, the pass won't be needed.
A green pass is not required if a person is travelling to return home, regardless of zone colour, and children under the age of two are exempt from the requirement.
However, there is some confusion over whether this passport will be the same as the EU-wide 'green certificate' being proposed.
The Italian government has not yet made a statement on whether or how it plans to take part in the EU-wide travel pass scheme.
However, it appears that the Italian immunity pass will be linked in some way to the EU initiative.
The Italian government stated when announcing its own immunity pass: "Vaccination passes issued in the EU are valid in Italy,"
Source: Read Full Article