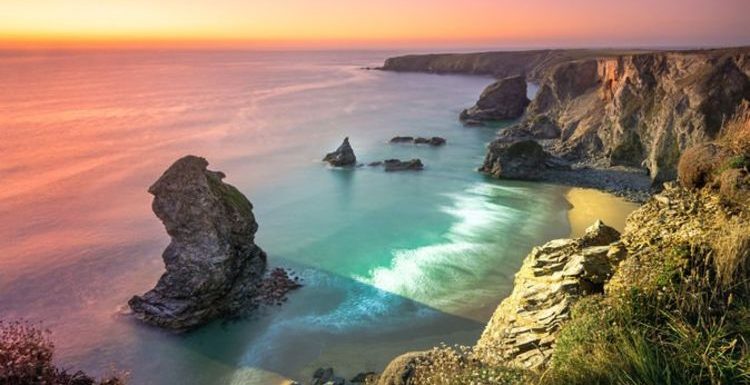 Cornwall: Kim Conchie says there is a 'perfect storm' in county
We use your sign-up to provide content in ways you've consented to and to improve our understanding of you. This may include adverts from us and 3rd parties based on our understanding. You can unsubscribe at any time. More info
It's happened again, people are complaining about Cornwall. The top UK tourist destination at the British Travel Awards for nine years in a row, the peninsula is the summer holiday destination of choice for many.
With Britons opting for staycations this year, Cornwall has seen an influx of holidaymakers, and most are happy.
However, complaints and "cheap shots", as Cornwall Live calls them, are also coming in thick and fast.
Journalist and author Caitlin Moran, who holidays at Watergate Bay regularly, has penned a Times column in which she finally snapped.
Currently holidaying in Cornwall – seemingly like half of the country – Caitlin queued "for nearly two hours for lunch in a mid-priced café".
READ MORE: Visit these eight UK cemeteries
While her dedication to getting chips is commendable, she was not impressed with the wait, branding Cornwall, and other bucket-list destinations "overcrowded, overpriced and uncharming".
She wrote: "Despite Britain being full of incredibly beautiful countryside – the Welsh Marches; Cumbria; Ayrshire; a place I once went to near Stafford – Cornwall is a disproportionately fashionable place to holiday, and so demand madly outstrips supply."
She continues: "We've all seen the news story about one Cornish holiday home being advertised for £71,000 a week.
"We've all seen the rammed beaches and booked-out cafés. We all know how badly it affects the people who live in places warped by mass tourism.
"We know they'd actually like roughly half of us to just f*** off. And yet we still go."
DON'T MISS
Caitlin is a famous person, but her sentiment is echoed by many Britons who think Cornwall really isn't all that.
On Tripadvisor, reviews of Cornwall's beaches can make for an uncomfortable read.
Newquay Beach had visits from very unhappy holidaymakers.
One wrote: "If you're going down south this summer don't bother with Newquay the town is dirty with cigarette butts everywhere and the beach is covered with dog poo and used nappies."
Another said: "It's a beach, it's English, not very pretty and the town around it is simply awful. It makes Blackpool look upmarket and likewise for the scruffy people."
While a third commented: "The place has turned into mayhem and chaos, no room to walk freely without being pushed about, the shops all sell the same merchandise, the roads systems are abused by its locals who drive like maniacs against holidaymakers and were the ones bringing revenue into the area. […]
"Glad to see it in my rearview mirror."
From seagulls to bathroom facilities, holidaymakers seem to enjoy a good complaint.
One reviewer said about Polzeath Beach: "Love this beach, been coming here for 60 years but what a backwards step allowing dogs on the beach in the summer.
"Daymer Bay and Rock are beaches cater for dog owners and now there are no dog-free beaches in our area of North Cornwall. What is the council thinking! Banning dogs from 10am doesn't stop dog poo and urine in rock pools, on sandcastles etc.
"You are not keeping our children safe. Shame on you!"
About Fistral Beach in Newquay, a user said: "Avoid if you like Pasties! Seagulls everywhere who were dive-bombing to pinch my large Cornish Pasty! Nightmare scenario!"
One reviewer said that Carbis Bay in St Ives "should be renamed garbage bay. Spent a fortune to stay in a building site with no spa, a dreadful experience. Greedy owners opened before they were ready. Disgusting."
Source: Read Full Article