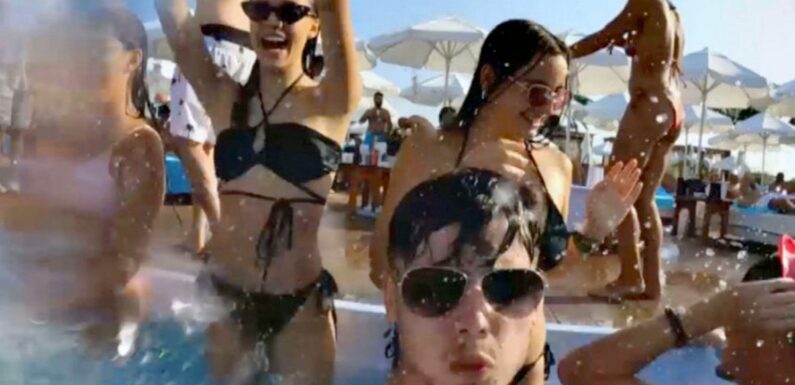 An MC at popular holiday resort town Sunny Beach has said that the Brits aren't the rowdiest tourists, despite their infamous reputation.
It's a notoriety that's seen Amsterdam asking British men to stay away, while Lanzarote has said it wants more "higher quality Germans" than UK tourists.
Plus, police on Channel 4's Emergency on Sunny Beach had plenty to say about the British.
Policeman Emil Tonchev said: "The British people cause the most problems because they can't drink. Bulgarians have brandy, the Brits drink beer. People come on holiday and lose their senses."
But DJ Jamie North, who works on the strip in Sunny Beach, Bulgaria, claims we're not the worst nationality when it comes to drunken bad behaviour.
Jamie works at Viking Beach Bar in the town and claims the free shots, cheap beer and 7am club opening times attract thousands of party lovers each year.
He said that Dutch and Norwegian tourists can be just as rowdy – and in some cases, even worse.
He told the Daily Star: "They get absolutely hammered before 12 in the morning. Drinking ridiculous amounts. I feel they drink beer for breakfast!"
On the flip side of the coin, Jamie commented to Daily Star that it's the Bulgarians who are the best behaved.
Not so surprisingly considering they've stayed within their country for a staycation.
Jamie said: "Bulgarians are the best behaved. They flock to the seaside town in the summer, just like we would back at home.
"It's normal for groups of Bulgarians to have their ID checked by police, so they can be well behaved."
But, that doesn't mean they're all work and no play as the DJ claims the Brits often underestimate the locals.
He commented: "They underestimate how the Bulgarians drink alcohol. They drink the stuff to get sober. There's no such thing as a single or double in Bulgarian mixes it's simply just having your glass filled up."
There's plenty of evidence that Brits love to go to Sunny Beach for its 80p pints with big plans in mind.
Cheap holiday fan Mason, 21, from Essex headed to Sunny Beach, Bulgaria, which he said felt like 'Ibiza' for 10 day bargain holiday in Europe full of clubs, alcohol and women.
He claimed he wanted to "sh*g a MILF and all the foreign birds" on holiday – but it all went wrong.
READ NEXT:
Sunny Beach police say Brits are 'fair skinned, chubby and can't drink' on holiday

Benidorm lad spills resort secrets – 88p pints, £2 fry-ups and getting drunk for 'nowt'

Europe's best party spots with epic pool parties, cheap booze and flights from £22

Lanzarote wants fewer cheap British tourists in favour of 'higher quality' Germans
Source: Read Full Article