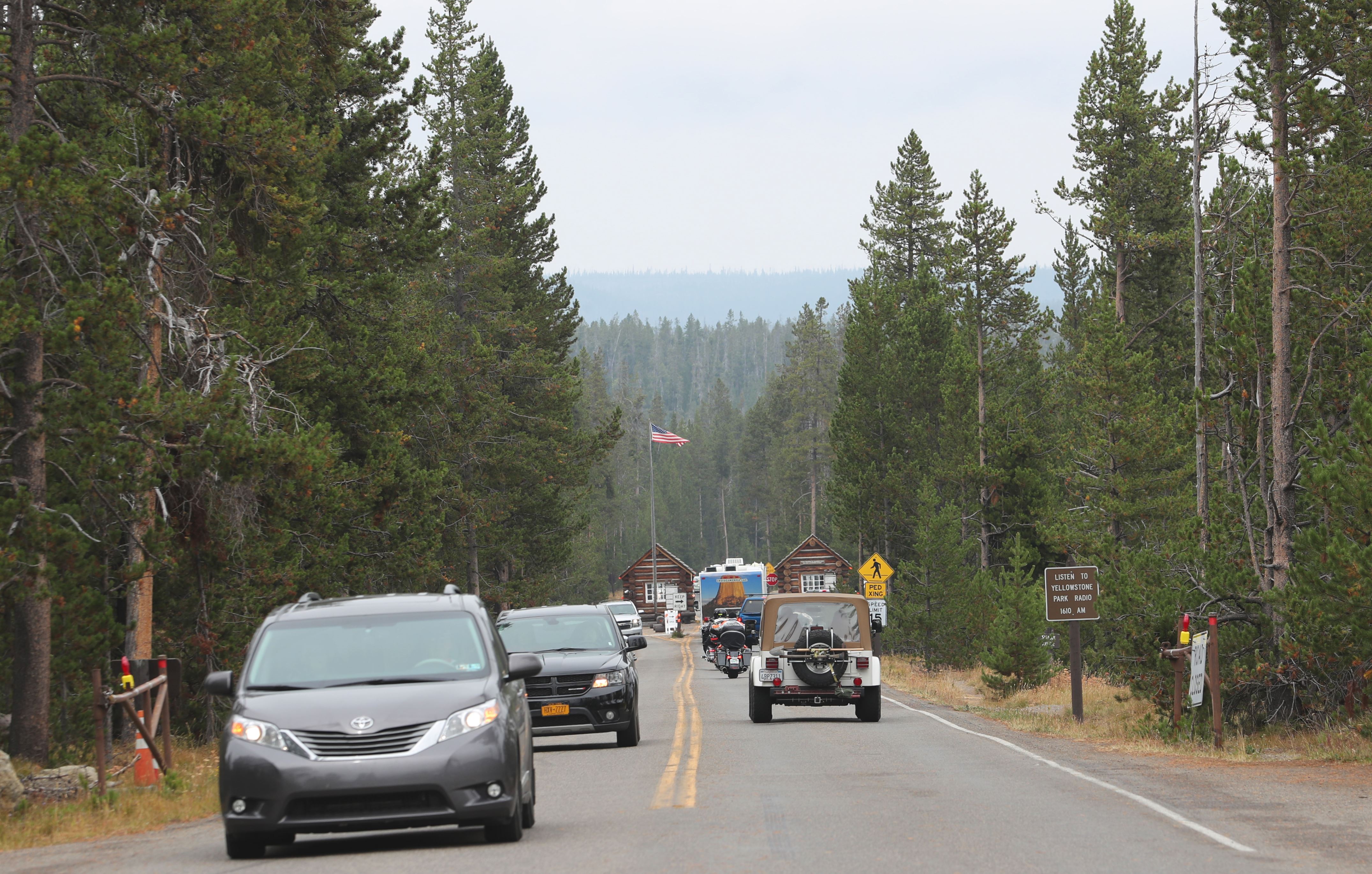 How to Survive Thanksgiving Travel, According to 20 Savvy Travelers
Whether you've left your Thanksgiving travel plans to the last minute or you've been prepared for weeks in advance, it's still one of the worst times of the year for traveling. Airports can be absolute chaos, flights often get delayed or cancelled, and many people are on edge at the prospect of having to deal with family.
Everyone makes travel mistakes during the holidays, but if you're lucky, you may just be able to avoid them and have a smooth and utterly successful trip. In order to figure out how to make your Thanksgiving trip as painless as possible, The Active Times spoke with 20 savvy and experienced travelers to see what they had to suggest from their own personal experience. Their tips were a variety of money-saving ideas, time-saving hacks, and clever ways to ensure your convenience as you take on one of the most difficult times to fly or drive around the country. You don't want your amazing Thanksgiving destination or cozy family dinner ruined before you even get there, so here's a handy guide on how to survive Thanksgiving travel.
Be Flexible and Get Paid
One little-known fact about flying is that you can get paid to give up your seat. Holiday season is ripe for overbookings, delays, and cancellations, and if you plan your trip with enough flexibility in your schedule, you can volunteer to get bumped to a later flight. "Depending on the severity of the delays, you could be looking at a free hotel room, money for food, airline vouchers for future trips, and even cash gift cards," Veronica Hanson, owner of Vacay Visionary, told us.
Become a Trusted Traveler
One sure-fire way to get through airport security faster is to join an expedited airport security program. Travel and lifestyle writer Wendy Altschuler told us that Global Entry and TSA Pre-Check are "an absolute must" for holiday travelers. "You won't have to remove your shoes, laptop, light jackets, belts, or liquids from your carry-on," she said. "You can also download the mobile pass app to skip additional lines as well," suggested food and travel journalist Kristie Hang. "Many credit cards will refund your global entry and TSA pre-check fees," Valerie Joy Wilson, founder of Trusted Travel Girl, told us, also suggesting the CLEAR, a third-party program in some airports that lets travelers even avoid ID check.
Book Alternate Airports
One thing you should never do when planning is ignore the possibility of alternate airports. Travel writer Dave Golokhov told us that "in cities like Toronto, New York and Los Angeles, there are other airports you can fly into." There are more benefits to choosing a smaller or less popular airport than just less expensive tickets. "Booking through an alternate airport may save you time — especially since holiday travel often results in delays," said travel writer Fabiana Santana.
Book as Soon as Possible
One of the most popular pieces of advice we got from the many travel experts we spoke to was to make your bookings as soon as possible. "Seriously, if you know where you're going, you better get a move on it," said travel writer Monte Mathews. "Last Thanksgiving, over 50 million of us took to the roads or headed to the airport in one five-day period." If you feel it's too late for you this year, travel blogger Lia Garcia of Practical Wanderlust suggested looking into next Thanksgiving. "Mark your calendar next year to book it ASAP," she said. "Like, 'as soon as the table has been cleared after Thanksgiving' levels of early."
Bring an Emergency Kit
Any savvy traveler knows to pack an emergency kit no matter where they're going. Bring pain relievers and any medications you need, along with adhesive bandages. A good emergency kit will include more than just that, however. "Keep your contact solution and case, hand lotion, ChapStick, a shawl or snugly sweater, and wet wipes in your carry-on," Altschuler advised.
Bring Entertainment
Downloading some good entertainment can help you survive a long flight or drive, especially if you're traveling with kids. Brittney Usrey, a former flight attendant and founder-CEO of Flygirl Box, a subscription box for women travelers, said one should always be prepared for any delays in your travels. "Bring a good book, or download movies onto your laptop or tablet," she suggested. "Most libraries now offer free movie downloads."
Cheapest Isn't Always Best
Saving on airfare is a great thing to do, especially if you're trying to watch your spending overall, but sometimes that tempting low price comes with a catch. "These are often 'branded fares' which come with tough restrictions including the ability to be sat together, leg room, and baggage allowance," said Jim Mazza, chief operating officer of Travelsavers, a global travel agency marketing company.
Check Which Foods You Can Bring
"Bring yourself a little Tupperware filled with your favorite Thanksgiving leftovers to enjoy on the plane," said Garcia, adding that you can bring food in your carry-on as long as it isn't liquid. Travel and food journalist Lauren Mack advised double checking with the TSA website to make sure you're complying with the rules. "If you're bringing food, check out the TSA's guide for what you can bring on the plane," she said.
Check-In Ahead of Time or Curbside
Travel blogger Lindsay Davies suggests planning ahead, which means not only booking airport transfers and car rentals beforehand, but also checking in online before you get to the airport. "This way when you arrive at the airport, you can just drop your bag and go, saving you a lot of time and hassle while in transit," she said. Mazza also suggested curbside check-in, referring to it as the "simplest, most convenient, stress-alleviating service at the airport." "For a tip of about $2 per bag, you can avoid long lines and enter the airport hands-free and with your boarding pass," he said.
Don't Book Too Short of a Layover
"If you are flying, don't cut your layovers too tight," said travel blogger Carol Guttery. "If you miss your connecting flight, your carrier will have a very difficult time rebooking you during the holiday." To be safe, it's best you have at least an hour and a half between flights, even if you have to go through a longer layover.
Don't Park at the Airport
Airport parking can have exorbitant costs, especially if you're gone for more than a couple days. "Off-airport parking services such as Parking Spot are significantly cheaper and convenient, dropping travelers right at the departure door," said Mazza. Wilson suggested using ParkSleepFly, a service that allows you to park your car at a hotel, with or without a hotel stay, depending on whether or not you want to stay overnight before or after your trip. "Not only can this save you hundreds in parking, but it's the perfect option for early-morning departures or late-night returns," Wilson said.
Eat a Thanksgiving Feast Wherever You Are
If you're using Thanksgiving to knock some destinations off your bucket list before the year is over, that doesn't mean you have to miss out on the turkey and stuffing. "If traveling internationally, search online for where you can eat your 'traditional Thanksgiving dinner' in the local area you are traveling to," suggested travel advisor Dawn Gonzalez of 9to5 Travels.
Fly Nonstop
"Try to book nonstop versus connections," Golokhov told us. "Connections can be a nightmare this time of year." Travel and culinary blogger Lindsay Page Stein also suggested avoiding layovers so as not to waste time navigating more airports. "Booking a nonstop flight is totally worth it, even if it means paying a bit more money for it," she said.
Get Some Sleep
Travel and lifestyle blogger Kacey Bradley pointed out what should be obvious to all travelers but often slips the mind among holiday chaos. "I recommend taking a few days before your trip to catch up on your Zs," said Bradley. "Lack of sleep can cause mood changes and may even make you less capable of choosing the best lines or quickest travel options."
Give Back
Flight attendants may not tell you this, but snacks can go both ways. Santana suggests you travel with gifts for the flight grew and gate agents in addition to any you have for family this holiday season. "I like to offer up small bags of candy or treats to let them know I appreciate them and their working on the holiday so I can travel," she said.
Have Travel Documents On Hand
It's important to make sure you have all your travel documents on hand, as well as copies. "Take photos of important documents and keep them in a Google Drive or protected file," Santana suggests. "Holiday travel can mean more people around and lots of rushing so a misplaced bag or wallet might just be a reality." Mathews pointed out some rules have changed in certain states, meaning you may have to take your passport. "New regulations may mean your driver's license isn't an acceptable form of ID."
Inspect Your Car
If you're taking a road trip this year to get to your Thanksgiving destination, make sure to do a safety check or get an actual inspection before you leave. "If I'm driving long distances on Thanksgiving, I'll do what I can, like an oil change, tires, headlights," said Golokhov. "If you're not sure, spend the money to rent a car for a day or two."
Keep the Kids Occupied
One of the biggest mistakes you can make while traveling with kids is forgetting to pack things to keep them occupied and happy. Wilson suggested getting the kids involved even before the trip. "Keep the little ones busy by picking out new toys, games or movies the week or two before," she said. "Tell them they can't have it until your travel day starts." Altschuler gave some tips on just what to bring; "pack lots of snacks and refillable water bottles; activities like Mad Libs, books, washable markers and paper; and bring along iPads and technology loaded with age-appropriate movies and games."
Leave Early
One of the most common pieces of advice we got from our travel experts was to leave as early as you can in the day. "Whether you're traveling by plane, train, or bus, getting an early start and leaving extra time to get to your destination can take the stress away," said Stein. "This isn't the time of year to cut it close," Golokhov said, suggesting that travelers also check in as early as possible. Mazza also told us that the earlier you leave the better, especially for those flying with small children who can get exhausted later in the day. "More than that, and important for travelers of every age, there are typically more delays in the evening and they snowball, particularly in the Northeast."
Leave Some Stuff at Home
Have a tendency to overpack? Altschuler divulged a packing pro-tip that helps you avoid exactly that. "Figure out what you want to bring — lay it all out — and then leave 25 percent of it at home," she said. "You may also want to pack some items that you intend on leaving/trashing/donating, which leaves room in your suitcase for souvenirs."
Pick the Right Security Line
If you aren't in an expedited security program, holiday security lines can be awful. Do your best and try to pick the right line. "Keep your eyes peeled for how other travelers ahead of you have packed," Bradley said. "If it looks like they are traveling with small children or have a ton of baggage with them, you may want to avoid that line."
Ship Some Things to Your Destination
With so many rules and confusion about what you can bring through security, sometimes it's not a bad idea to just ship certain things ahead of you to whomever you're staying with. Wilson suggests shipping things that resemble liquids or gel, including any Thanksgiving treats. "Overnight any baked goods on some dry-ice, and they will more than likely show up in better condition than they would if you carry them on cross-country," she told us. Bradley suggested also applying this to any gifts you're bringing with you. "Losing luggage can be quite the hassle, especially if you lose something special to you or a present for a loved one," she said. "I will always advise others to send your gifts ahead of time."
Stay Calm
Of course, no matter how hard you try, holiday travel is still bound to be somewhat stressful and chaotic. It's important to prepare yourself and expect that issues and delays may come up, so that you don't lose your cool, especially when working with flight crew, concierges, or other people attempting to help you. "Be patient, kind and understanding, but also advocate for yourself and your family, and when someone says that they can't help you or that X is all they can do, ask someone else," Altschuler suggested
Stay Charged
An important last-minute Thanksgiving travel tip is to make sure you have a portable charger or an extra phone charger. You also want to make sure you fully charge your devices before leaving, because if your battery is low or at risk of dying, you may in trouble if you need to rebook something or if there's an emergency. "I fully charge everything — phone, tablet, laptop — and then have one of those extra battery packs just in case," said Golokhov.
Take Just Your Carry-On
"There's absolutely nothing worse than getting off a long flight, walking through the crowds to the baggage carousel, and just waiting forever your bags to arrive," said television host and food and travel journalist Reuben Mourad. "People are typically flying home for Thanksgiving, and there'll always be a chance for you to borrow or purchase whatever you can't bring with you there." Speaking from personal experience, travel blogger Karen Ng told us: "The chances of your bag going missing are also way higher, because everyone is rushing," a point that fellow travel writer Francesca Gage agreed with. "If you end up getting delayed or re-routed or if you have flexible plans and can get money to take a later flight, you will have everything with you and can avoid having lost baggage to deal with on top of general holiday stress."
Travel on Less Popular Days
Make your trip more affordable and bearable by traveling on one of the days when there's less rush. "To save, either extend your trip, flying out early within the week and returning the week after Thanksgiving, or shorten it, flying out early on Thanksgiving Day and returning the Saturday after," said Kimia Kalbasi, a food, travel and lifestyle blogger. Mourad suggested that catching a flight while everyone else is busy with their Black Friday shopping can mean less chaos at the airport. "Most people tend to travel on the Saturday or Sunday after Thanksgiving, and if you're able to get back straight away, the Friday is often cheaper, and an easier day to travel overall," he said. Garcia told us that this is exactly what she's done for the past several years, along with flying in the Saturday before Turkey Day. "We save several hundred dollars and avoid the crowds this way," she said. The day right before Thanksgiving and the Sunday after are notoriously the busiest days, so avoid those for a stress-free holiday.
More From The Active Times:
The Most Perfect Fall Day Trip in Every State
Traveling in Fall? Secrets Travel Agents Won't Tell You but Told Us
Step Into a History Book in These Charming Small Towns
Shoulder Season Travel Secrets You Never Knew
What Travel Bloggers Know That You Don't​​​​​​​​​​​​​​
Source: Read Full Article