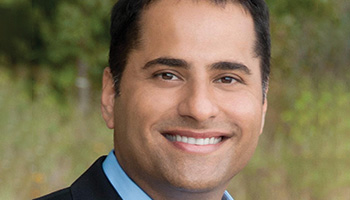 Hotel analyst and consultant Vikram Singh has spent more than two decades working across a variety of roles in the hospitality industry. His career started in India with the Taj Group of Hotels, Resorts & Palaces, before he moved to San Francisco to work in operations and revenue management for Pan Pacific Hotels & Resorts. Later, he worked for investment firms, leading revenue strategies for hotel portfolios that spanned the globe. In 2018, Singh went out on his own and established an eponymous hotel consultancy on the Island of Hawaii. Acting hotels editor Tovin Lapan spoke with Singh about the ups and downs of the Aloha State's tourism industry during the pandemic.
Q: As Hawaii handled a surge in Covid-19 cases in August, Gov. David Ige discouraged tourism before welcoming visitors back at the start of November. What has this period been like for hospitality?
A: When Ige made that announcement in August, it really took the wind out of the sails for tourism. After that, we had the largest single day of cancellations for Hawaii on Expedia since the start of the pandemic. So, that decimated the pace and build-up from the summer. In September and October, hotels were just trying to stay afloat.
The problem was that the reopening announcement just fizzled out. It didn't get nearly the same national media attention that the "Don't come" announcement got. And now we have to build back that momentum that was lost.
Q: Which markets are you watching most closely to inform your Hawaii forecasts?
A: Hawaii is supported by two really big markets that are our bread and butter, the U.S. mainland and Japan. Waikiki especially, and more generally Oahu, is particularly dependent on the Japanese market, which is a quarter of all visitors to the island.
Australia and New Zealand have really picked up in recent years. It makes sense, this being the midway point for flying to the mainland. Travelers can rest for a few days in Hawaii and not do the 18-hour flight in one shot. Hawaii has become a very popular stopover destination for Australians.
Q: What's your best guess for when Hawaii will start seeing significant international tourism again?
A: International travel was supposed to come back earlier this year until the surge over the summer. That really sent Australia into a tizzy, and Japan is not coping well with the whole thing. Hawaiian Airlines recently announced its restarting its service from Honolulu to Sydney in December, so that's a good sign.
I've got the Japan Times bookmarked because I look at it daily to keep up on when Japan will change its policies. I think they'll ease some restrictions soon, but I don't foresee a big rush in the first quarter. Winter is a big question mark, as some scientists are predicting a surge in Covid-19. So, at least until we get past this uncertain period of a possible winter surge, I don't see much changing with Japan. When Golden Week arrives at the end of April, then we could see a big influx of people from Japan eager to travel.
Related: As visitors return, Hawaii's hoteliers hope for some stability
Q: What are you looking for in the hotel industry in 2022?
A: I think we should get ready to see a lot more families traveling with kids, especially here in Hawaii. Up until now, most kids weren't vaccinated. That was a big part of why a lot of families had not hit the road yet. Hotels need to brace themselves for that and hire for a busy 2022.
The other thing is, sustainable travel is big and growing. More and more people are asking: "When I travel, what kind of footprint am I leaving?" Sustainable programs are the big talk of the town, and hotels that can adapt to the demand will find new customers. 
Source: Read Full Article