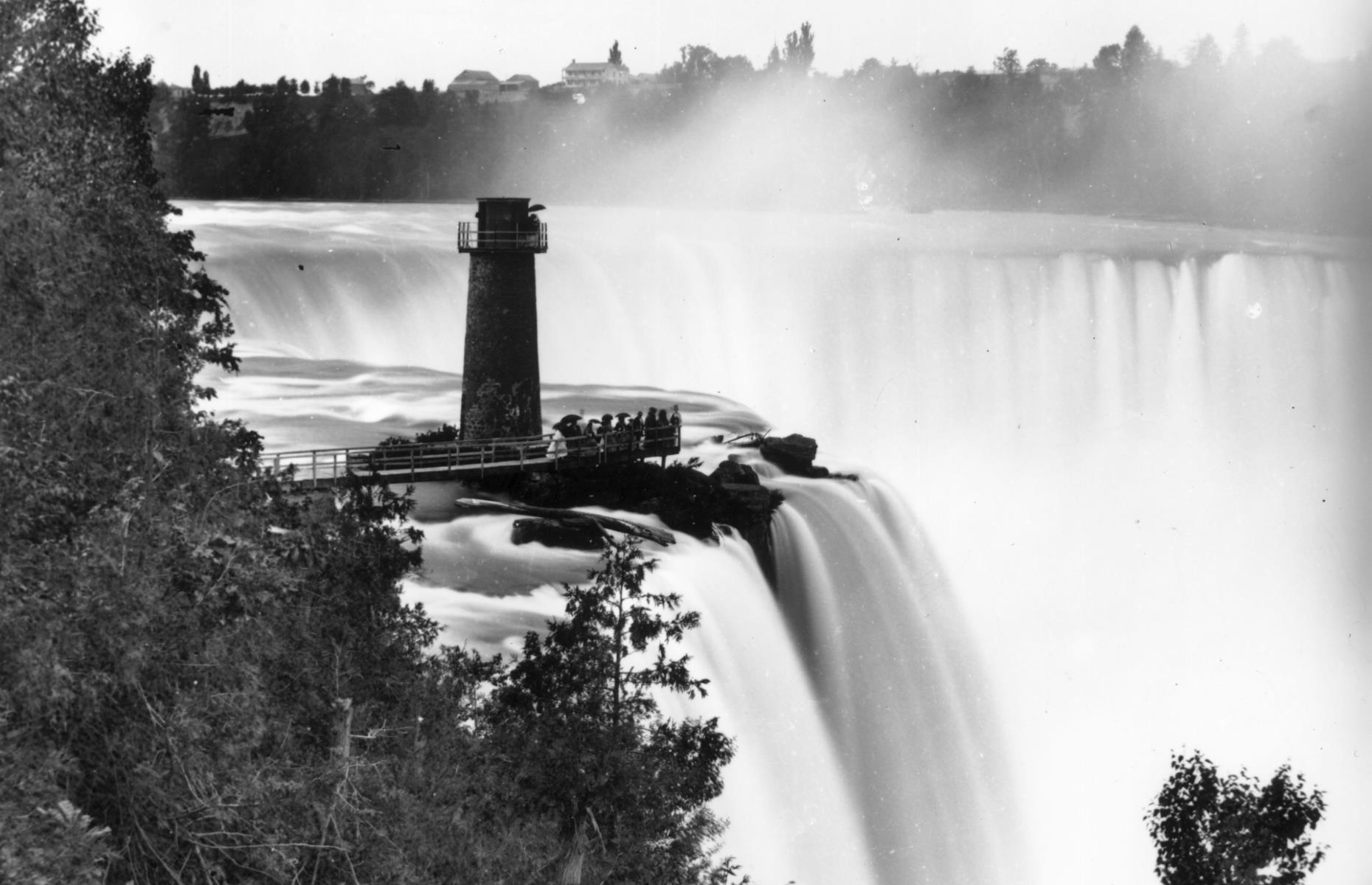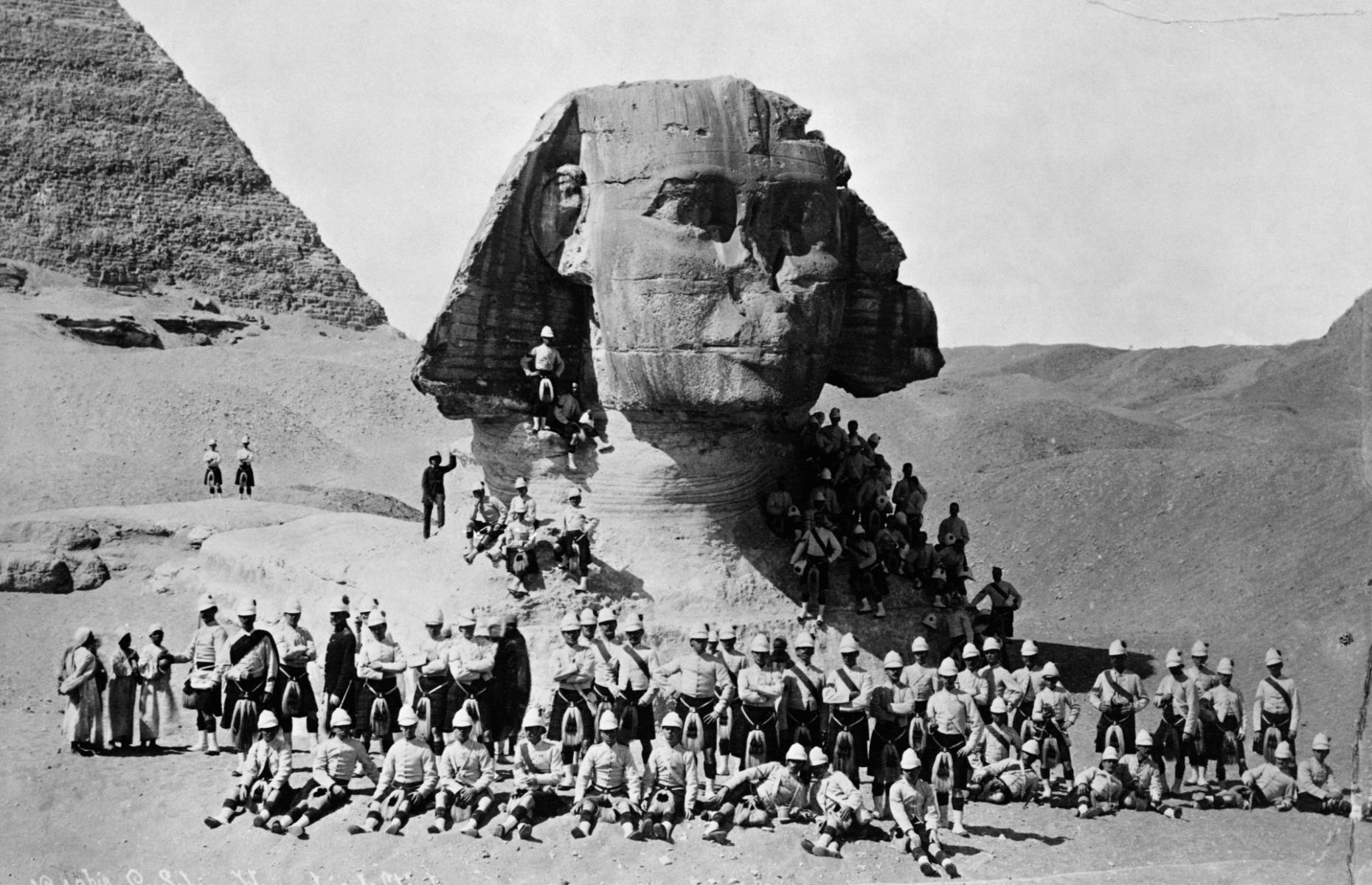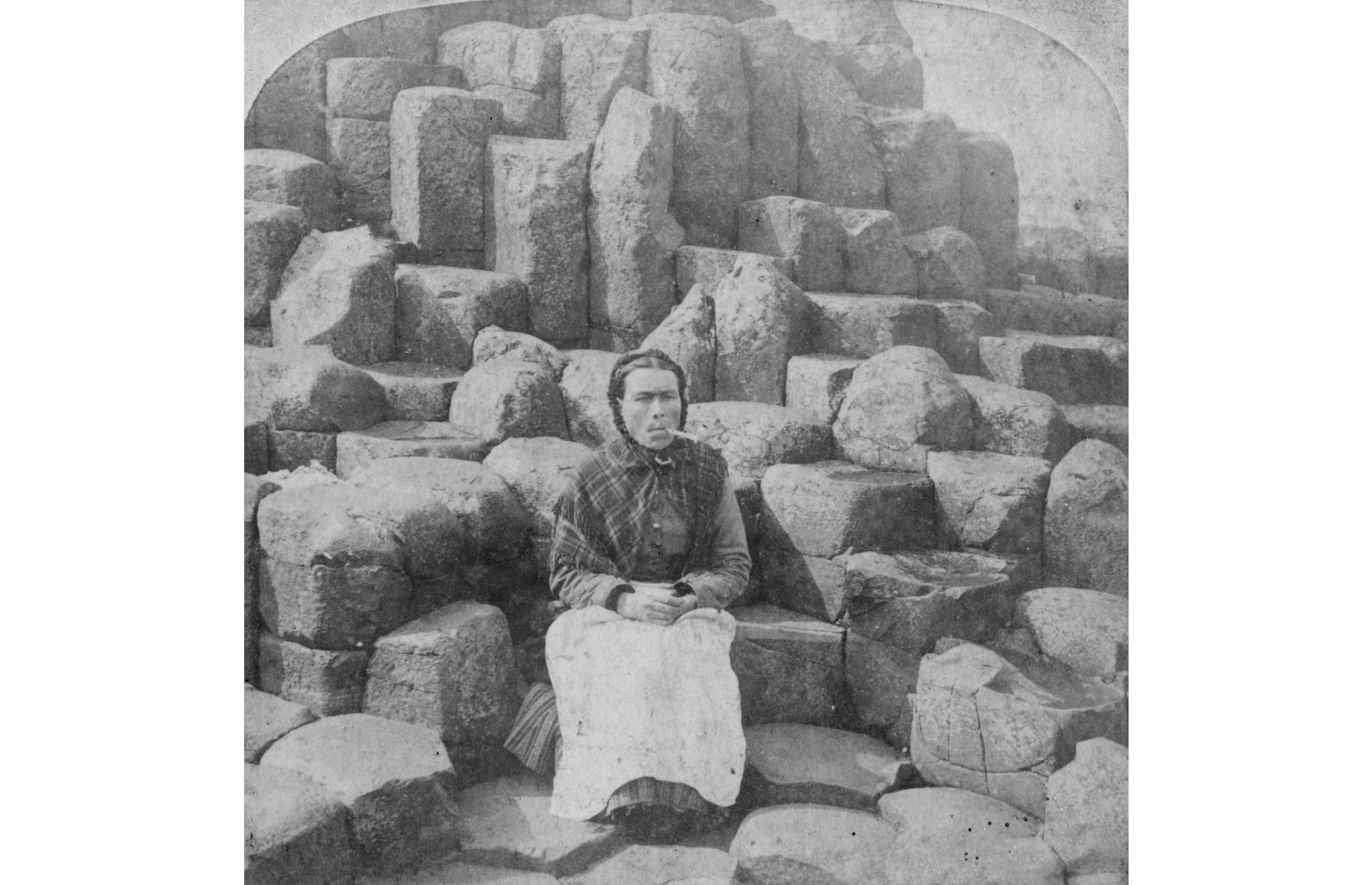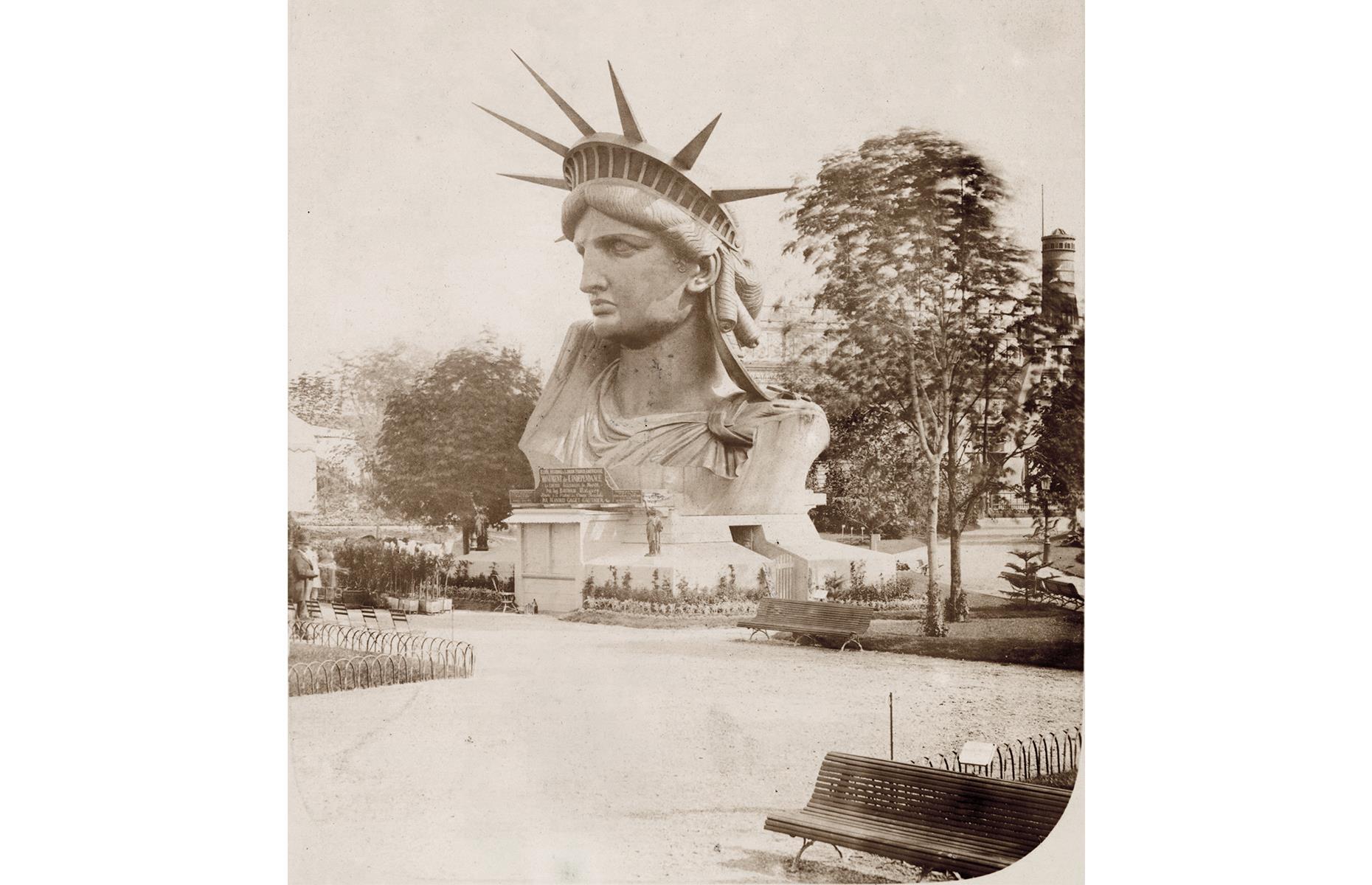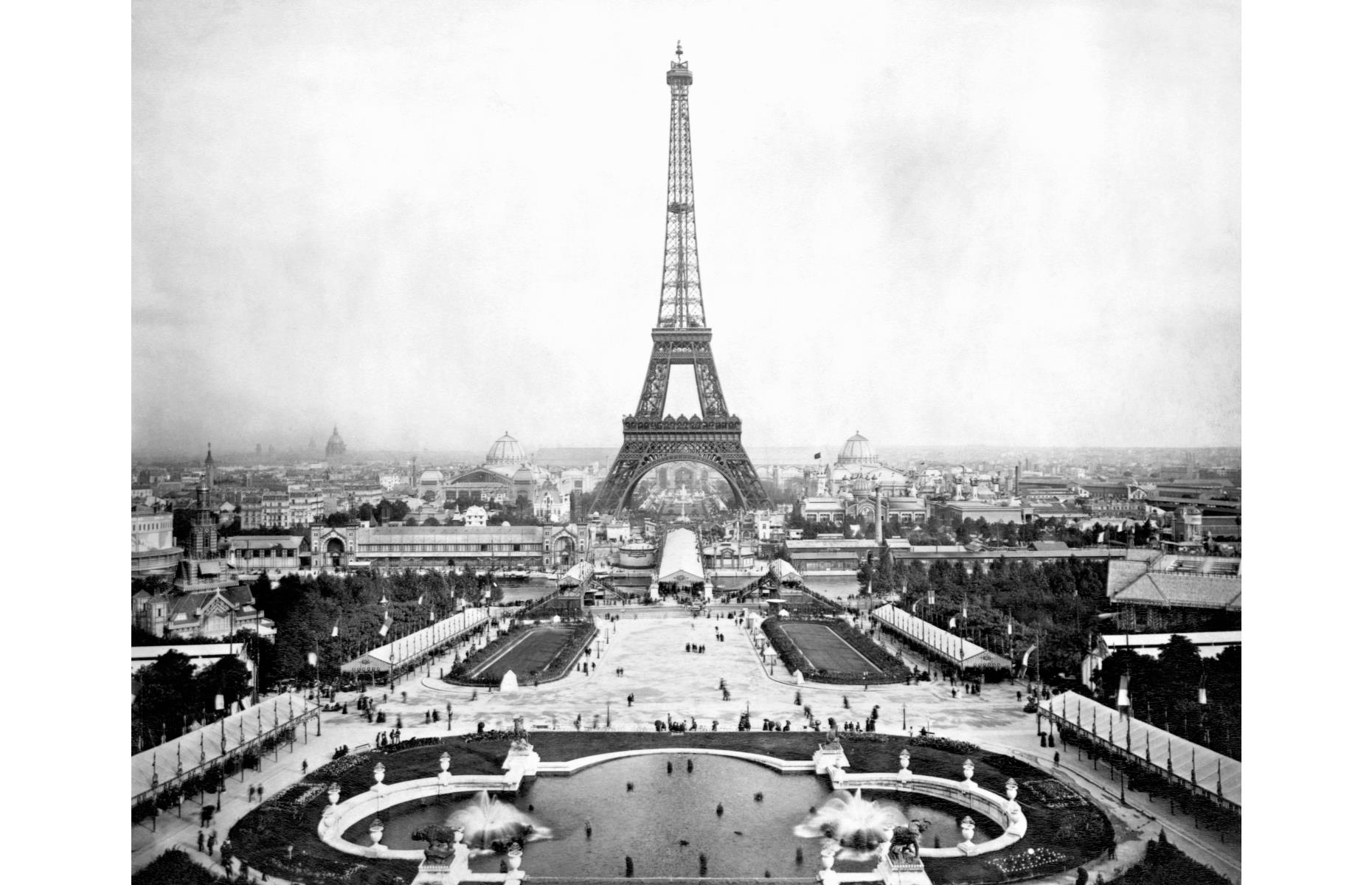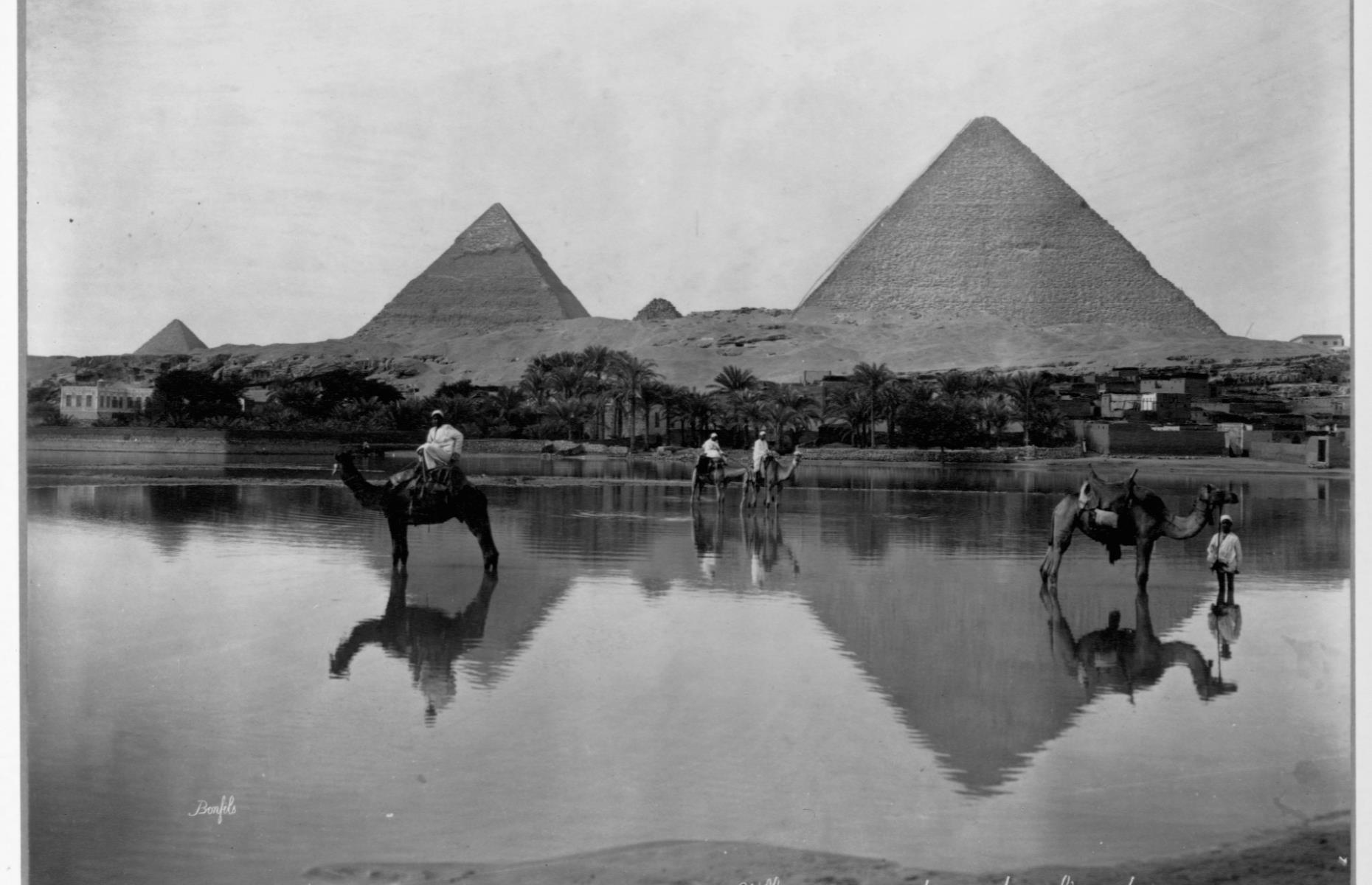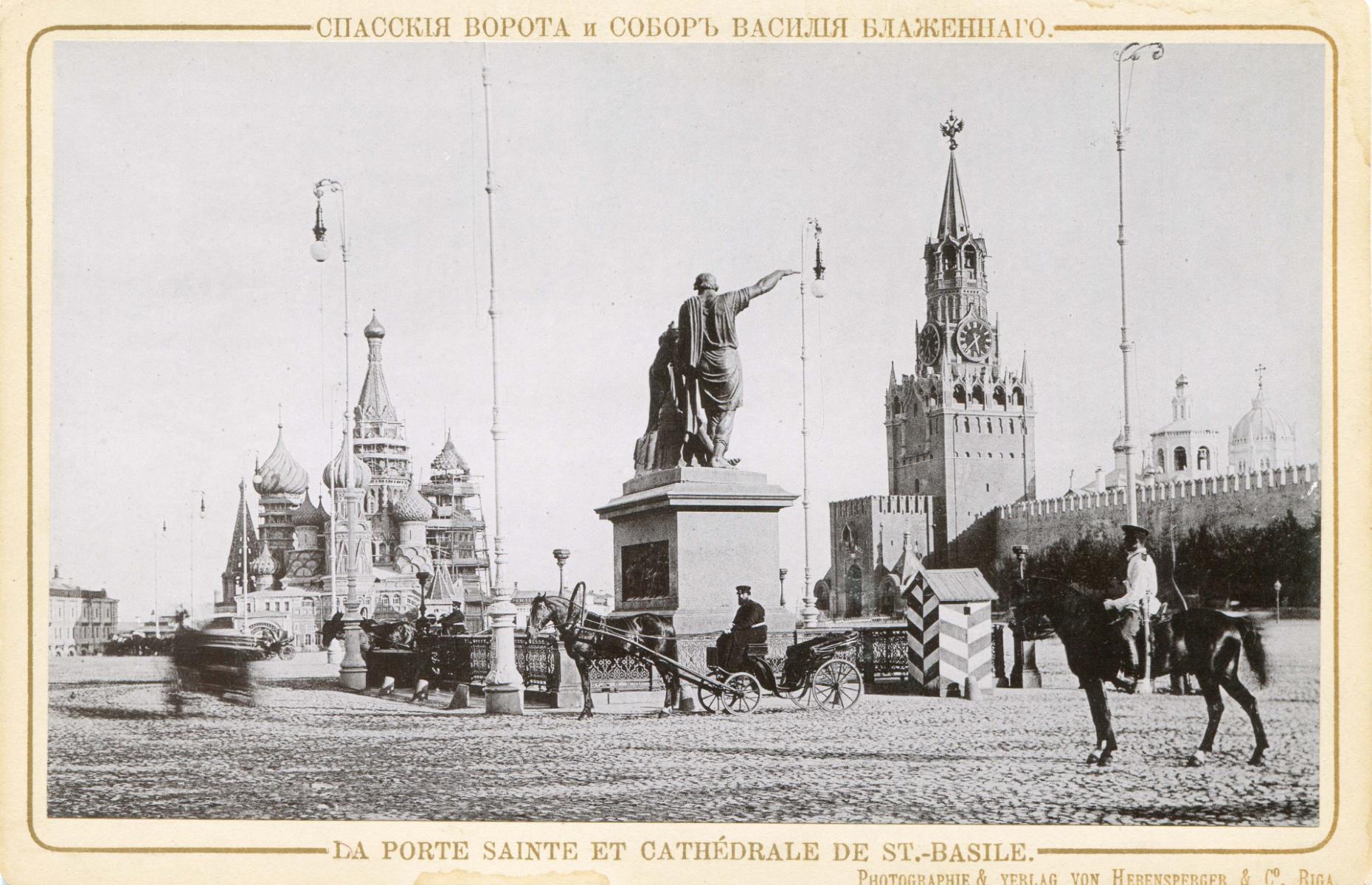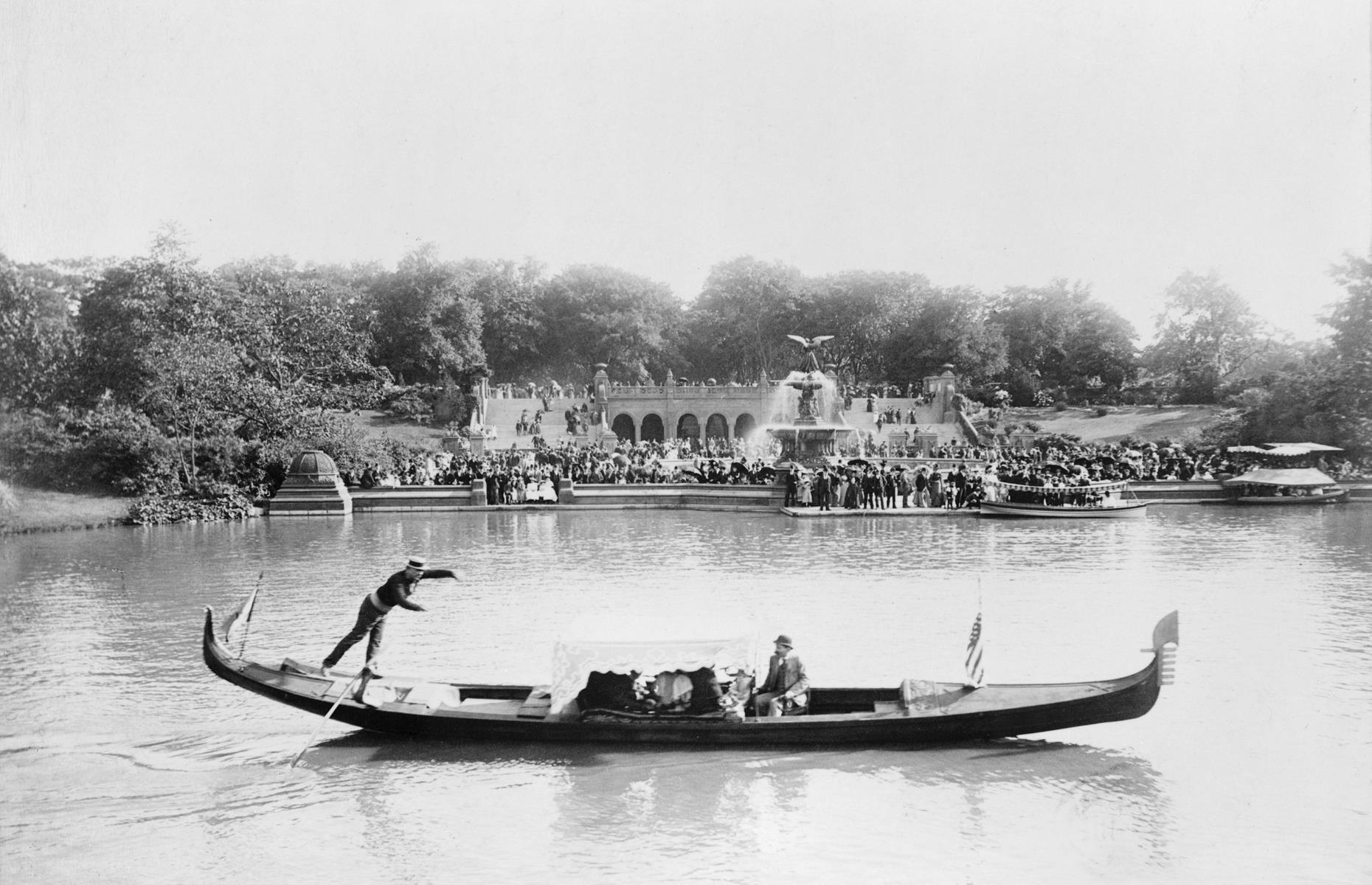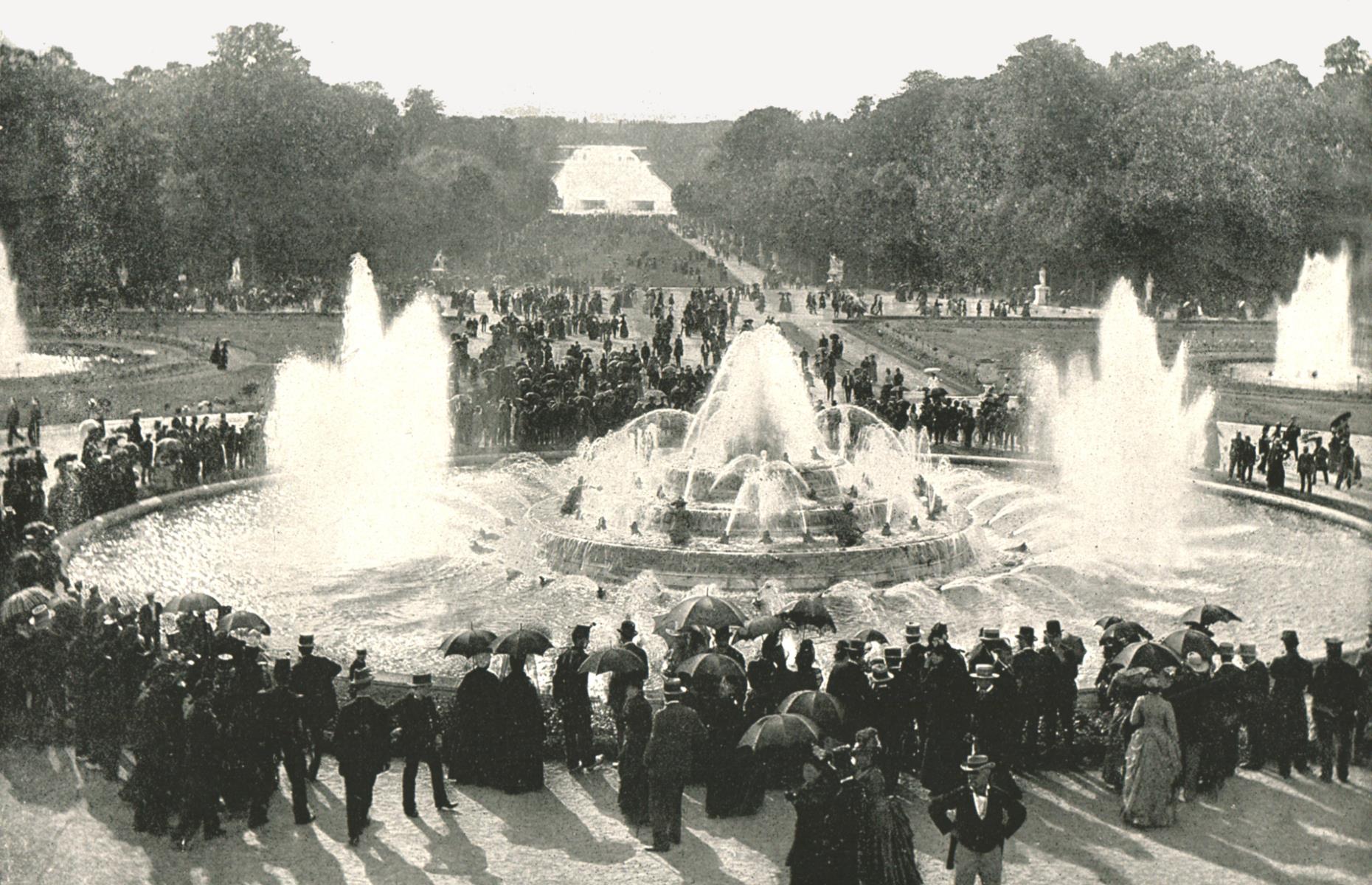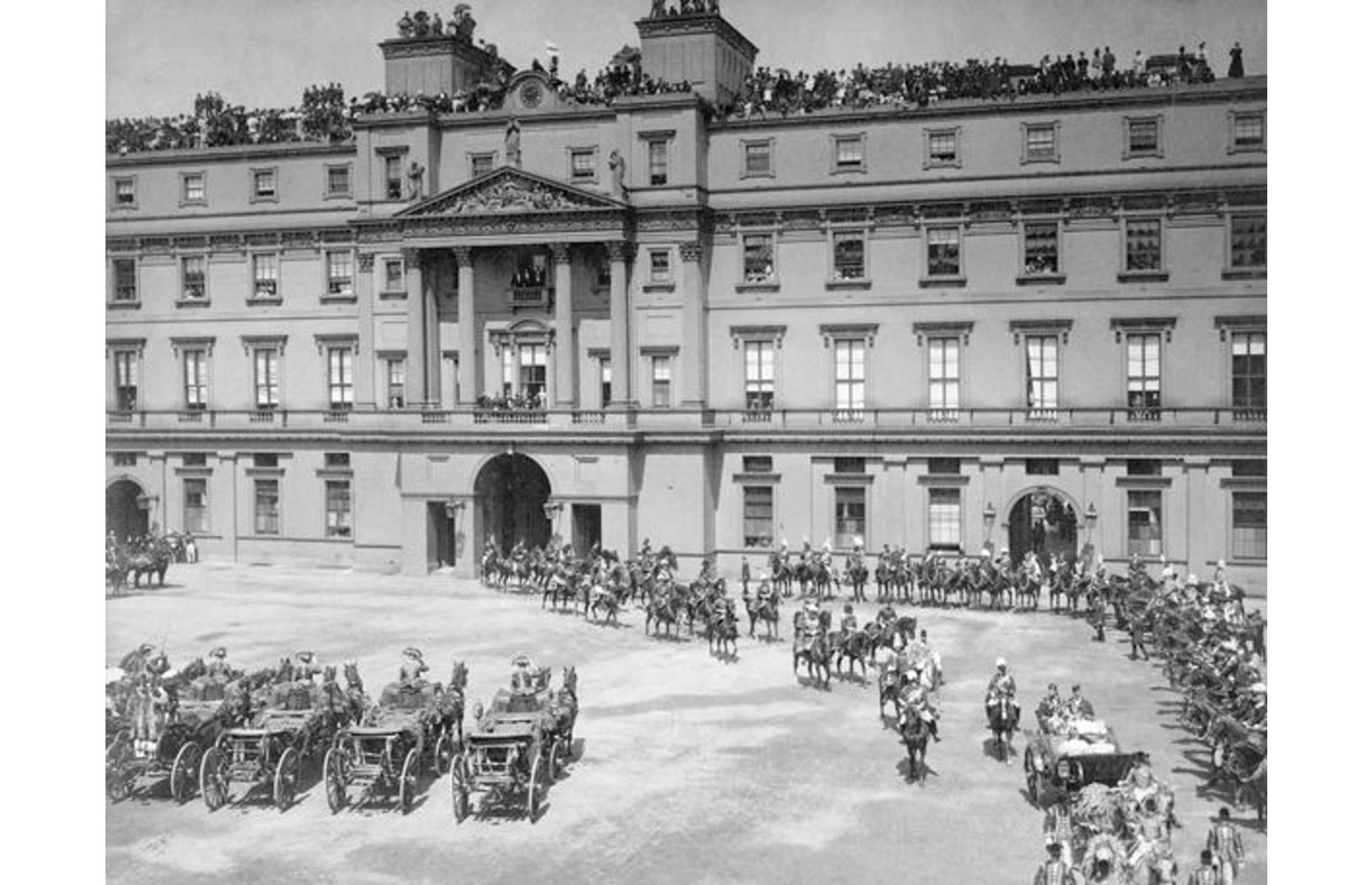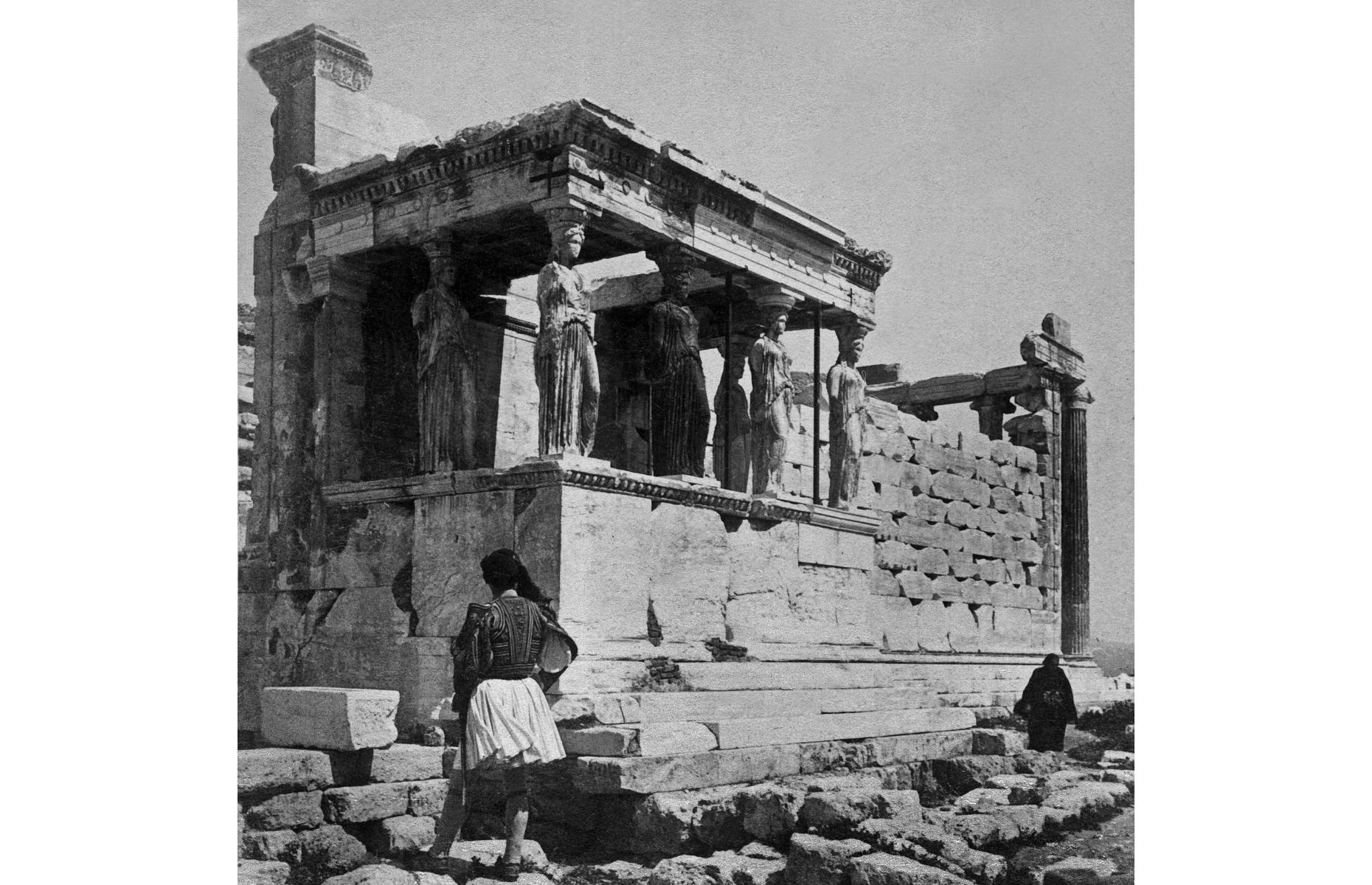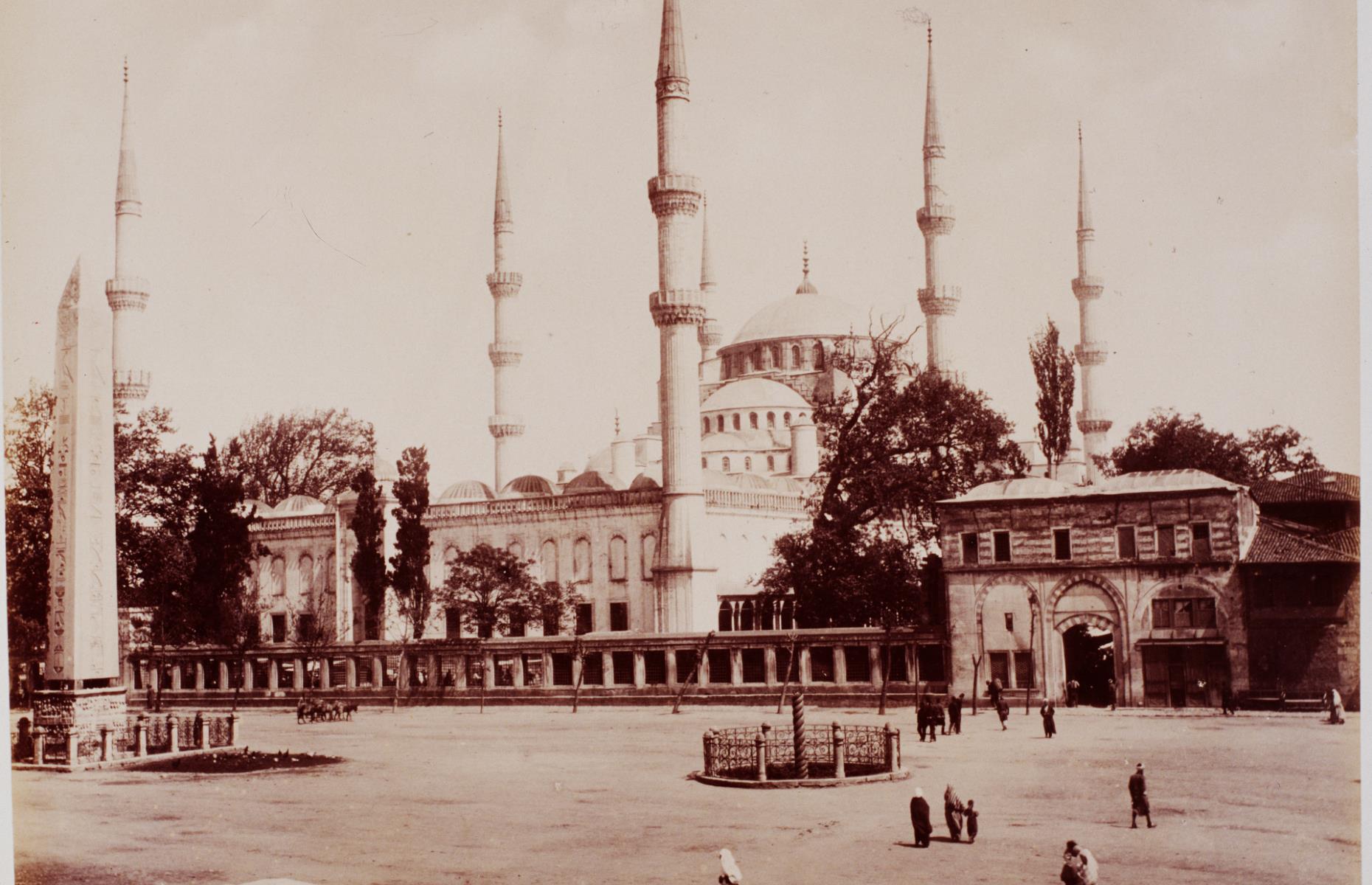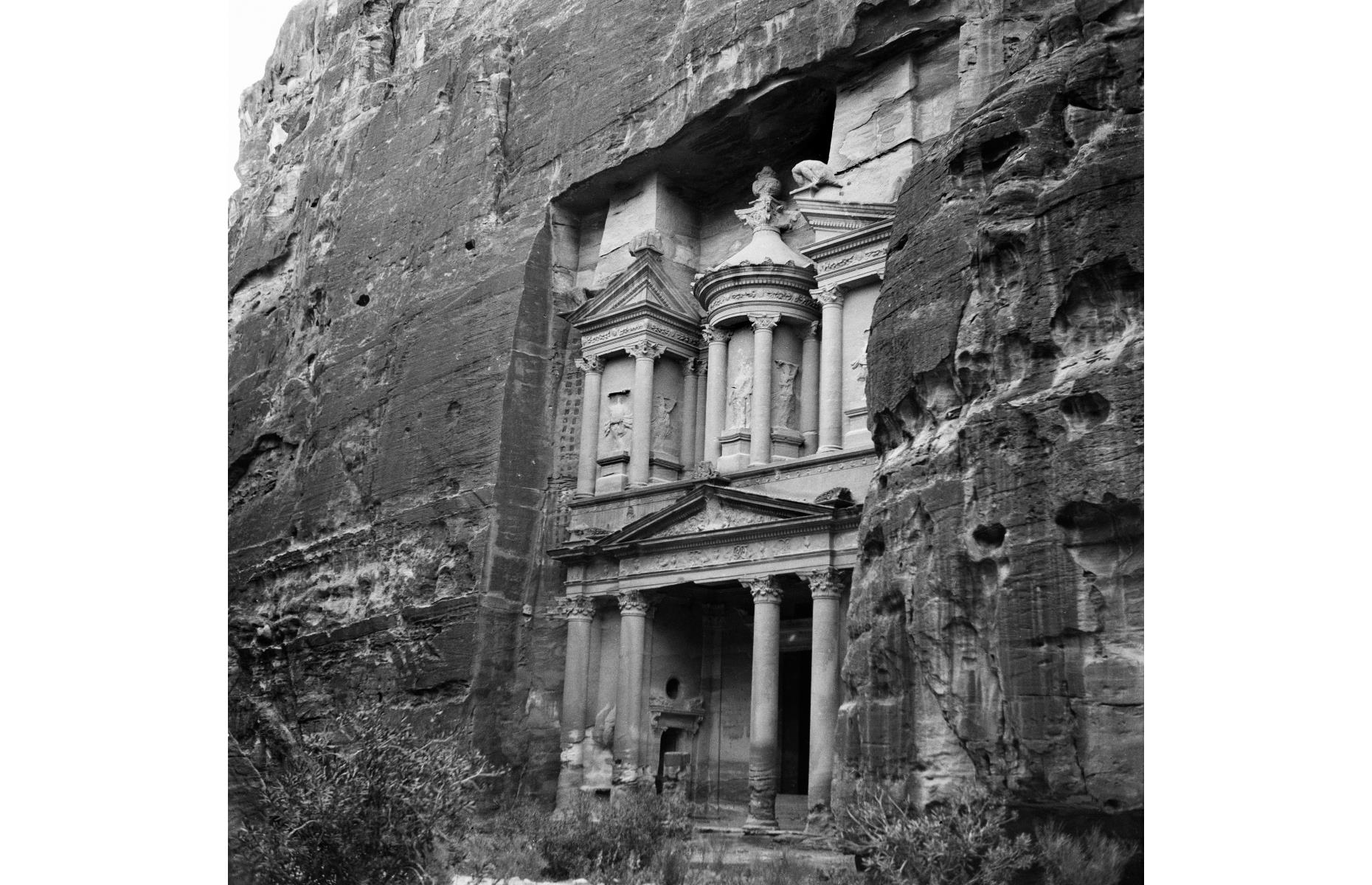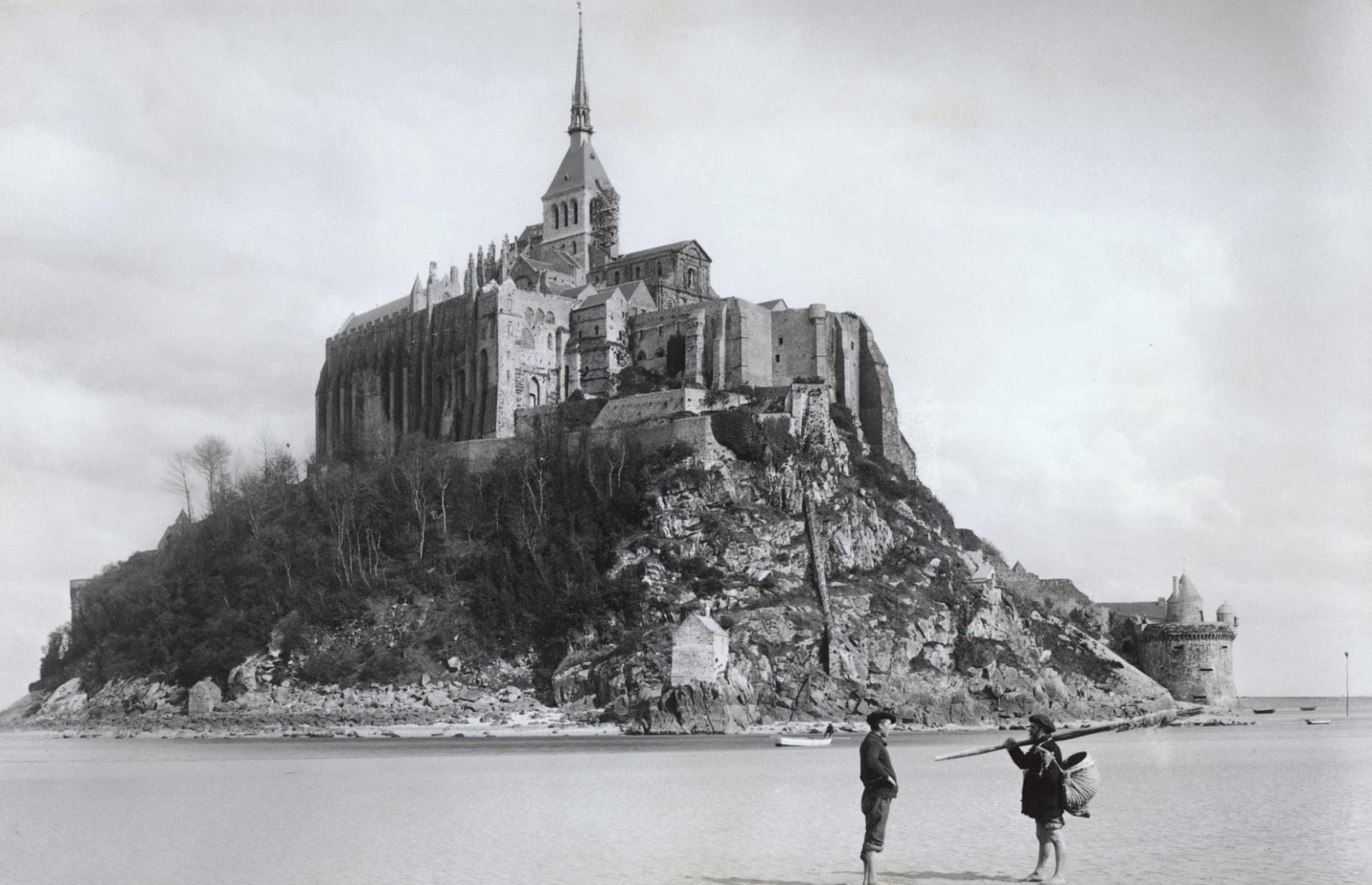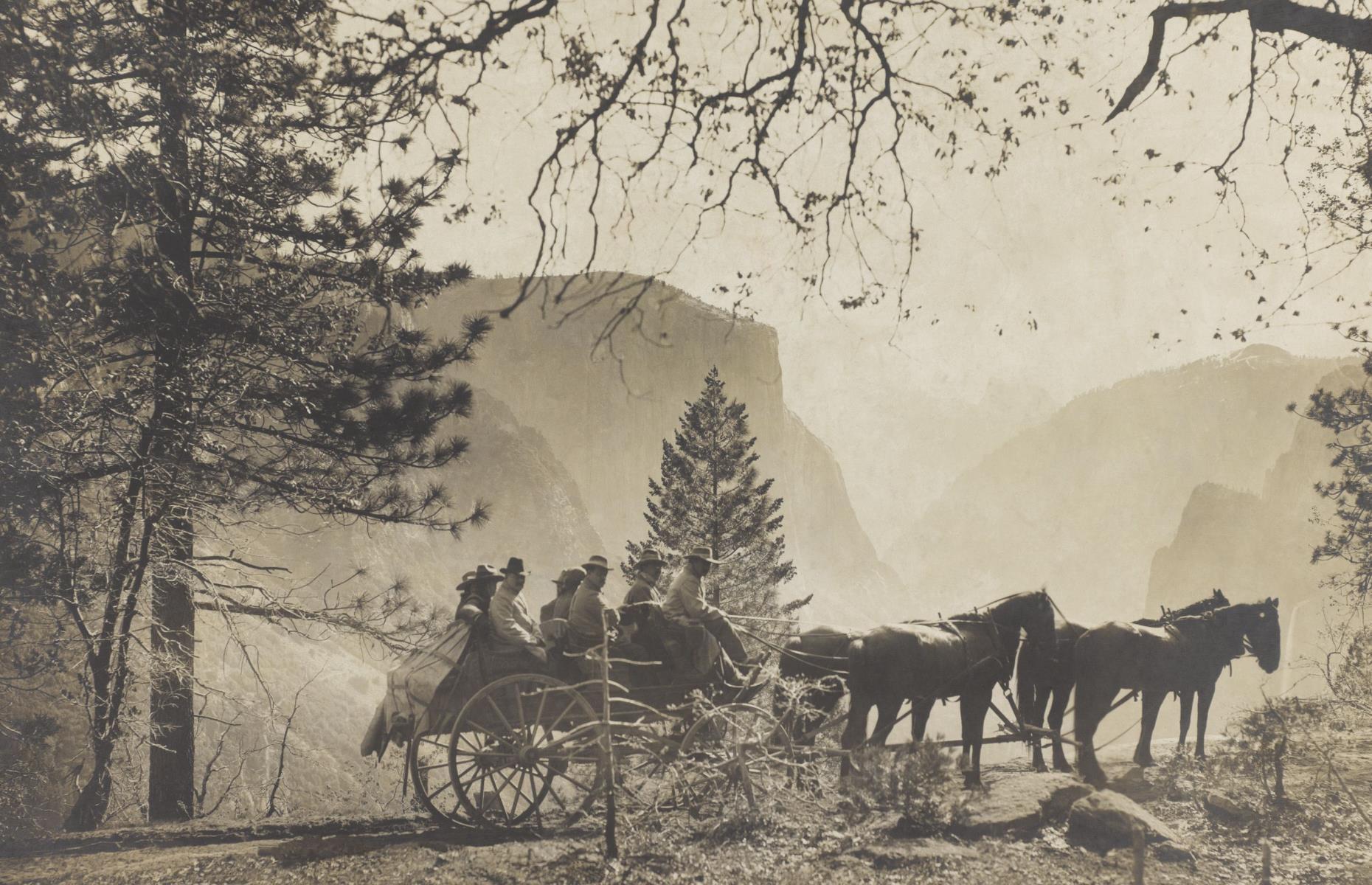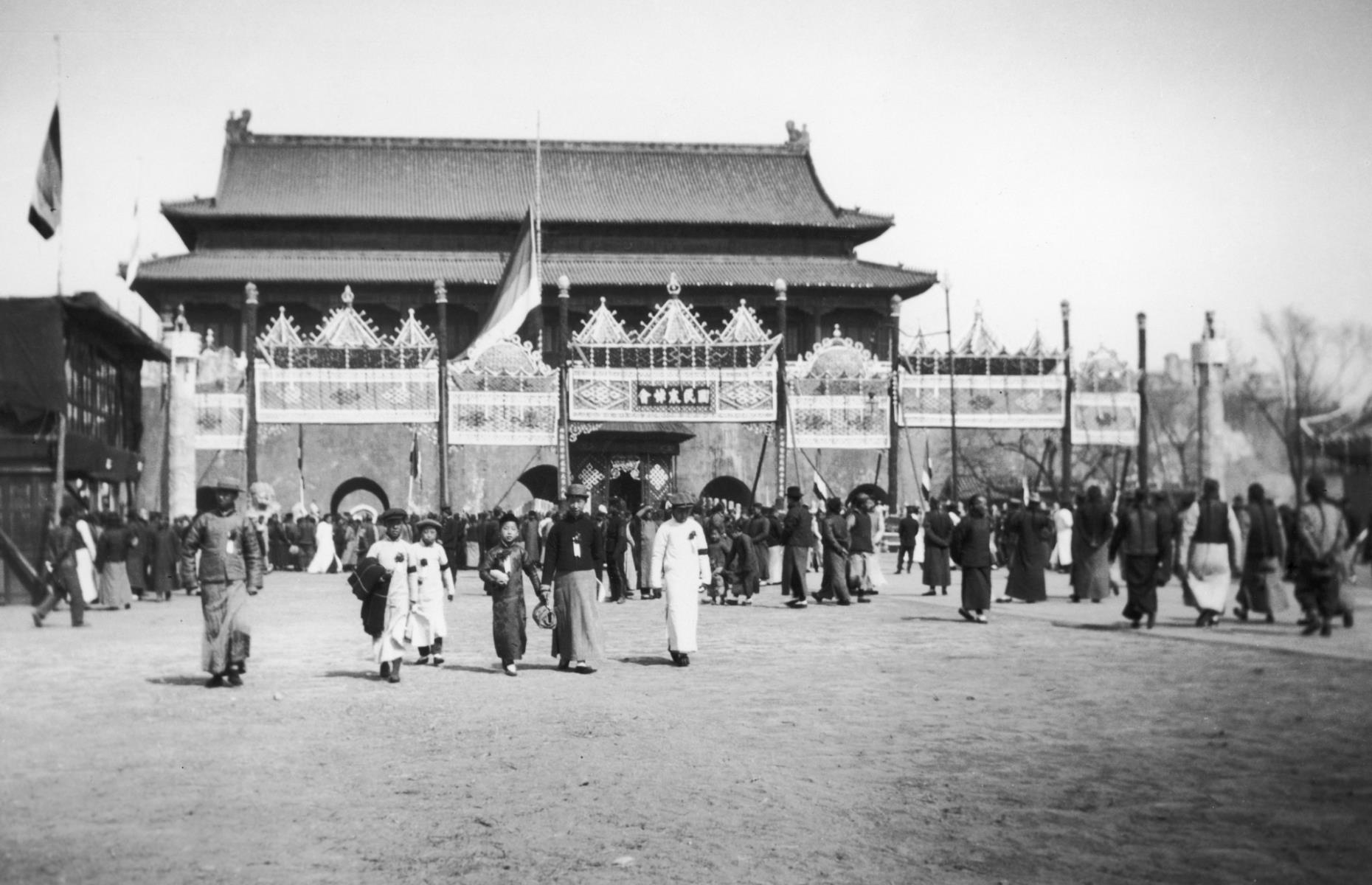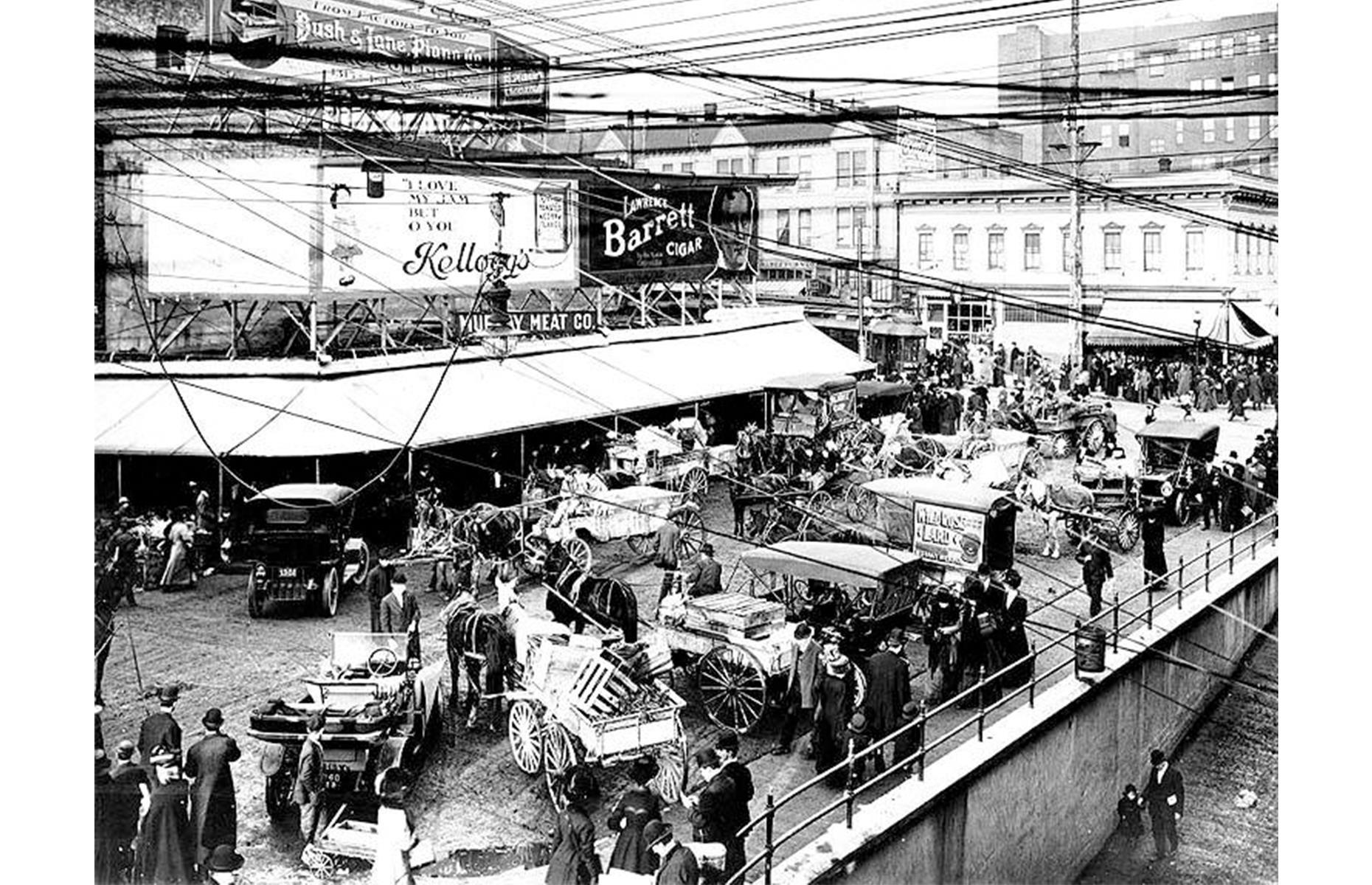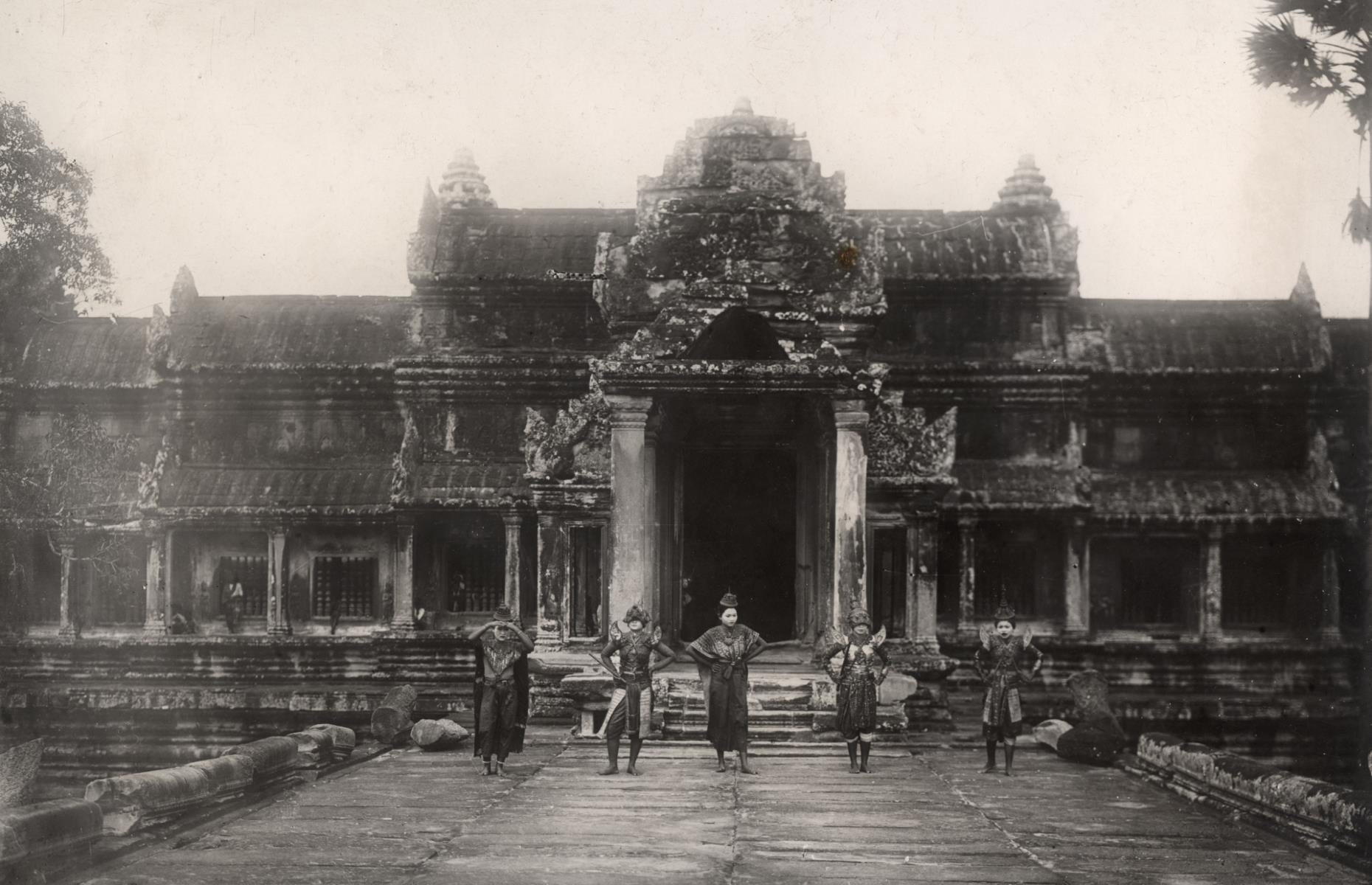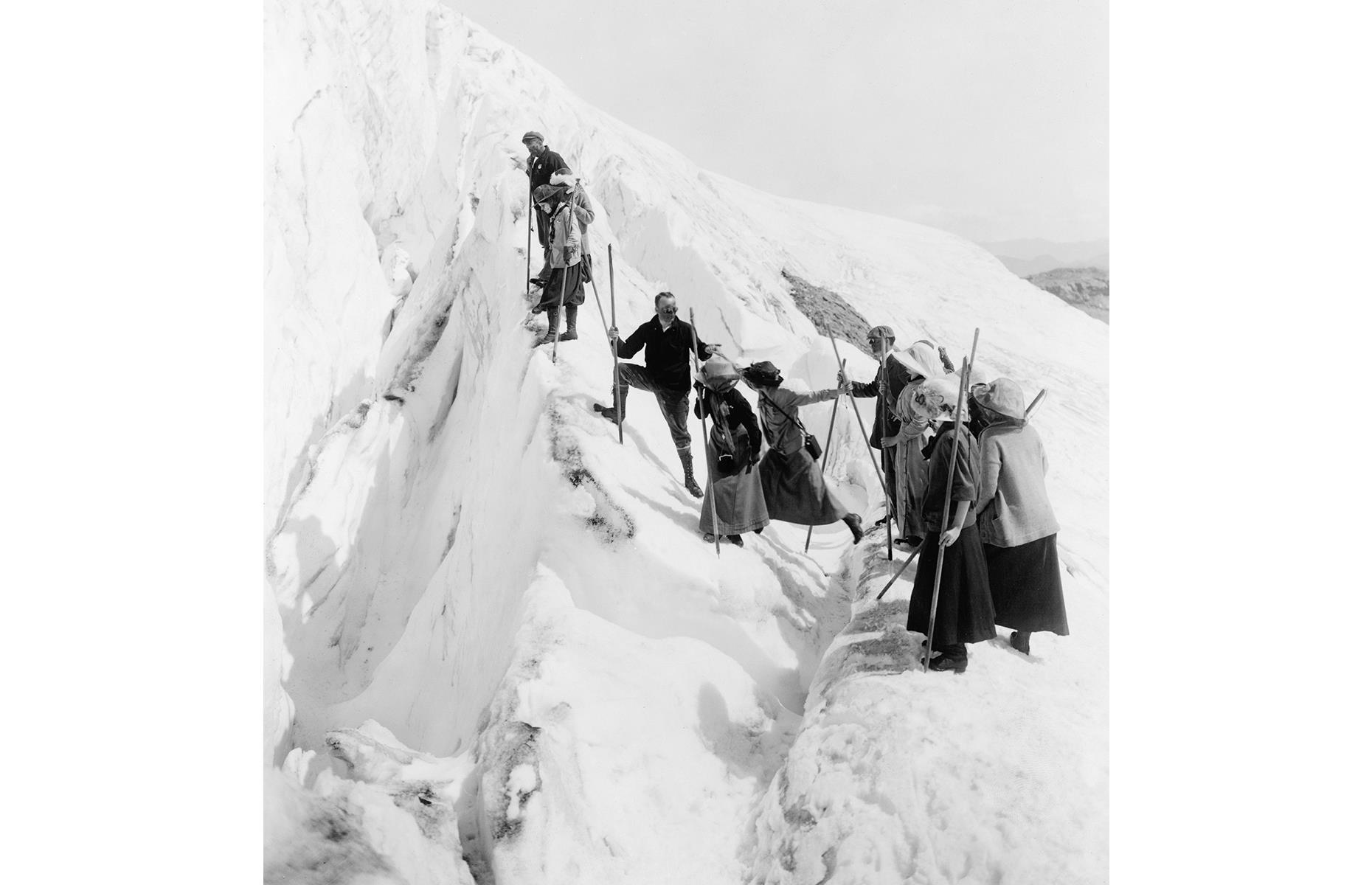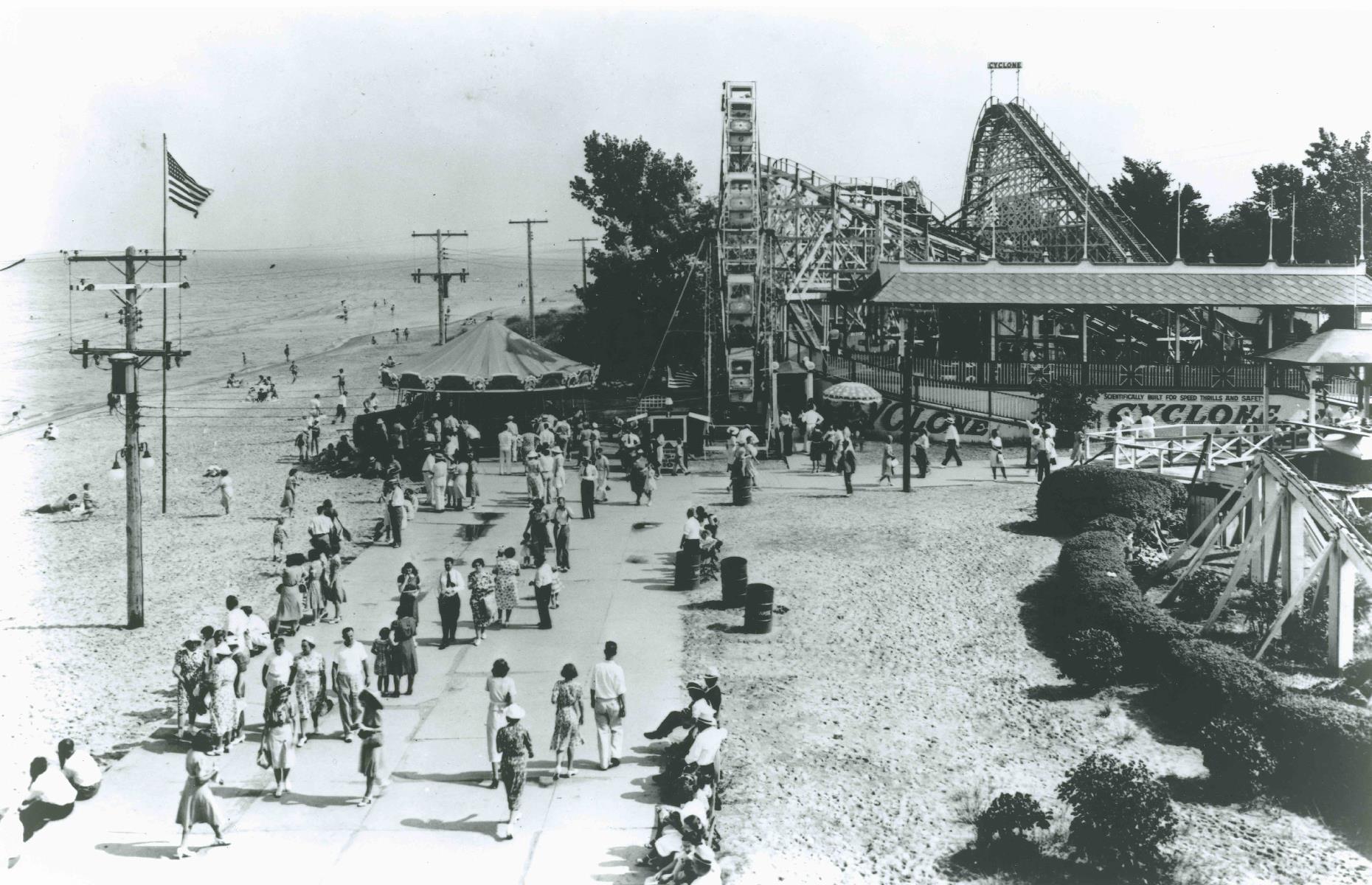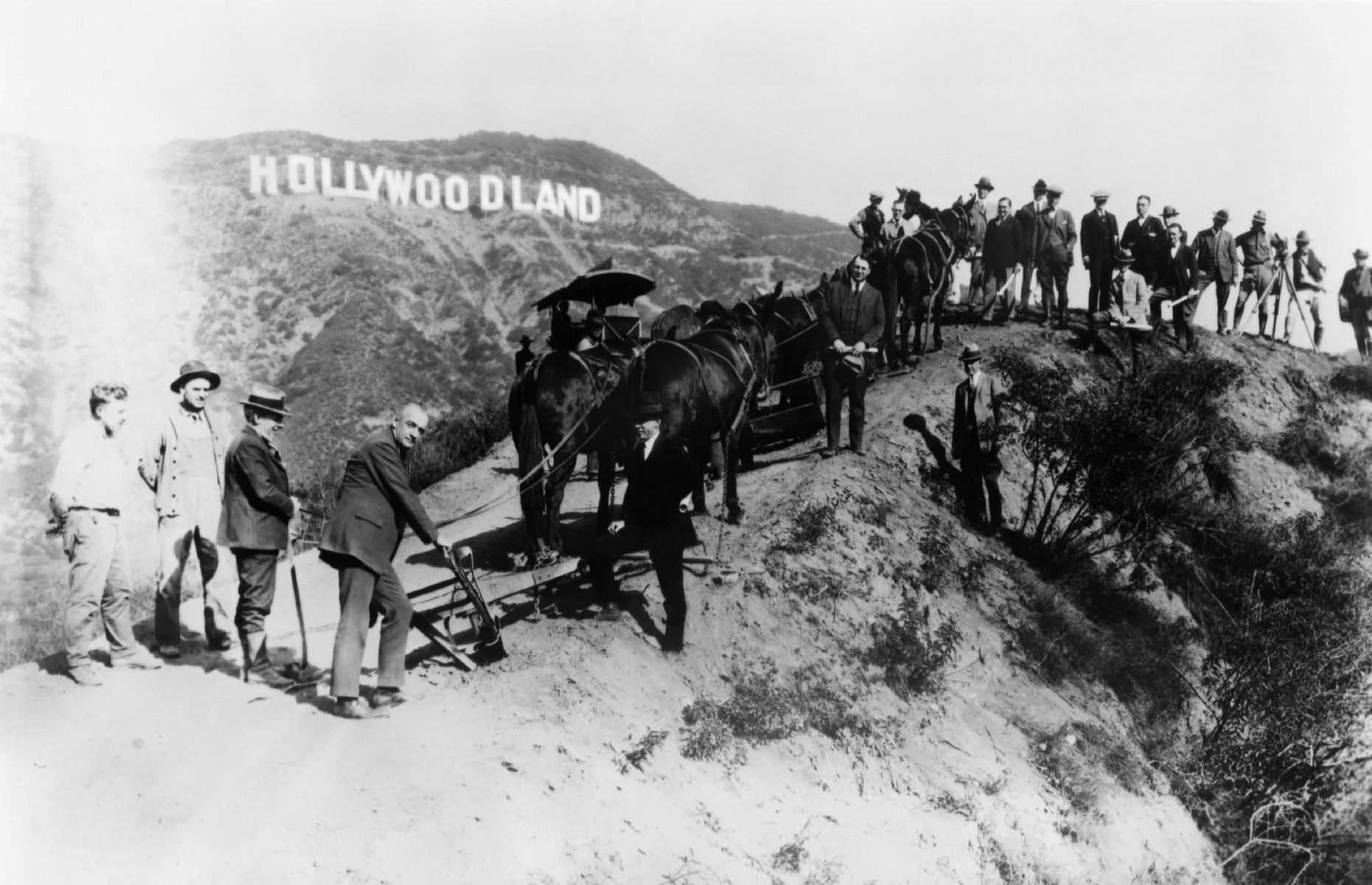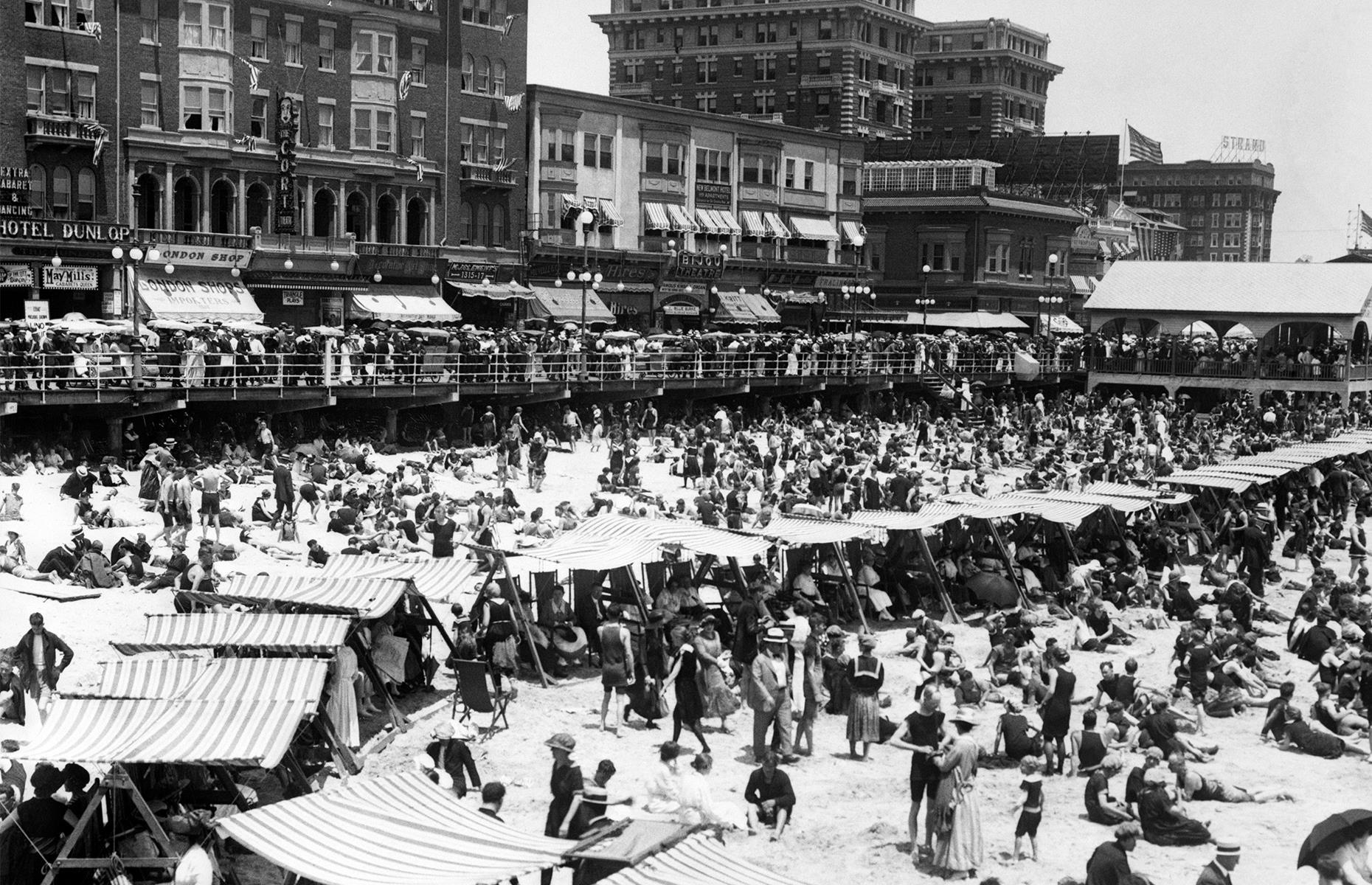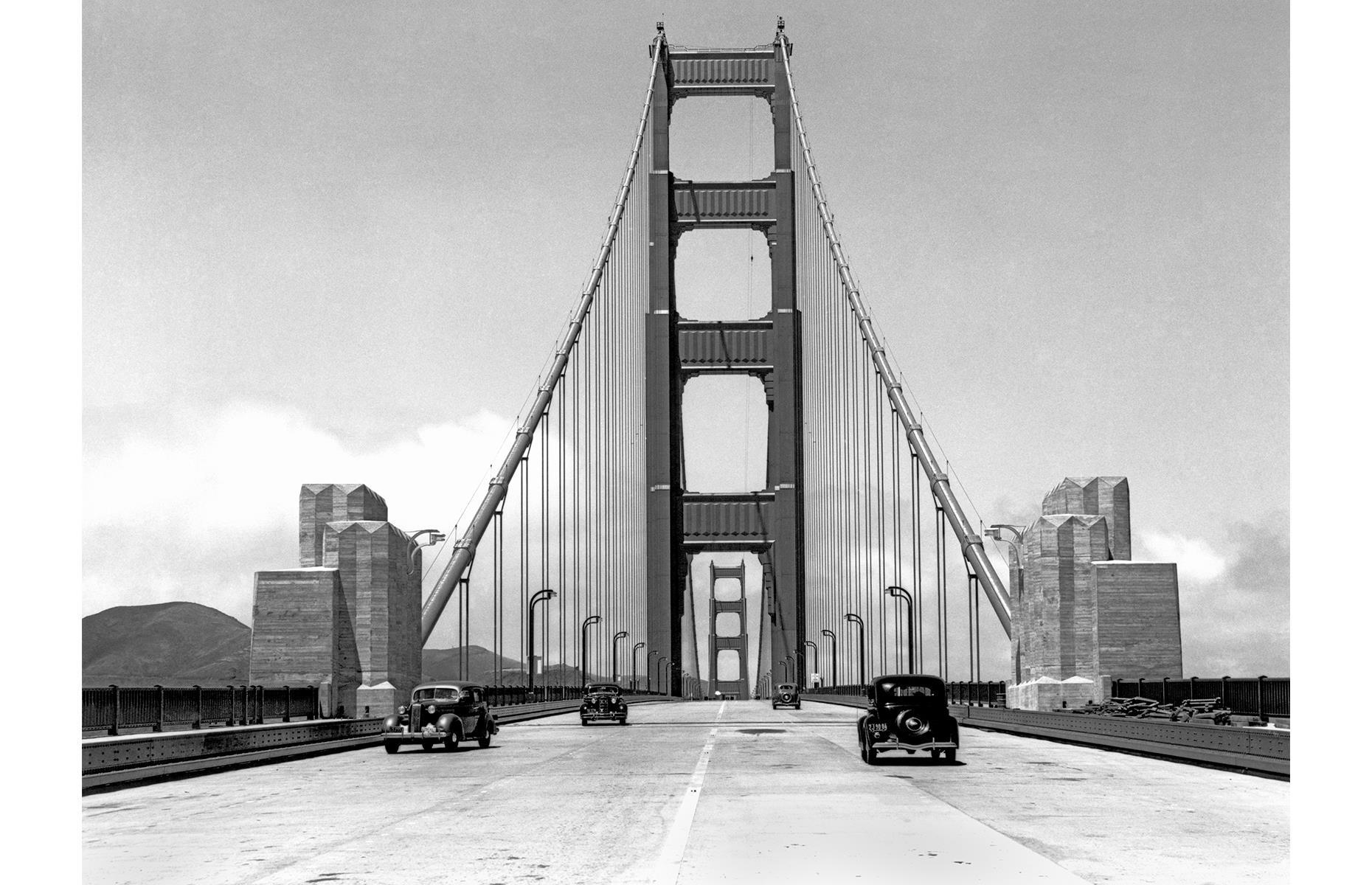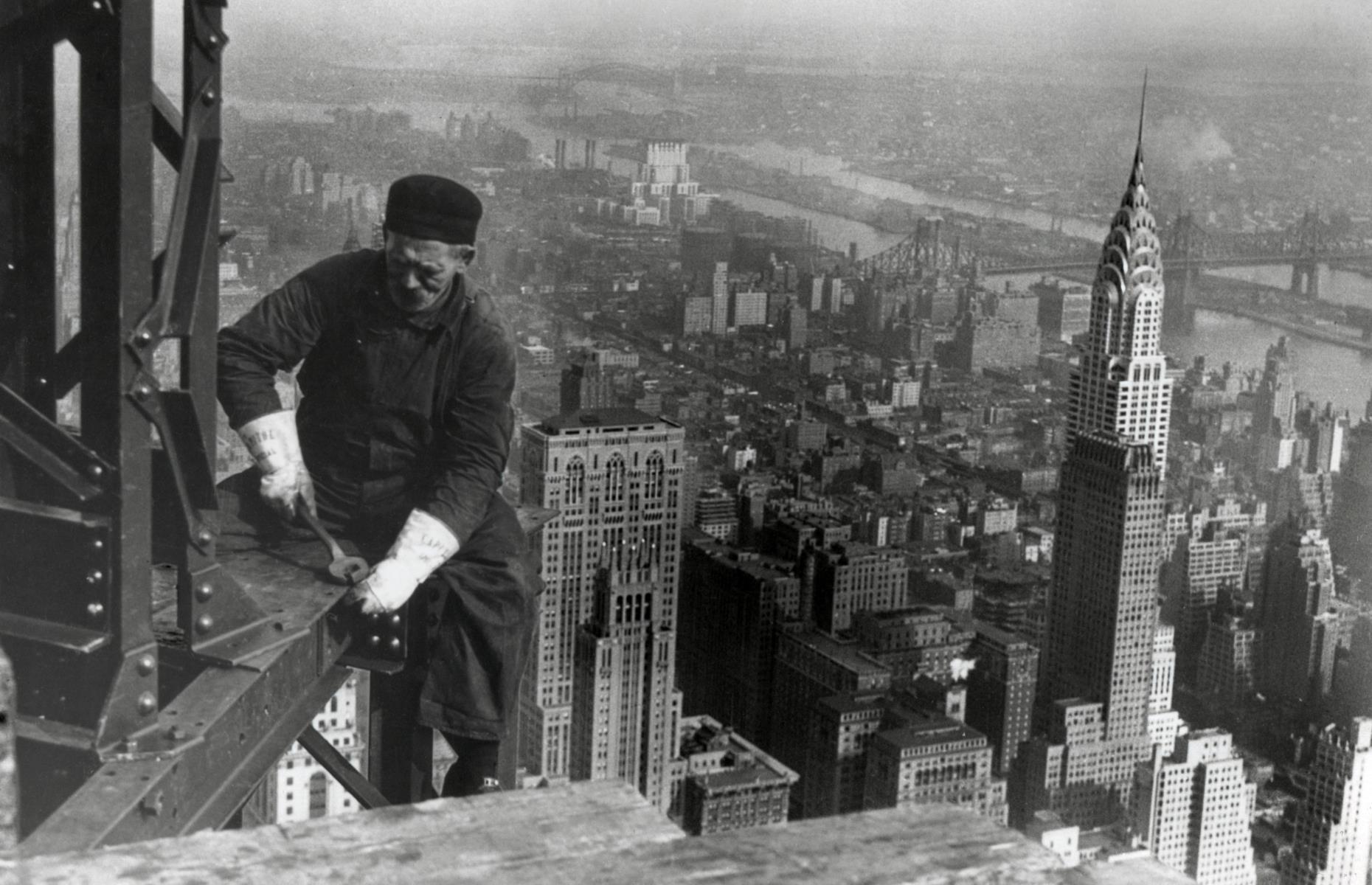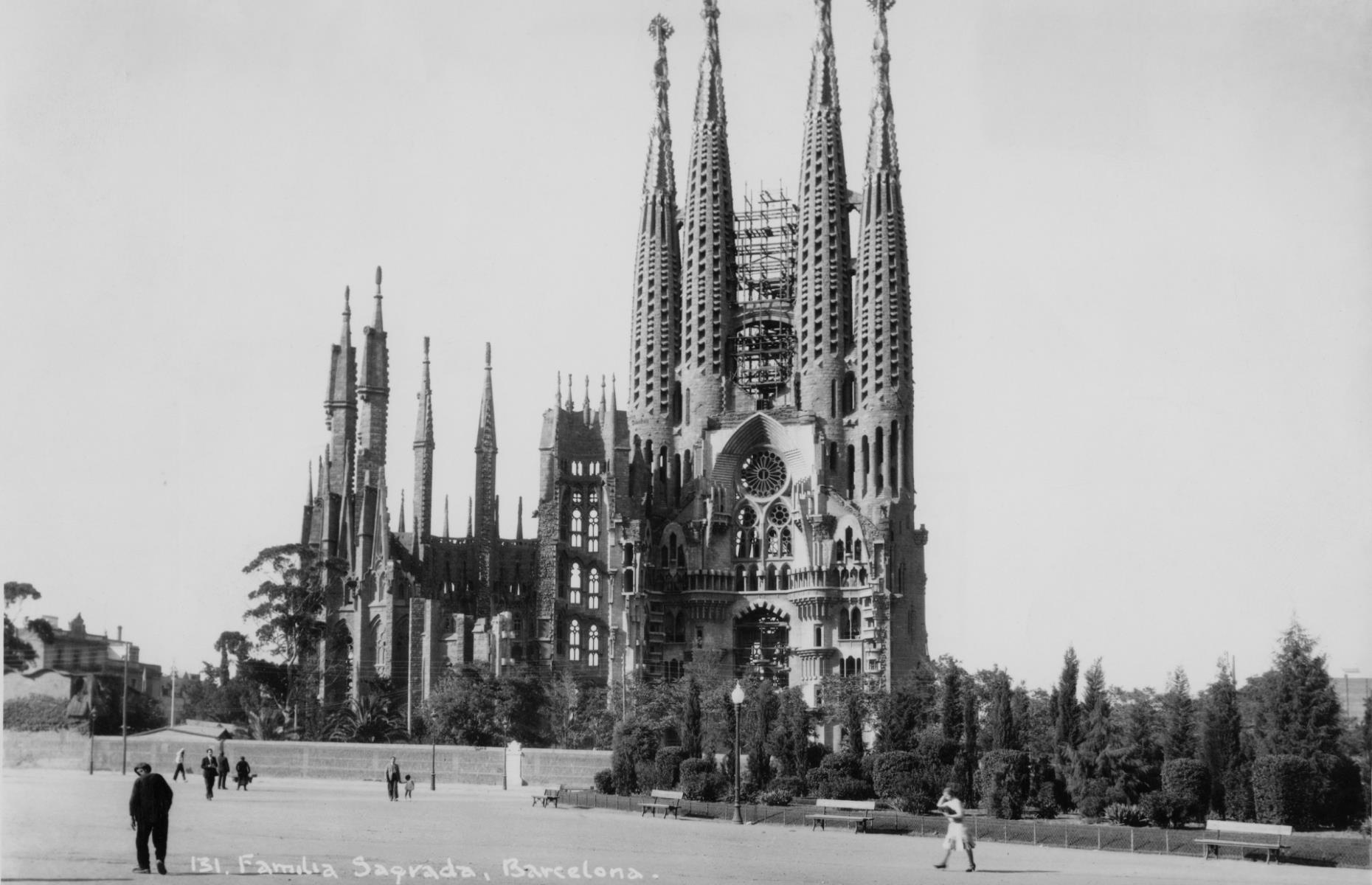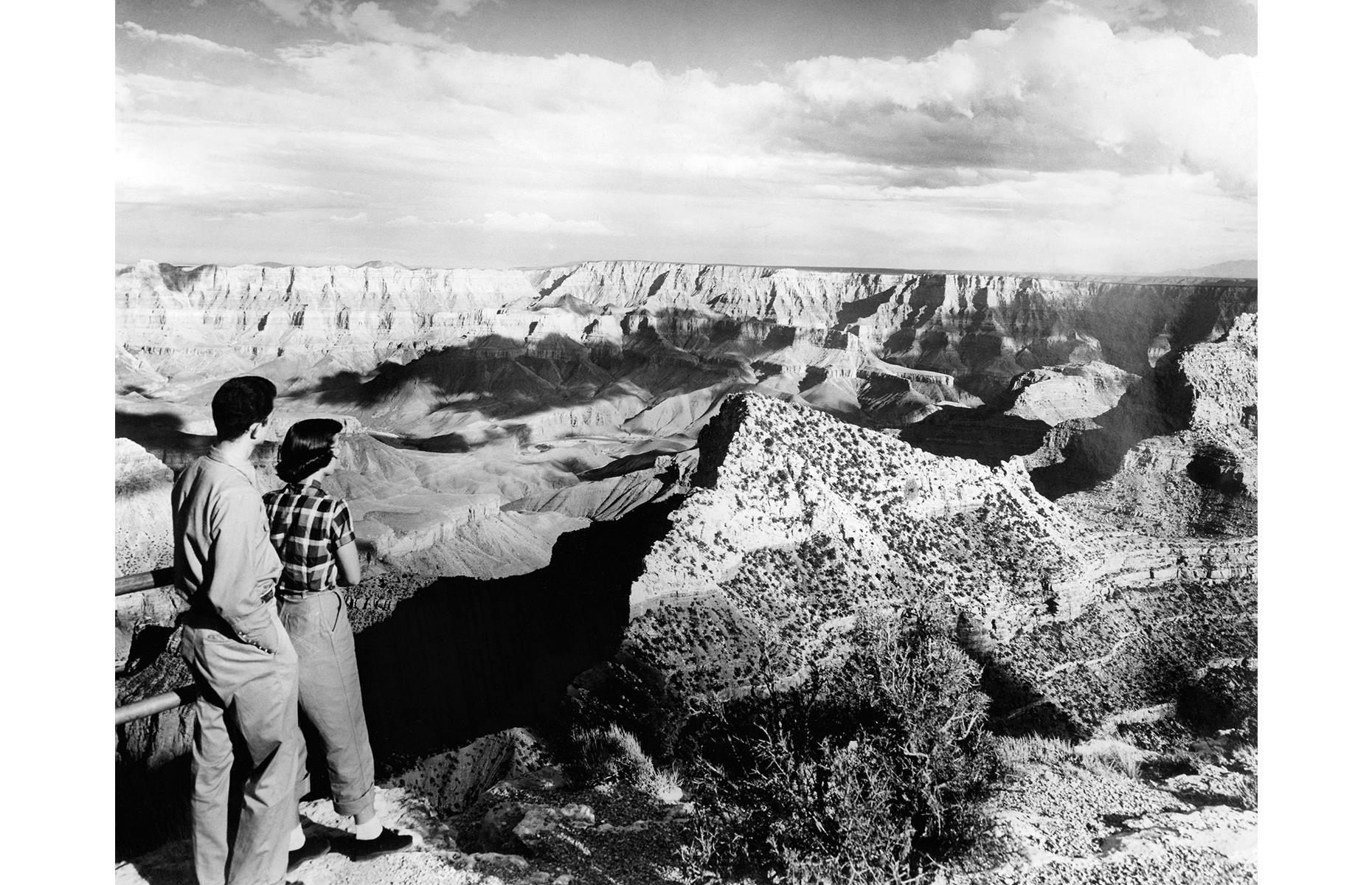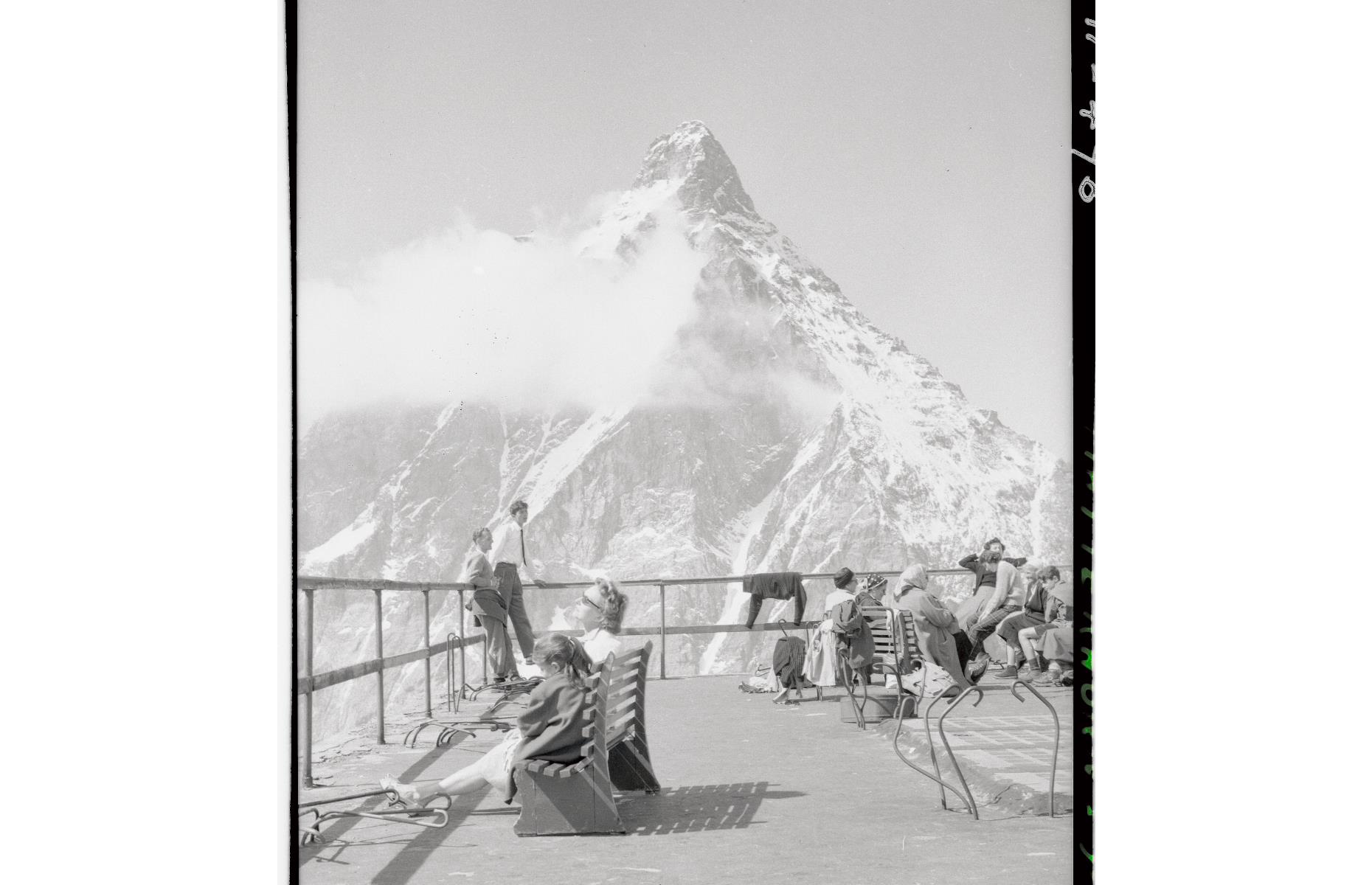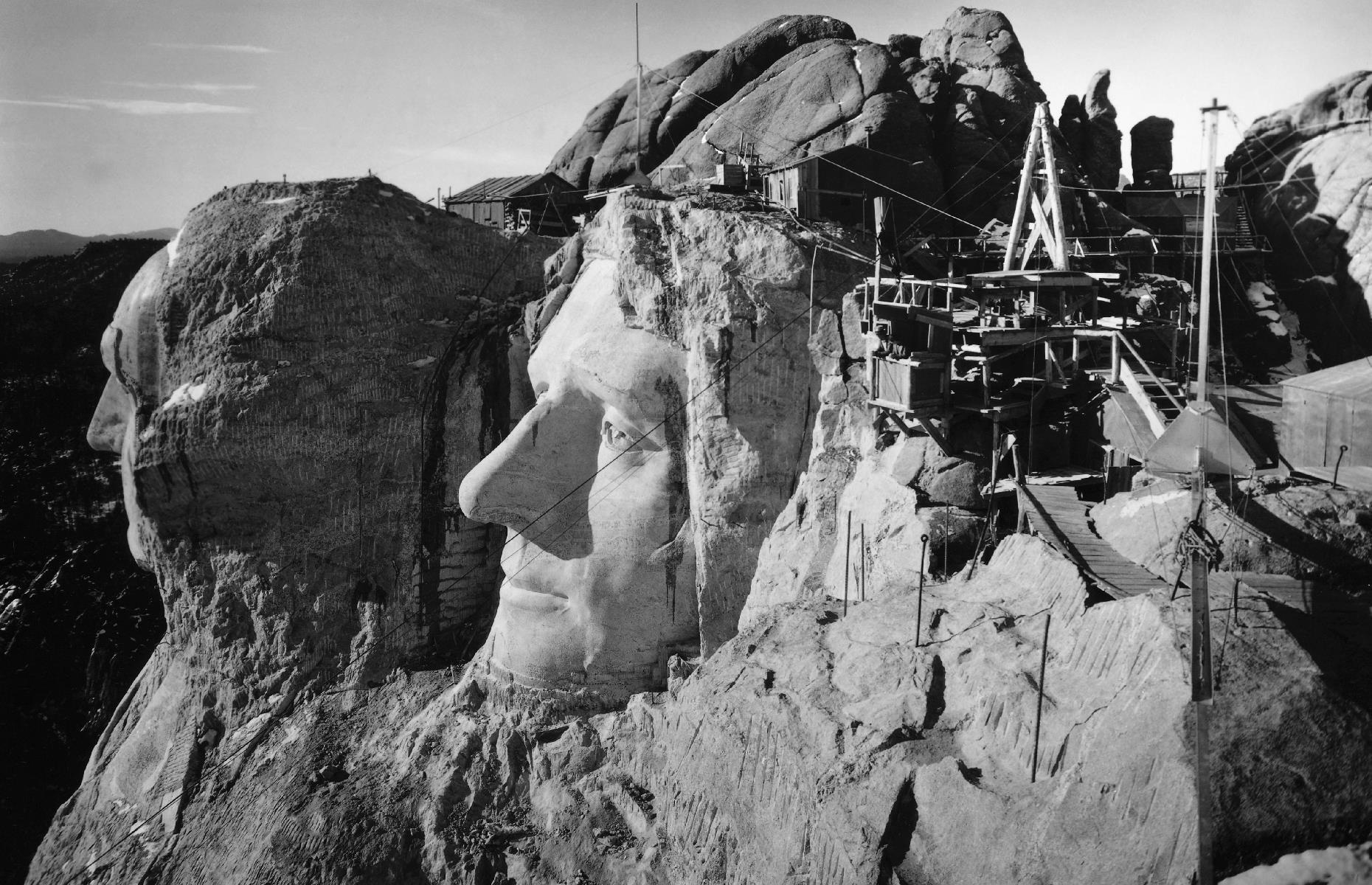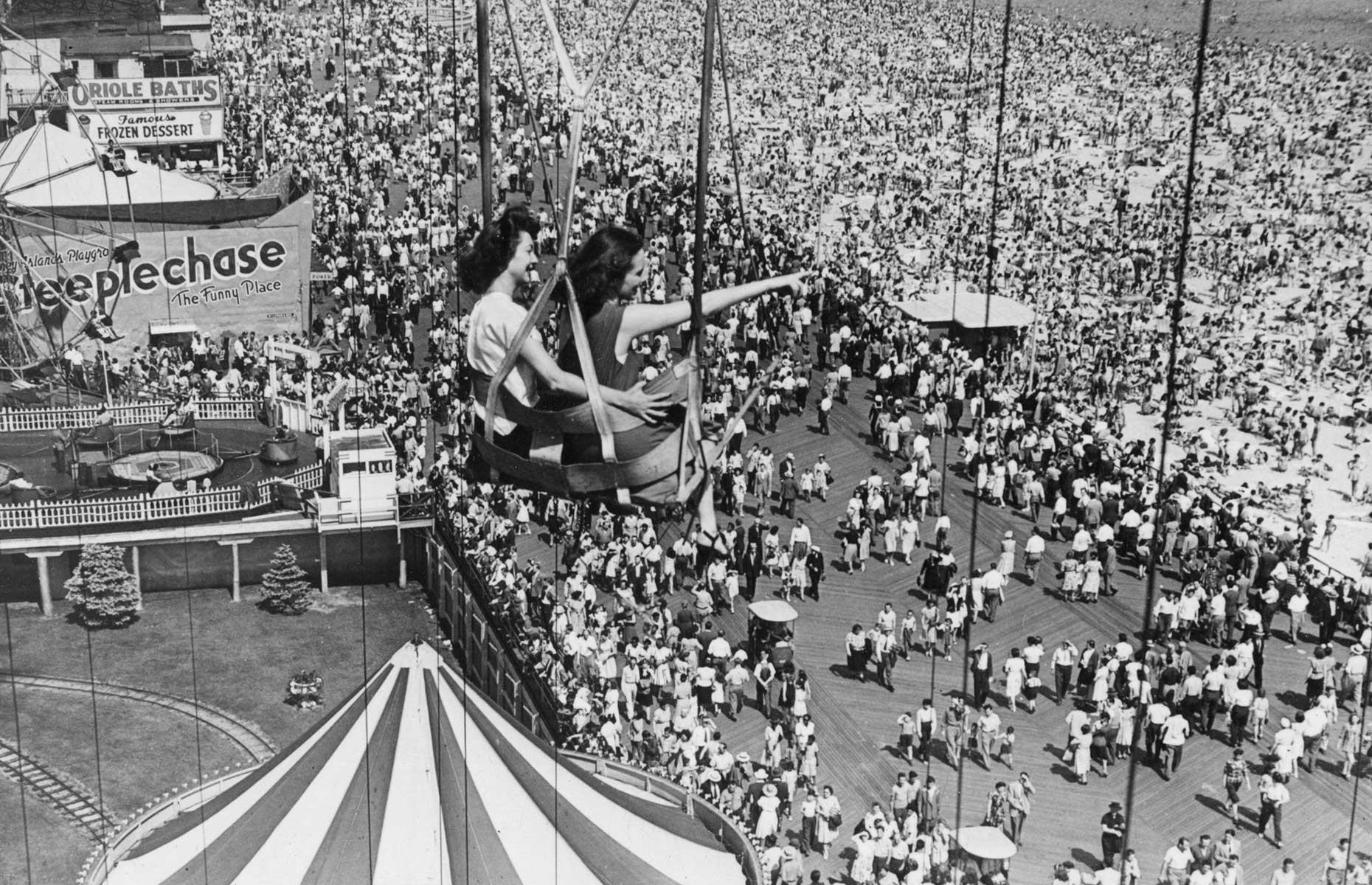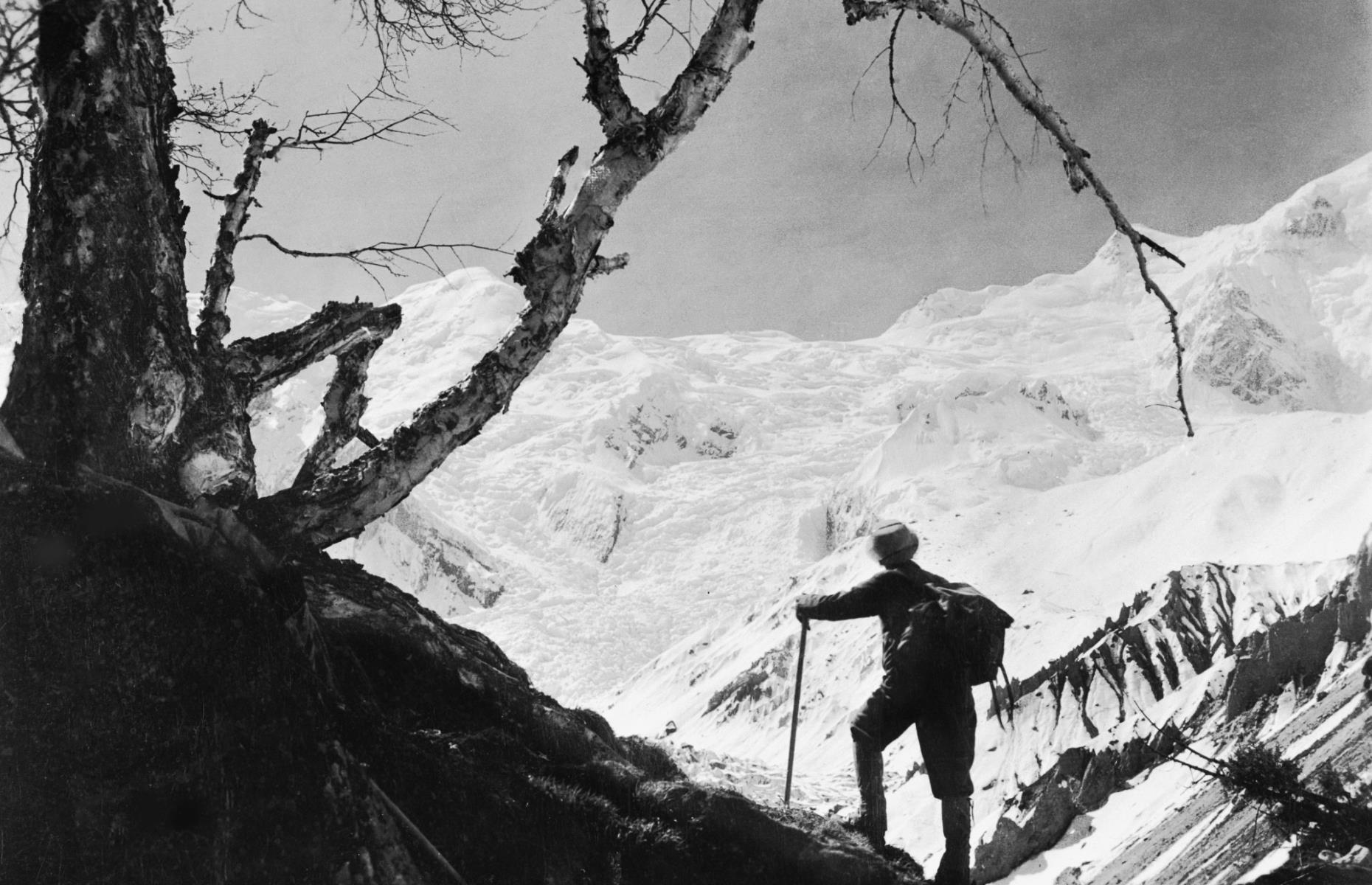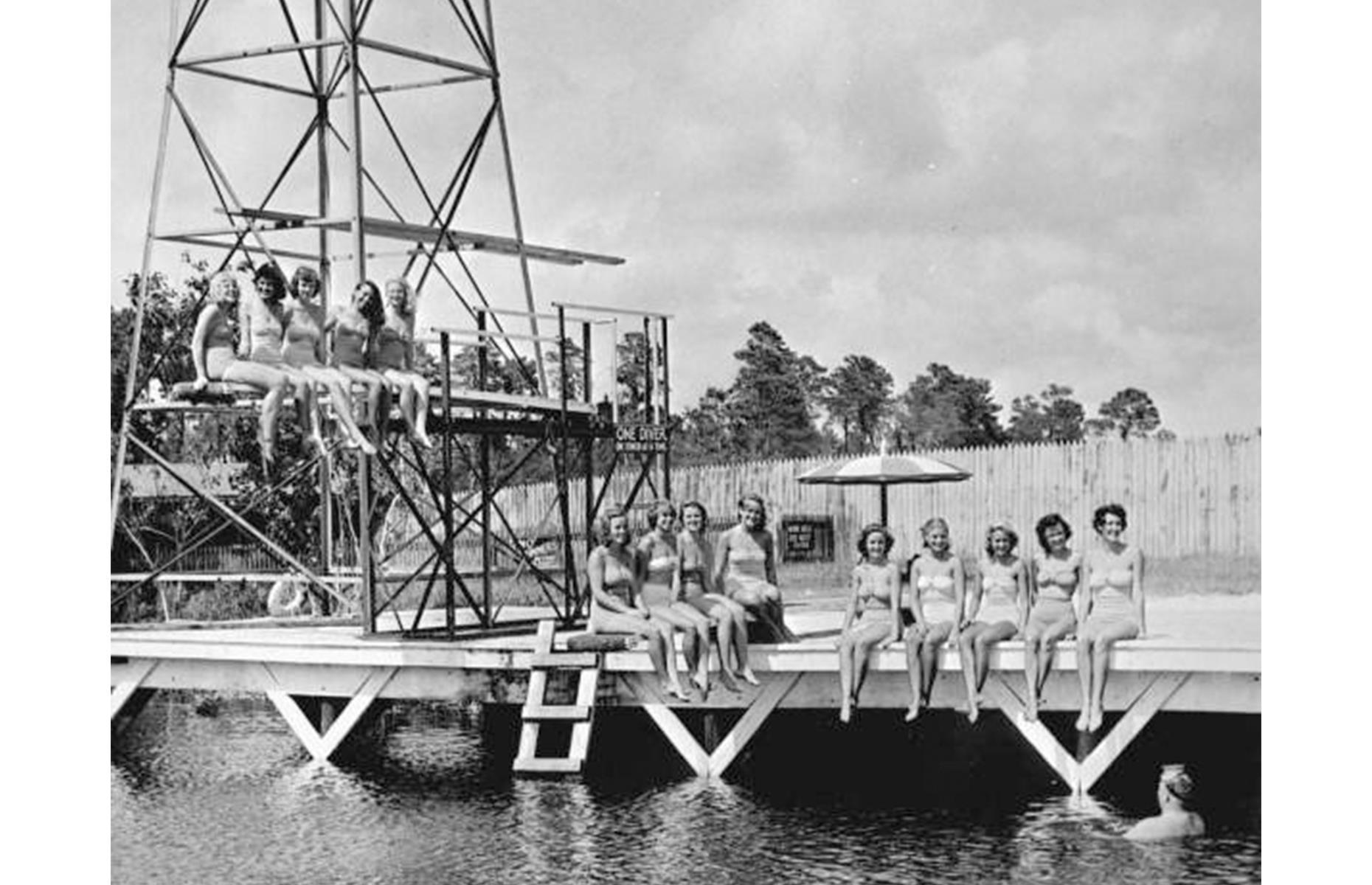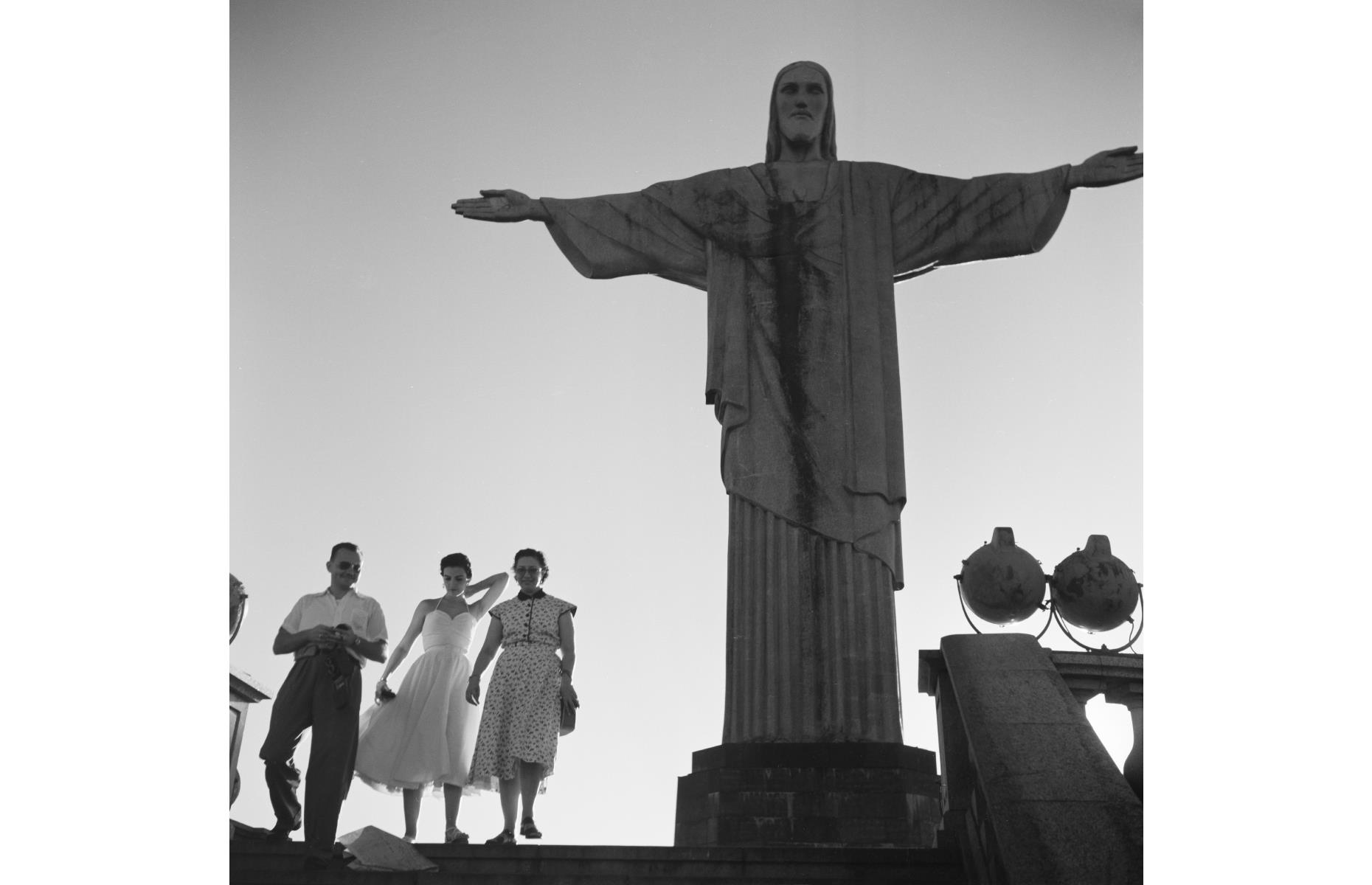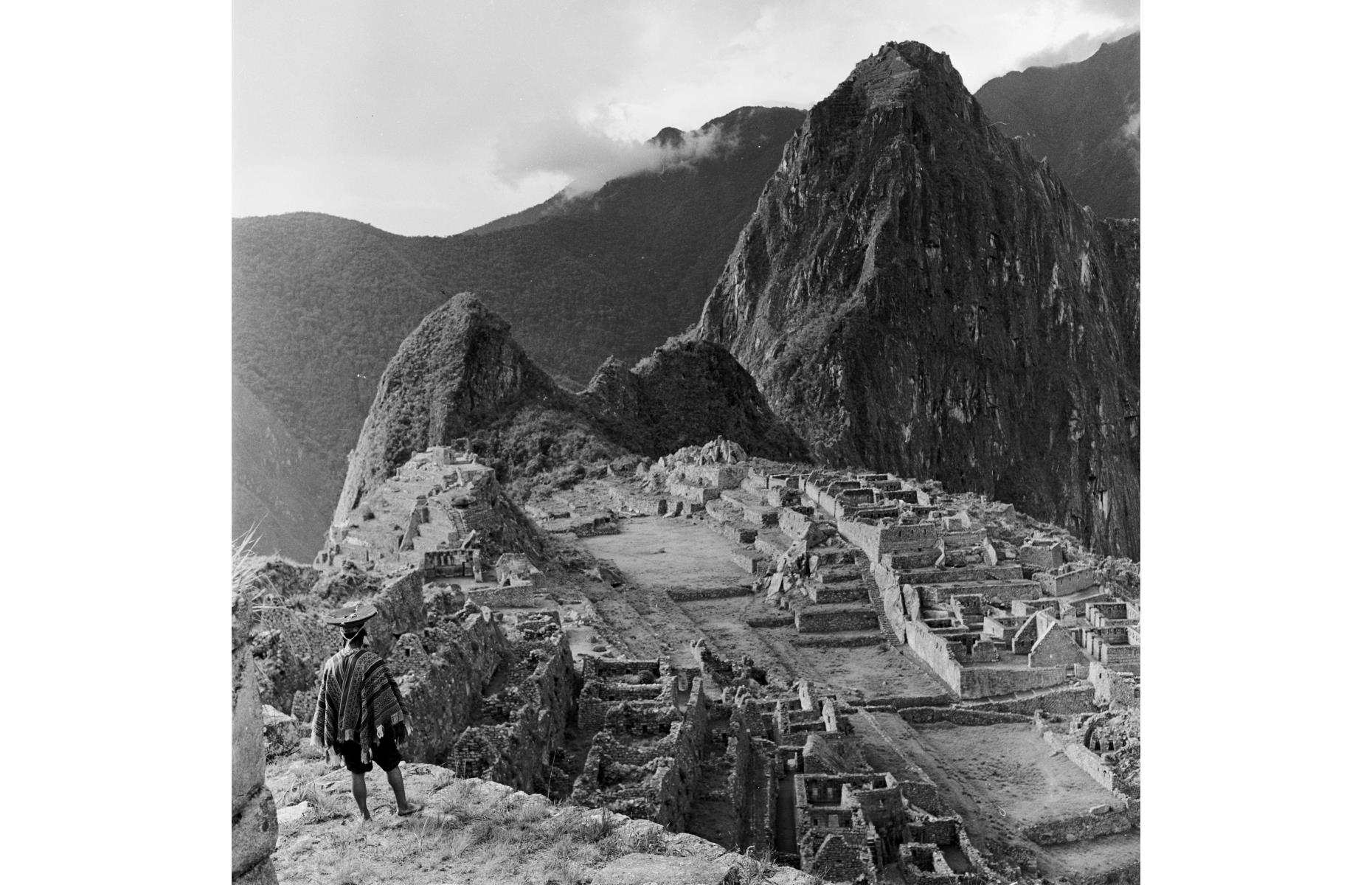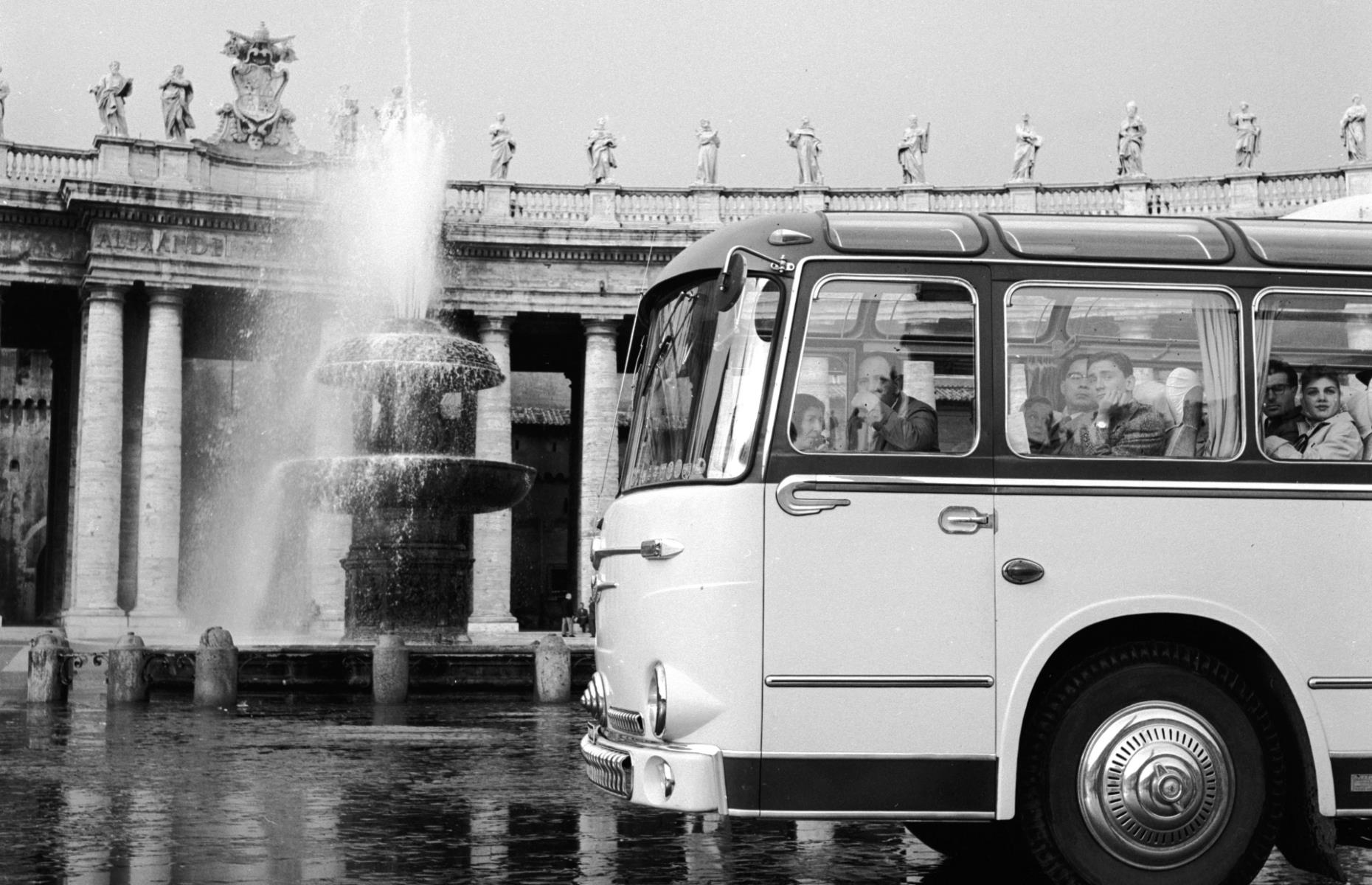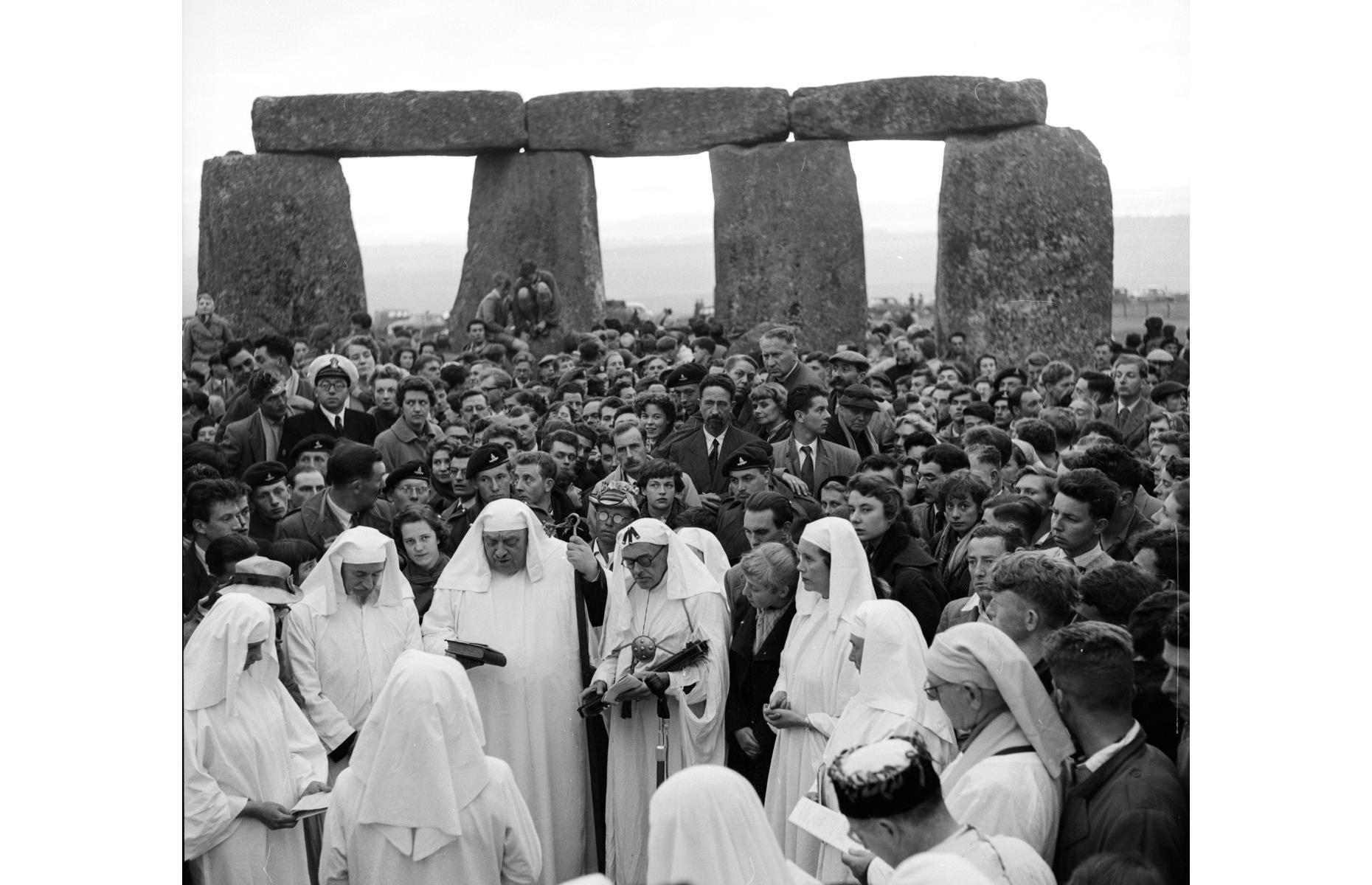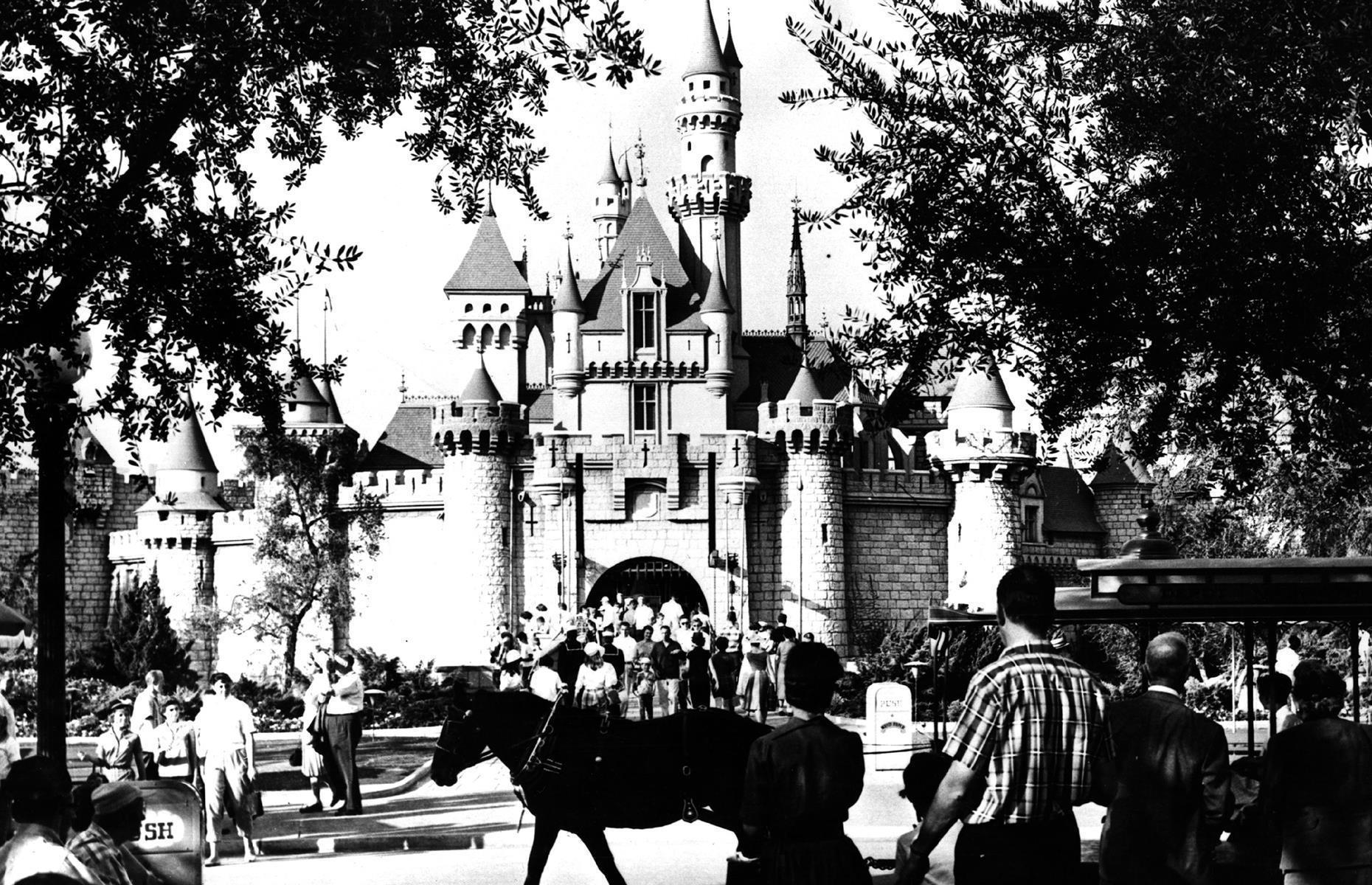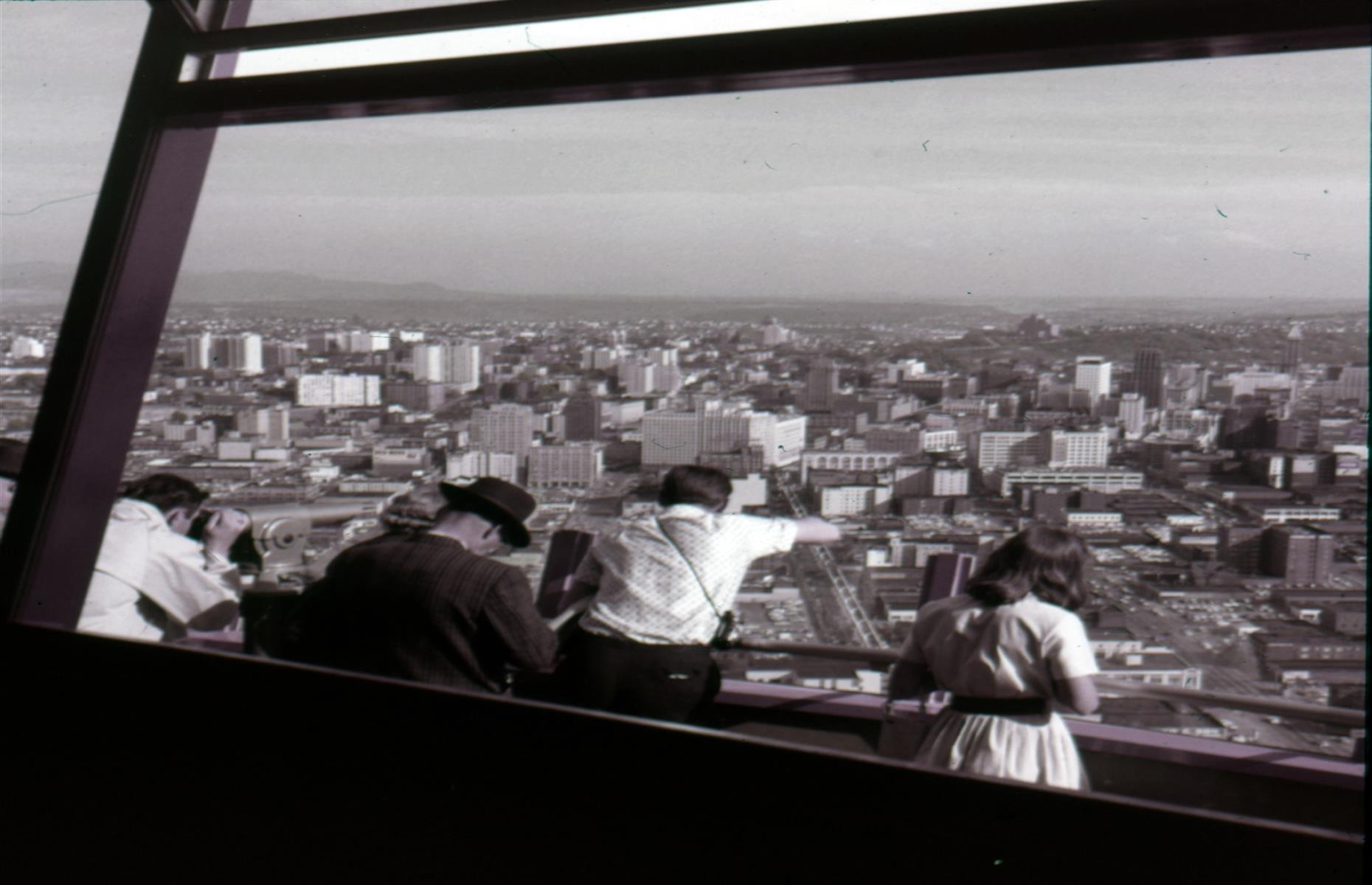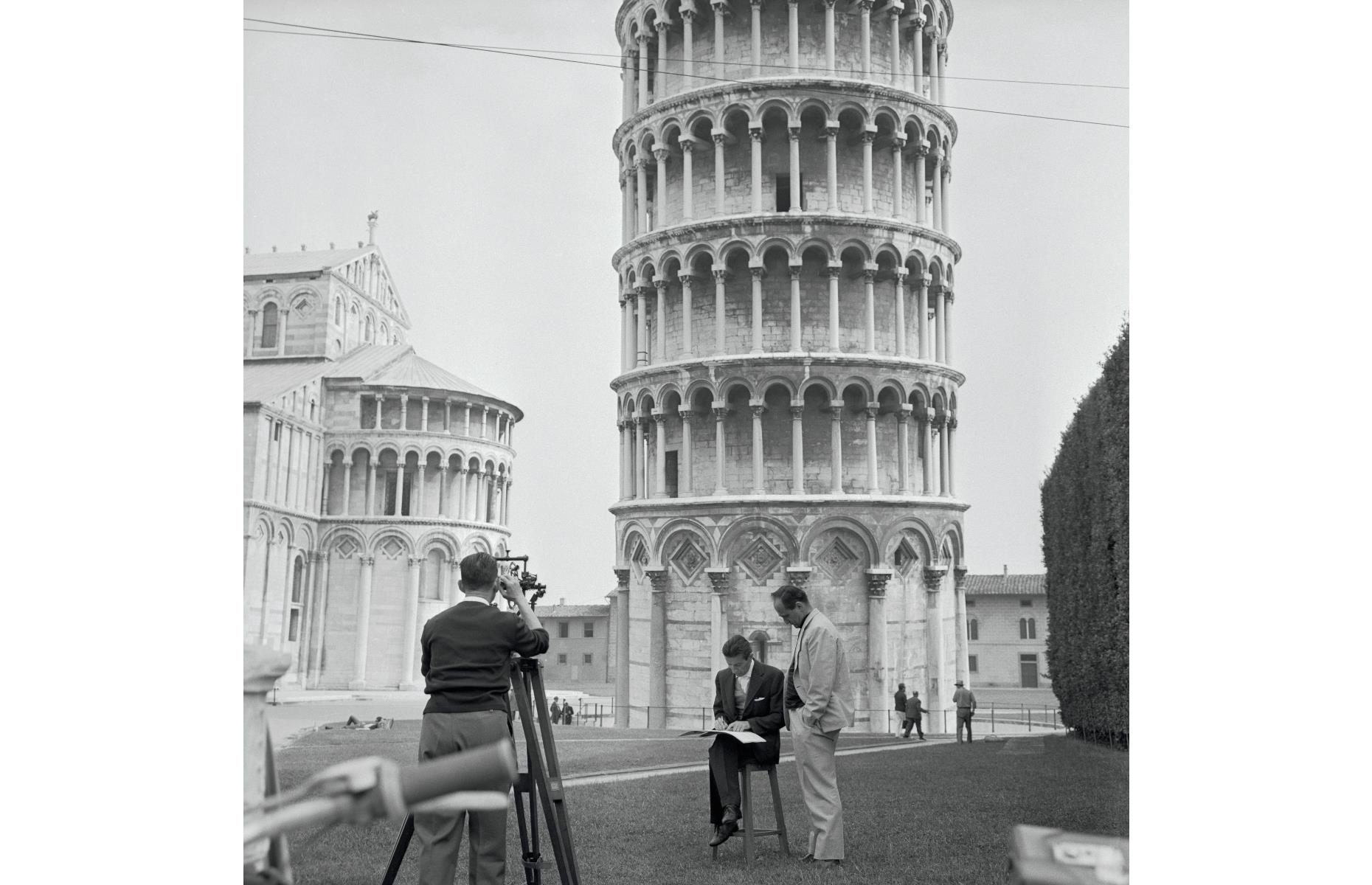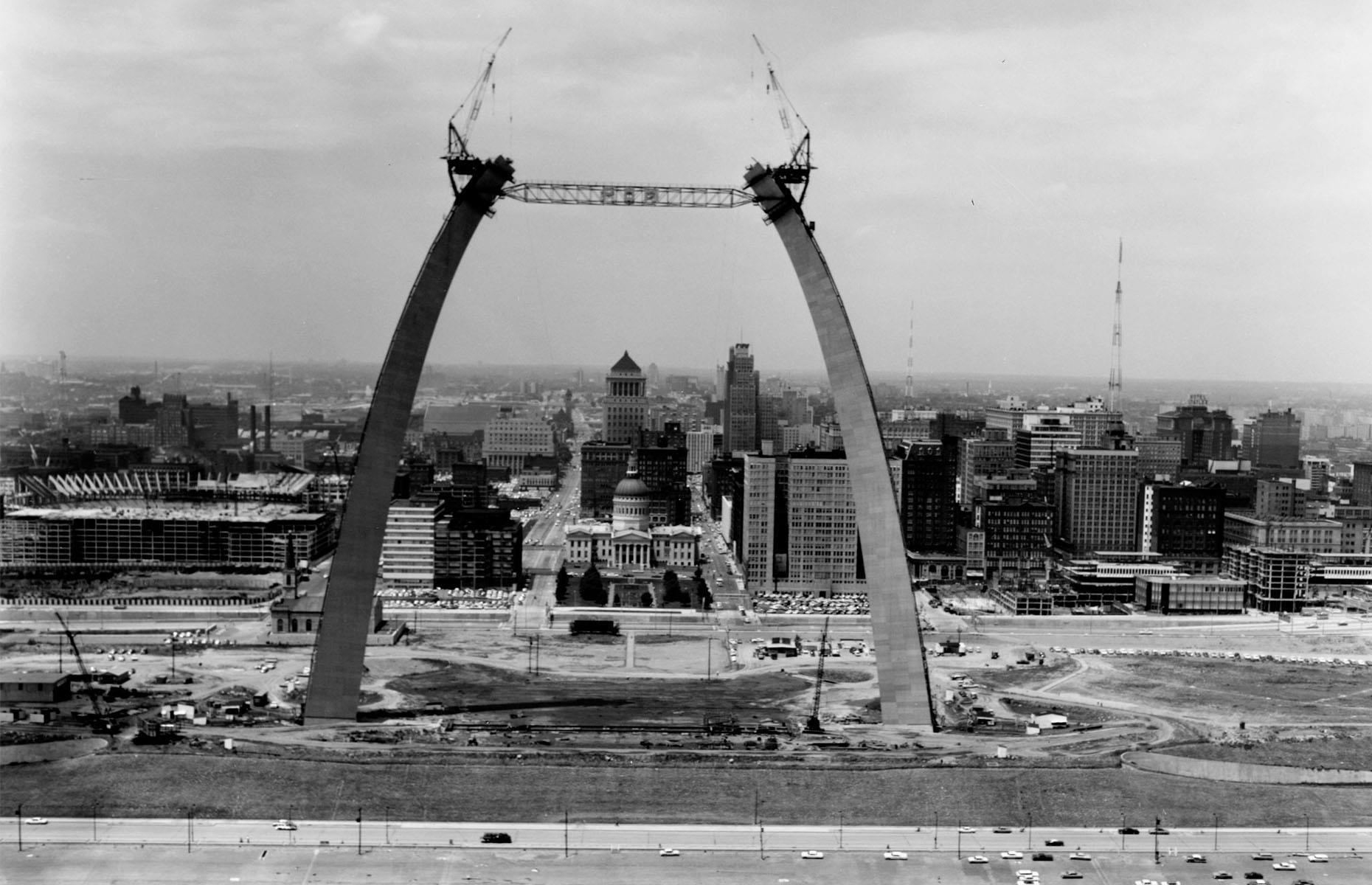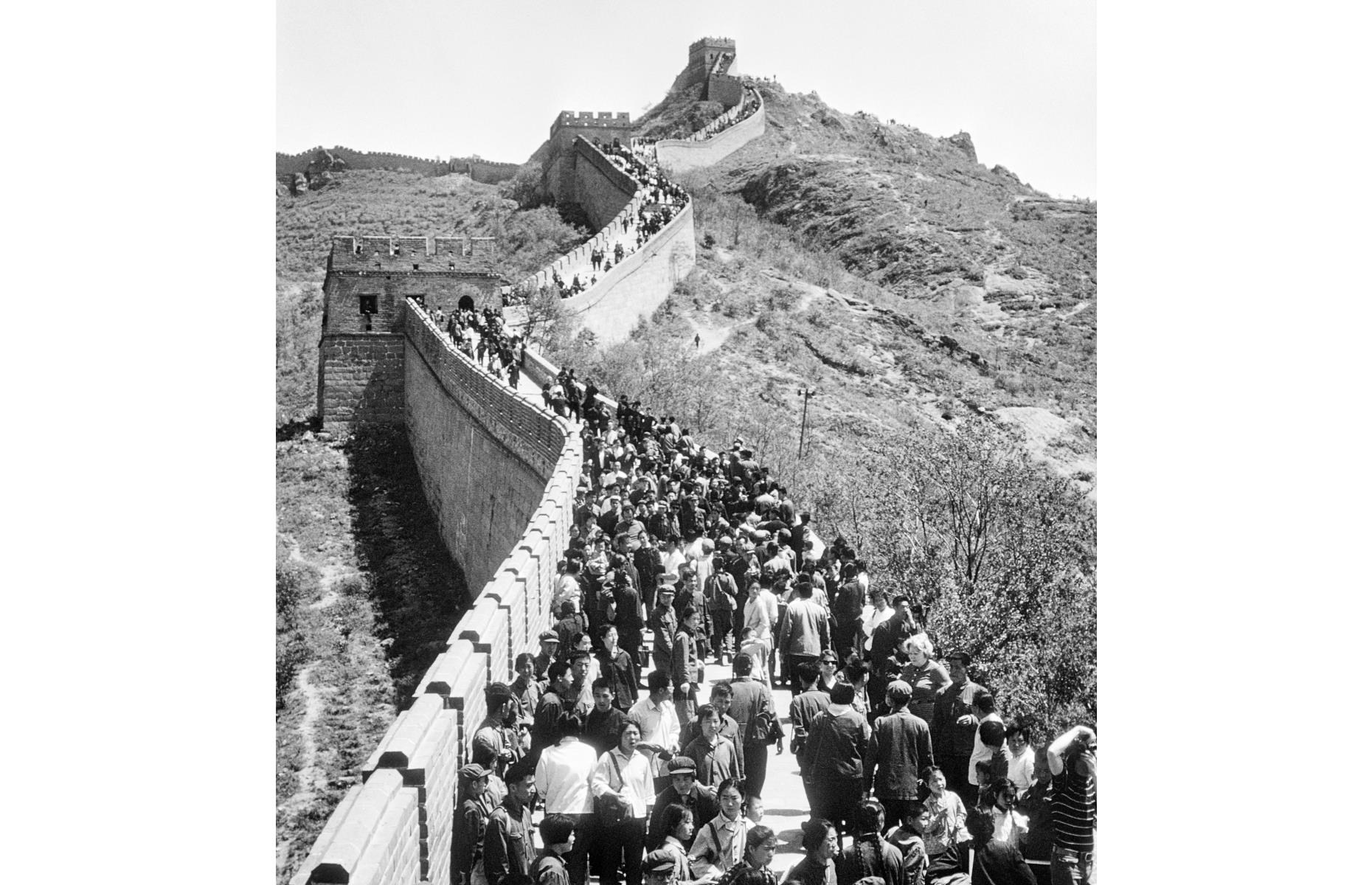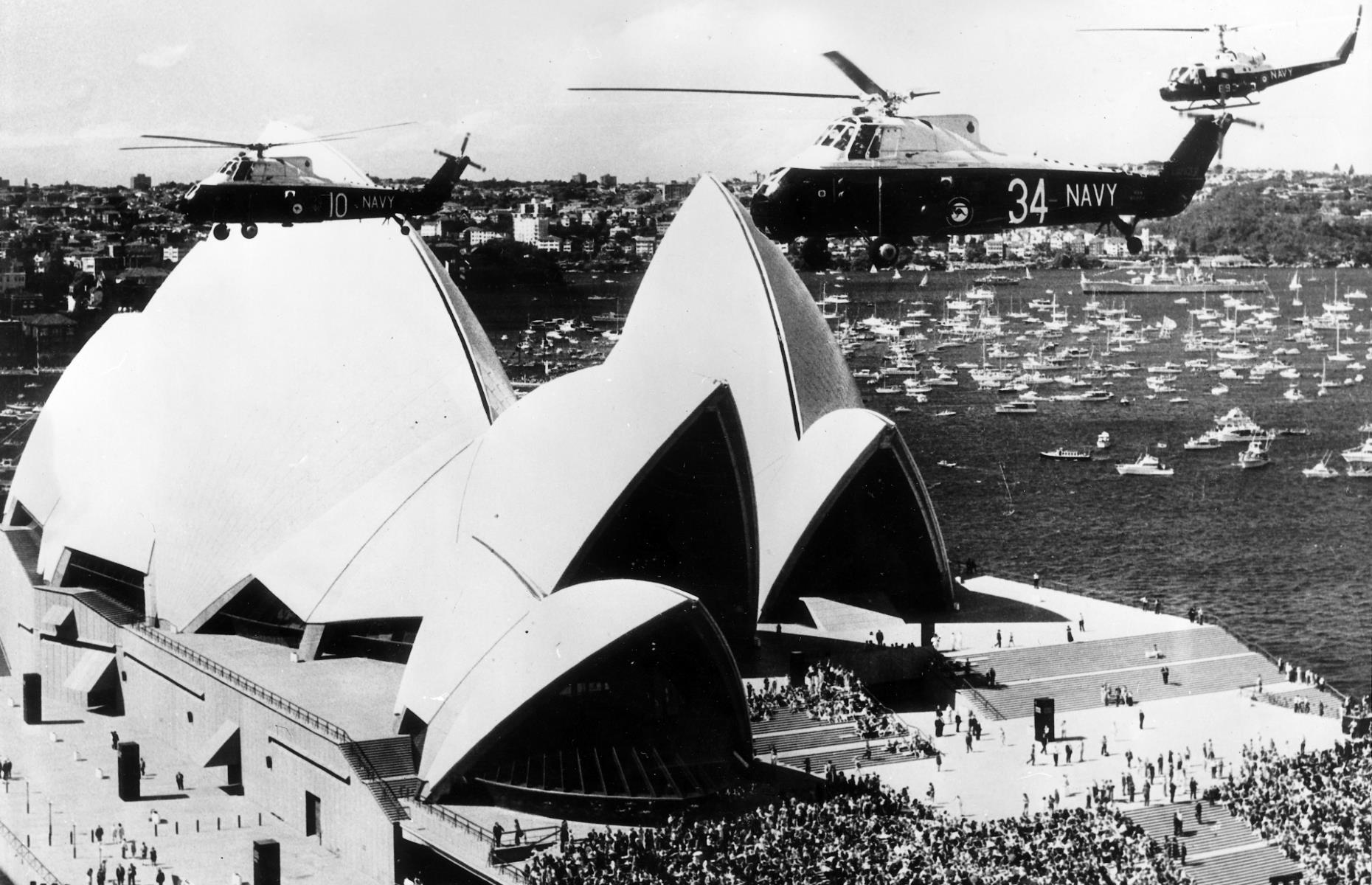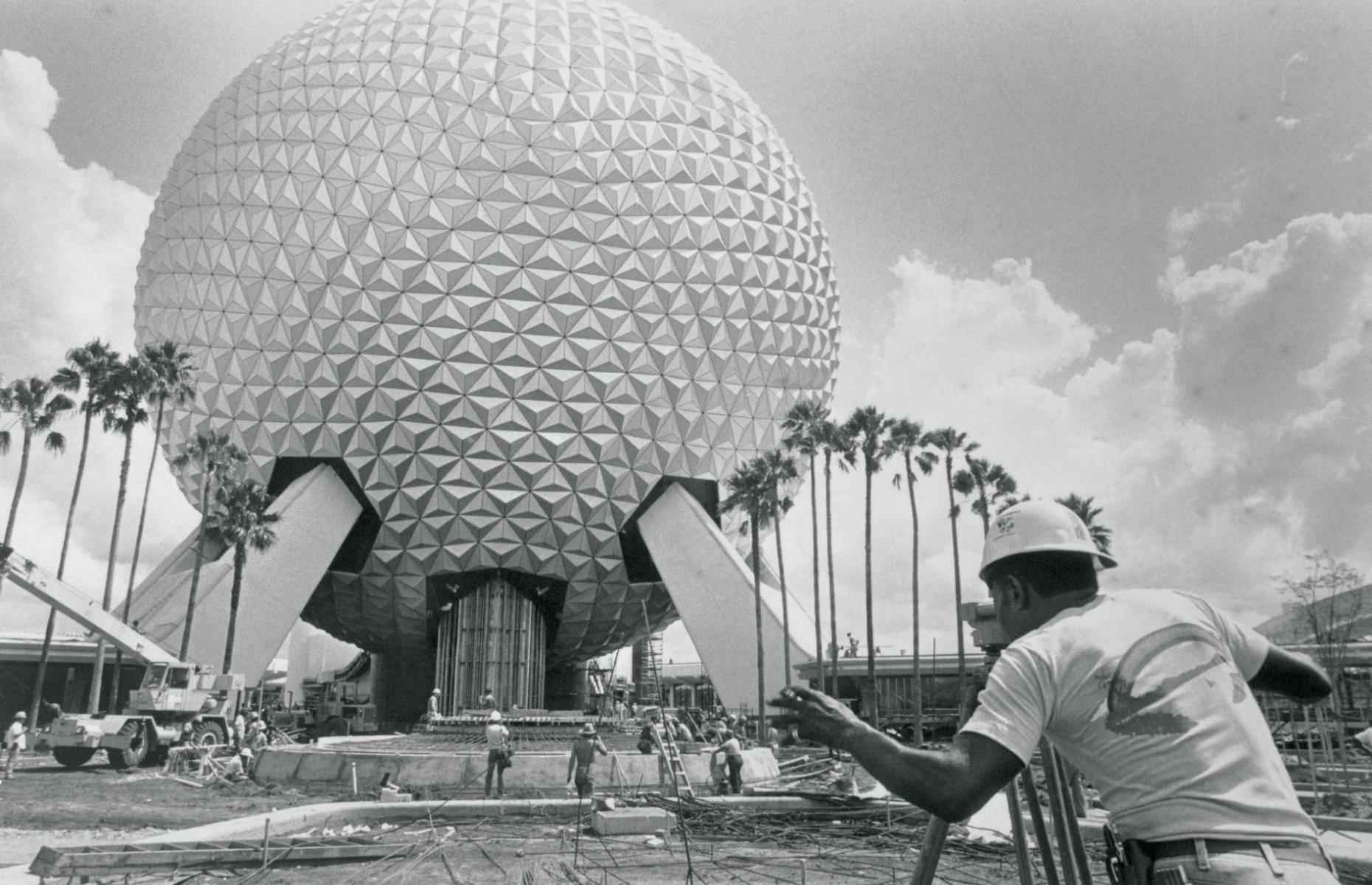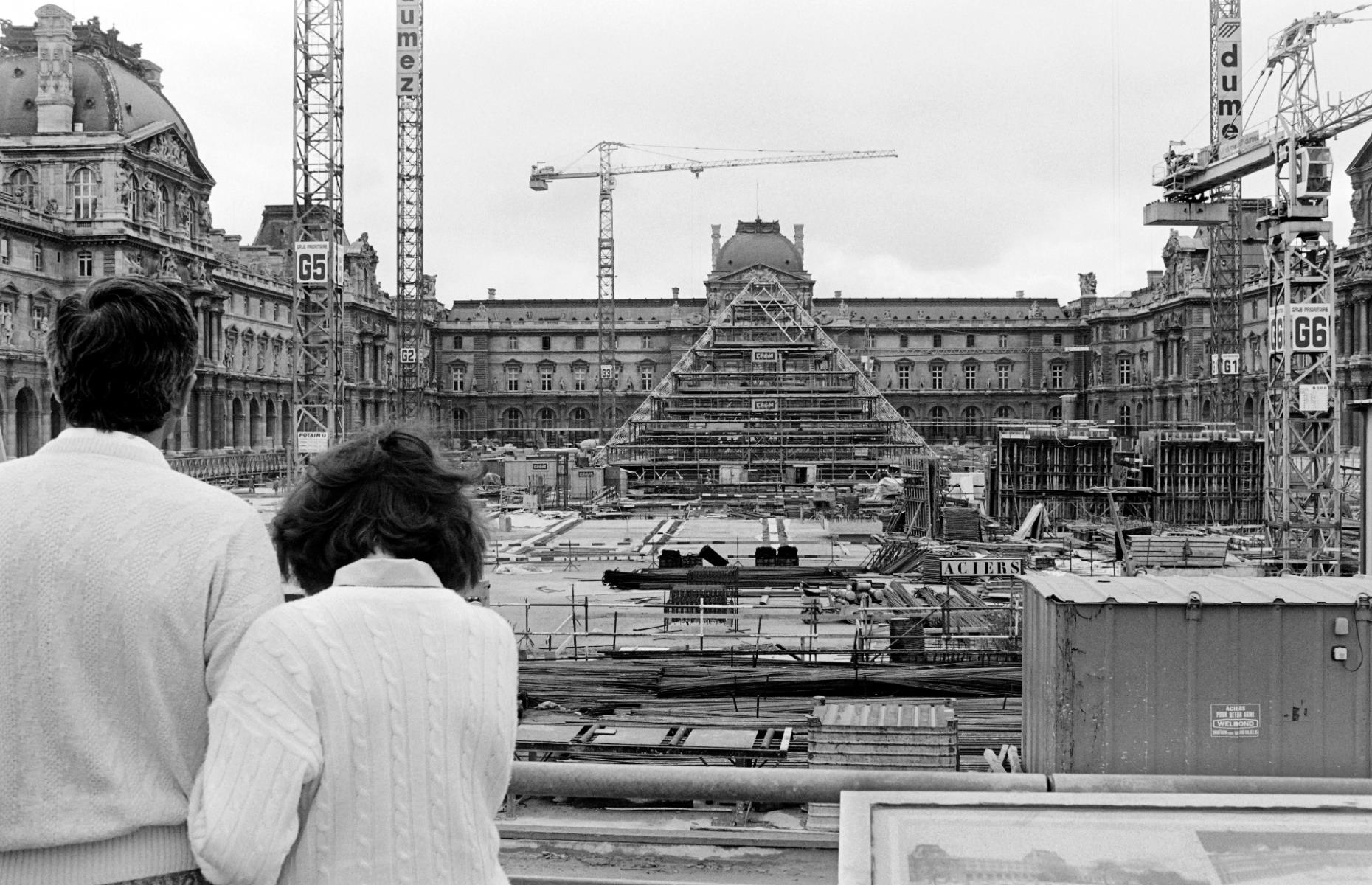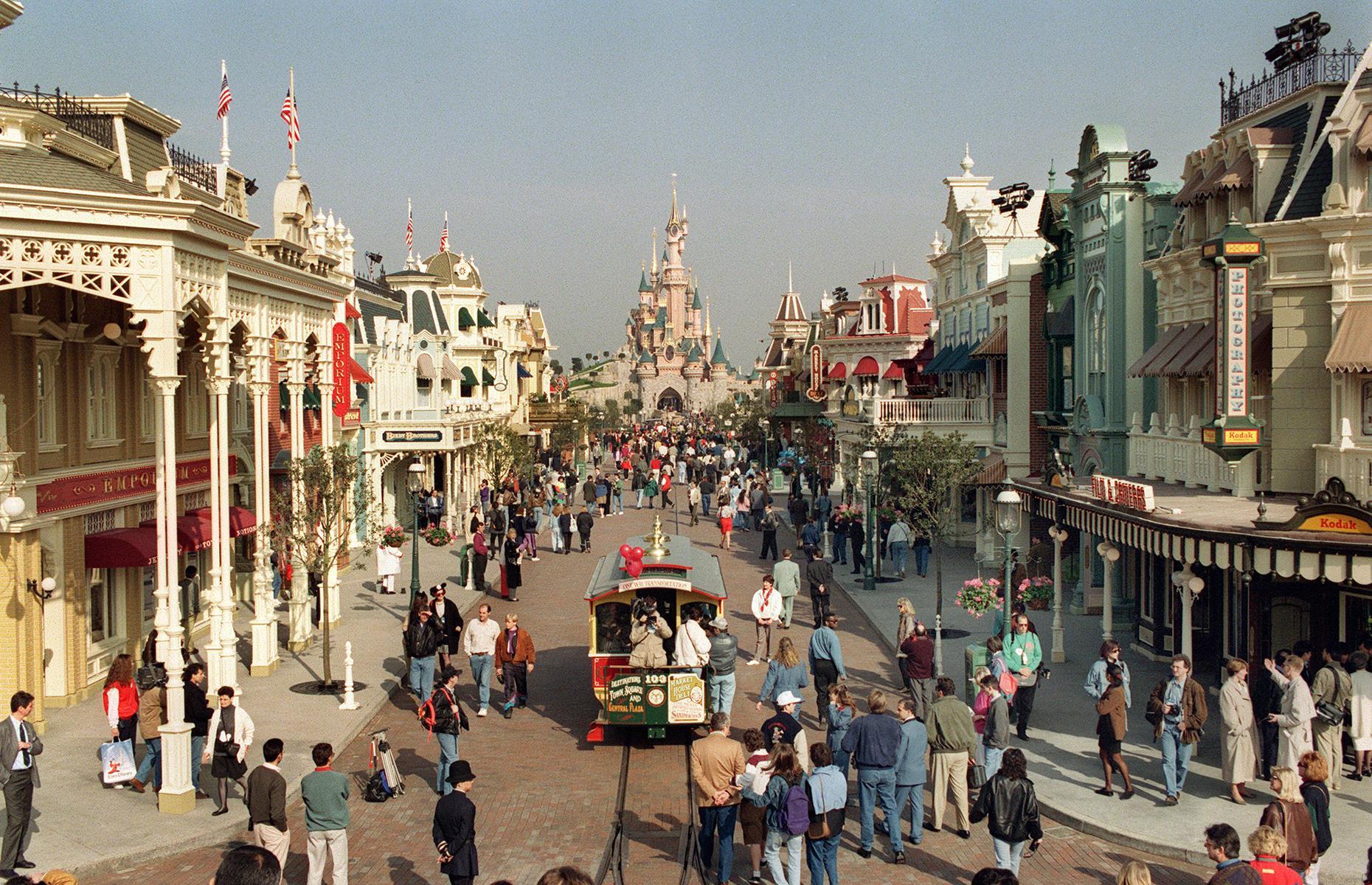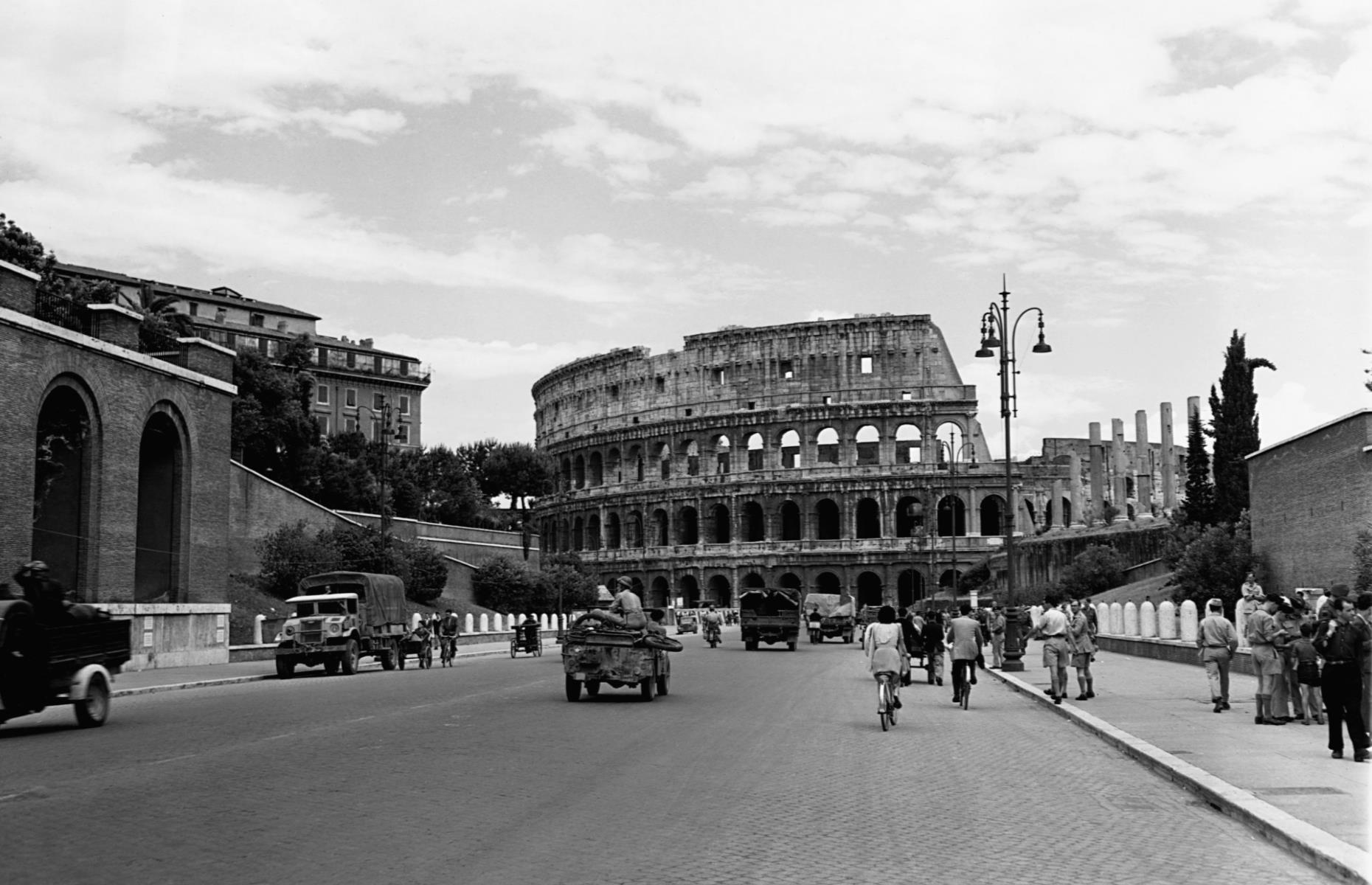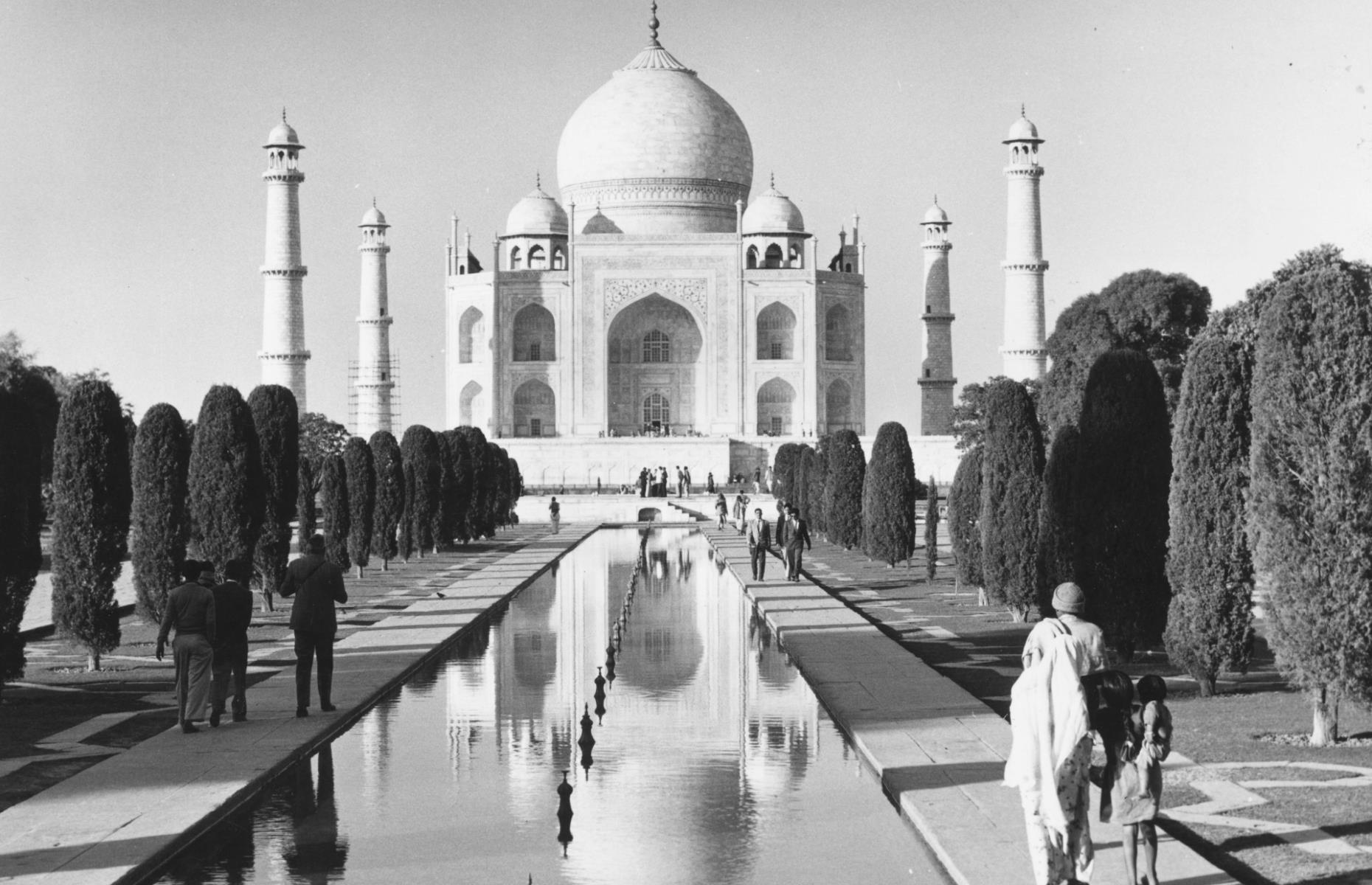 Nostalgic snaps
Niagara Falls, Canada and USA
The gushing great waterfall has always fascinated its onlookers, and back in 1859 it was no different. Look closely and you can see a small crowd of tourists standing beneath Terrapin Tower, built in 1833 at the edge of Horseshoe Falls (the Canadian section). A wooden bridge was constructed earlier in 1827 for people to drink in the incredible views across the water. The bridge was an instant hit and attracted visitors from both America and Europe, before tightrope artist Blondin's famous performances over the falls in 1859 helped catapult the attraction to further international fame. 
Great Sphinx of Giza, Egypt
This 4,500-year old statue is one of the most recognizable landmarks in the world, located on the Giza plateau on the western bank of the Nile in Egypt. A mythological creature with a lion's body and a human head, the Sphinx was buried up to its shoulders in sand until the early 1800s, when a team of explorers tried to dig it out. A further dig in the 1930s helped to clear the sand completely. Pictured here in 1882 surrounded by British troops after the Battle of Tel-El-Kebir, you can see that its body remains partially buried.
Yellowstone National Park, Wyoming, Montana and Idaho, USA
The first National Park in the US, Yellowstone was established in 1872 and covers a large region in northwestern Wyoming as well as Montana and Idaho. This photograph was captured prior to its official founding and shows men carrying out the Hayden Geological Survey of 1871. Tourists began to visit by rail or horse and carriage from the late 1800s, although it wasn't until cars were allowed in 1915 that tourism really spiked. For thousands of years, Yellowstone has been home to indigenous people and today 26 tribes have ties to the area.
Giant's Causeway, County Antrim, Northern Ireland
The striking basalt columns of the Giant's Causeway in County Antrim, Northern Ireland, were formed by volcanic activity around 50 to 60 million years ago. It gained wider recognition when politician Sir Richard Bulkeley gave a presentation to the Royal Society in 1693 and became popular with wealthy Victorian tourists during the 1800s. The opening of the Causeway Hotel in 1836 drew more visitors to the site. This photograph from 1887 shows a woman sat at the "Wishing Chair", a set of columns that form a perfect seat, which is so popular today that the stones have become smooth and shiny.  
Statue of Liberty, New York City, New York, USA
This famous statue didn't start its life in New York – in fact, it was displayed at the Paris World's Fair in 1878 (pictured), before being given to the US by France in 1886, to commemorate the alliance between the two countries during the American Revolution. A few decades later, the majestic statue, which stands on Liberty Island, had become one of the city's – and world's – best-loved landmarks.
Eiffel Tower, Paris, France
The most recognizable feature of the Paris skyline was built between 1887 and 1889, completed in time for the Paris World's Fair of 1889 – although it was only supposed to be a temporary structure. Its original licensing rights were only set to last 20 years and it was almost torn down in 1909, but city officials voted to keep it after recognizing its value as a radio station. Pictured here in 1889, the Eiffel Tower now typically attracts around seven million visitors each year. 
Giza Pyramids, Egypt
The Giza Pyramids are among the last surviving Ancient Wonders of the World, dating back to the 4th dynasty (circa 2575–2465 BC). The three pyramids, the largest of which originally measured 481.4 feet (147m) tall, represent three kings: Khufu, Khafre and Menkaure. Since the Egyptian government's push to increase tourism in 1975, visitor numbers have increased, peaking at a record 15 million in 2010 before dropping off due to political turmoil and violence. The Pyramids are pictured here in 1890. Discover the incredible secrets of the world's ancient wonders.
St Basil's Cathedral, Moscow, Russia
With its striking multicolored spires and mesmerizing patterns, St Basil's Cathedral was created to commemorate the victory of Ivan the Terrible over the Tatar stronghold of Kazan, and has stood as a symbol of the nation since it was completed in 1560. Pictured here in 1890, it wasn't until around the 1930s that it became a tourist attraction. In 1931, a state-controlled company called Intourist launched a poster competition to advertise travel to and within the Soviet Union, including a poster showcasing Moscow which featured the grand cathedral.
Central Park, New York City, New York, USA
When Central Park officially opened in 1876 it became instantly popular with New Yorkers, with activities including gondolier trips on the lake (pictured here in 1894), carriage rides and model yacht racing favored by early visitors. The 840-acre park is one of the world's top attractions today and received a whopping 42 million visitors last year.
Palace of Versailles, Paris, France
With 2,300 rooms spread over 679,784 square feet (63,154sqm), the Palace of Versailles has become a symbol of the monarchy's corruption and excess which led to the French Revolution. The first section of the existing palace was built in the 1630s by King Louis XIII, while further additions were made by Kings Louis XV (1715–74) and Louis XVI (1774–92). In 1837, a museum was officially inaugurated there, heralding the beginnings of tourism. Pictured here in 1895 surrounded by visitors, the palace and its beautiful grounds have become a key attraction in France.
Buckingham Palace, London, England
Shown here during Queen Victoria's Diamond Jubilee in 1897, Buckingham Palace is one of the UK's most famous landmarks and has served as an official residence of the Royal Family since 1837, remaining the administrative headquarters of the Queen today. The palace, which has 775 rooms and is set among 39 acres of grounds, has held public tours every summer since 1993. Another popular event with visitors is the daily Changing of the Guards ceremony outside the Palace gates, although it is currently suspended due to COVID-19.
Erechtheion Temple, Acropolis, Athens, Greece
The UNESCO World Heritage Site of Acropolis in Athens is one of the oldest and most famous archaeological sites in the world. Located on a limestone hill above the city, it has been inhabited since prehistoric times, and today it's a popular attraction usually visited by 14.5 million people each year. Pictured here in 1897 is the Erechtheion Temple, which was built between 421 and 406 BC.
Blue Mosque, Istanbul, Turkey
The Blue Mosque in Istanbul was built between 1609 and 1616, as a way for Sultan Ahmed I to reassert the Ottoman Empire's power following the Peace of Zsitvatorok (1606) and losses in wars with Persia. With six minarets, five main domes and eight smaller domes, it's one of the most impressive surviving mosques from the Classical period. Today it usually attracts around five million people each year, although it hasn't always been so popular – in this photograph from 1899, the outside of the mosque looks eerily quiet.
The Treasury (Al-Khazneh), Petra, Jordan
Carved into red, pink and blue sandstone among winding desert canyons, The Treasury (Al Khazneh) is part of the 'Lost City' of Petra. This prehistoric settlement, pictured in 1900, was once the capital of the Nabataean Empire, which controlled a vast swathe of the Middle East before being absorbed by the Roman Empire. It was declared a UNESCO World Heritage Site in 1985 and since then tourism has been on the rise. Now take a look at the amazing lost cities we've only just discovered.
Mont Saint-Michel, Normandy, France
Yosemite National Park, California, USA
In this photograph, taken in 1903, Theodore Roosevelt visits Inspiration Point in the Yosemite Valley, accompanied by the well-known naturalist John Muir. Parts of the area were established as a State Park in 1864 before a National Park was confirmed in 1890, although it wasn't until 1906 that the parks were merged to create Yosemite National Park as we know it today. Tourism has risen significantly in the past 75 years: one million people visited the park for the first time in 1954, two million in 1976, and double that amount by the 1990s.
Forbidden City, Beijing, China
The Forbidden City is an imperial palace complex enclosed by 2.17 miles (3.5km) of citadel walls in the heart of Beijing. This UNESCO World Heritage Site was built between 1406 and 1420 by the Yongle emperor of the Ming dynasty and was the Chinese imperial palace for 500 years, home to 24 Chinese emperors. Pictured here in 1908 is the Forbidden City in one of its last years as a functioning palace, as the republic overthrew the last Qing emperor in 1911 and it ceased to be the seat of government.
Pike Place Market, Seattle, Washington, USA
Angkor Wat, Siem Reap, Cambodia
The temple complex of Angkor Wat in Siem Reap, Cambodia is said to be the world's largest religious structure, covering 400 acres and comprising more than a thousand buildings. Built in the 12th century by King Suryavarman II, the city of Angkor was a center of power for the Khmer dynasty which was one of the largest and most powerful in southeast Asia. While it no longer serves as a temple today, it's Cambodia's most popular tourist attraction. Pictured here in 1910, Apsara dancers pose in traditional costume outside the temple.  
Mount Rainier National Park, Washington, USA
Cedar Point, Sandusky, Ohio, USA
Cedar Point is one of the oldest theme parks in America and has been welcoming thrill-seekers through its gates for 150 years. The first roller coaster Switchback Railway debuted here in 1892, a couple of decades after the park opened. As you can see from this shot taken in the 1920s, it quickly became a busy and popular destination as more and more rides and attractions were added. Check out these stunning historic images of theme parks in full swing.
Arc de Triomphe, Paris, France
This striking photograph from the 1920s shows a group of men taking part in an outdoor exercise class next to the Arc de Triomphe – an activity you might have difficulty with during peak season nowadays! The iconic arch was commissioned by Napoleon I in 1806, intended to celebrate the victories of the French army in the Battle of Austerlitz (1805) and it took 30 years to build. 
Hollywood Sign, Los Angeles, California, USA
You might be surprised to learn that the Hollywood sign that towers above Los Angeles once read "Hollywoodland", as shown in this image from 1925, in which a group of surveyors pose underneath it. However in 1949, it was decided that the sign – which was originally built as a temporary advertisement for a housing development – should drop the "land", in order to refer to the whole area. Now, the famous backdrop is captured on many tourists' cameras.
Times Square, New York City, New York, USA
The Times Square of the 1920s (pictured here) is a far cry from the flashing lights and billboards of the Times Square we know today. Originally known as Longacre Square, in the 1880s it comprised a large open space surrounded by apartments, but shortly after that electricity arrived in the area, and streetlights and theater signs sprung up. It was renamed to Times Square in April 1904, after the New York Times, which was set to relocate its headquarters there in January 1905.
Atlantic City Boardwalk, Atlantic City, New Jersey, USA
Atlantic City Boardwalk has been a popular attraction ever since it was constructed in the 1870s, as well as attracting more people to Atlantic City beach, pictured here filled with sun-seekers in the Roaring Twenties. It's thought to be the first boardwalk of its kind in the United States, and has been lined with luxurious hotels, eclectic stores and restaurants since its earliest beginnings. Check out more historic boardwalks and piers here.
Golden Gate Bridge, San Francisco, California, USA
The red-orange Golden Gate Bridge has spanned its namesake strait since 1937, and at the time it was the longest and tallest suspension bridge in the world. Pictured here on 24 May 1937, a few days before its official opening date, a small number of journalists were allowed to cross the bridge. Today, the bridge is typically crossed by 100,000 vehicles per day. These are the most impressive bridges in every state and DC.
Jemaa el-Fna, Marrakech, Morocco
Jemaa el-Fna is a vibrant and bustling marketplace in Marrakech's medina quarter, known today for its street performers, food stalls, snake charmers and a nightly carnival. The square dates right back to 1062, when Marrakech was founded, and since then it has served as an important public space at the heart of the city. Pictured here in the 1930s, dotted with informal market traders and passers-by, it's quite a contrast from today's vast network of covered stalls. See more of that here with our guide to the city.
Empire State Building, New York City, New York, USA
Pictured here under construction in 1931, New York's Empire State Building took just one year and 45 days to build. It was the tallest building in the world until the 1970s, when it was replaced by the World Trade Center. Today, more than four million visitors usually take the trip up to the Empire State Building's 86th and 102nd floor observatories each year, to gaze at the city's views from up high. 
Sagrada Familia, Barcelona, Spain
Designed by the renowned architect Antoni Gaudí, the Sagrada Família cathedral in the heart of Barcelona is an architectural feat of epic proportions. Construction began in 1882, yet by 1926, the time of Gaudí's death, only a quarter of it was completed. Building works halted due to the Spanish Civil War (1936-1939) and started again in the 1950s. Even today, it's still not finished, although the current team of architects claim it will be completed by 2026. The epic Neo-classical cathedral is pictured here in the 1940s. See more of the world's most amazing unfinished landmarks here.
Grand Canyon National Park, Arizona, USA
Matterhorn, Swiss Alps
This horn-shaped mountain in the Swiss Alps, six miles (10km) southwest of Zermatt, gained global recognition when its summit was first conquered by British explorer Edward Whymper on 14 July 1865. Tragically however, four of his party fell to their deaths on the way down. In 1971, Whymper published a book about his experience climbing the mountain, Scrambles Among the Alps, which became a global bestseller and sent tourists flocking to the Matterhorn. Pictured here are vacationers on a viewpoint on the Italian side of the mountain in the 1950s.
Mount Rushmore, Keystone, South Dakota, USA
The monument to four presidents of America – George Washington, Thomas Jefferson, Theodore Roosevelt and Abraham Lincoln – was carved into the rock in South Dakota's Black Hills region between 1927 and 1941. Pictured here during construction in 1940 is the profile of Jefferson and the outline of Washington in the distance, as seen from the top of Lincoln's head. Today, Mount Rushmore is a popular landmark usually receiving around two million visitors a year. Check out the hidden secrets of this and other American tourist attractions here.
Coney Island, New York City, New York, USA
A buzzing amusement park complex located in New York City's borough of Brooklyn, Coney Island has been a thrill-seeker's paradise for more than 120 years. Steeplechase Park, Luna Park and Dreamland were its first parks, opening in 1897, 1903 and 1904 respectively, although Luna Park was destroyed by a fire in 1944. Pictured here are some daring park-goers in 1946. See more of America's most historic attractions in their heyday.
Mount Everest, Himalayas, Nepal
The tallest mountain on the planet has fascinated people for millennia, but its summit wasn't successfully reached until 1953, when New Zealander explorer Edmund Hillary and Nepali Sherpa Tenzing Norgay officially scaled the peak. Shown here in 1955, a climber gazes out at Mount Everest from one of the surrounding paths. However, overcrowding of the path towards the summit in recent years, fueled in part by cut-price expeditions from Nepali trekking companies, has led to growing concerns about safety. The 2019 season was the deadliest on record, with 11 fatalities.
Weeki Wachee Springs State Park, Weeki Wachee, Florida, USA
Weeki Wachee is one of the deepest natural springs in the US, but the attraction has become well-known for its popular mermaid shows which have taken place since the 1940s. These involve real-life "mermaids" swimming up to 16 feet (5m) below the surface to perform impressive synchronized dances. Pictured here in 1949 are some mermaids cooling off at the dock between shows. Today, the site has grown to include a water park, riverboat rides and casual restaurants.
Christ the Redeemer, Rio de Janeiro, Brazil
Machu Picchu, Peru
A well-preserved citadel dating back to the Inca Empire which ruled over western South America in the 15th and 16th centuries, Machu Picchu is located around 50 miles (80km) northwest of Cuzco, between the peaks of its namesake and Huayna Picchu. It became well-known to the Western world when American archaeologist Hiram Bingham and his team began digging there in 1911, after which Bingham published a book, The Lost City of the Incas, which led tourists to flock to the Inca Trail. Pictured here in the mid-1950s, a Peruvian Indian man in traditional dress gazes out at the view.
St Peter's Basilica, Vatican City
This beautiful church in the Vatican City was built between 1506 and 1626, and today it serves as the universal headquarters of the Catholic Church as well as being the Pope's residence. With features including an impressive dome at the center which was partially designed by Michelangelo, a large bronze baldachin above the altar designed by Bernini, and a statue of St Peter on his throne, there's plenty to see inside the vast church. Pictured here is a coachload of tourists visiting the Basilica, circa 1955.
Stonehenge, Salisbury, England
One of the world's most famous prehistoric monuments, Stonehenge on Salisbury Plain in southern England was built around 5,000 years ago in the Mesolithic Period. It consists of large sarsen stones, sourced from nearby, and smaller "bluestones" which – intriguingly – have been traced to Preseli Hills in Wales, around 200 miles from Stonehenge. In 1986 it became a UNESCO World Heritage Site which helped put it on the map as a tourist destination. Pictured here on Summer Solstice 1956, Druids carry out the Dawn Ceremony to mark the longest day of the year. Learn more about the world's most mysterious stone circles here.
Disneyland, Anaheim, California, USA
Disneyland (renamed Disneyland Park in the 1990s) opened on 17 July 1955 and the Sleeping Beauty Castle, which is modeled on Neuschwanstein Castle in Bavaria, Germany, is its most recognizable attraction. It's been popular since the get-go, receiving 28,000 people on its opening day – some were so desperate to get in that they jumped the fence. This picture shows its popularity continued well into the 1960s, as tourists surround the fairy-tale fortress, and it's no different today in normal circumstances (currently closed due to COVID-19). See more historic pictures of Disney's parks here.
Space Needle, Seattle, Washington, USA
The uniquely shaped Space Needle in Seattle was opened on 21 April 1962, as part of the World's Fair. Offering panoramic views over the city from three viewpoints, one of which contains a revolving glass floor, its summit takes just 43 seconds to reach by elevator – despite being 520 feet (158m) off the ground. Pictured here in 1962, tourists dare to look down.
Leaning Tower of Pisa, Pisa, Italy
Gateway Arch, St Louis, Missouri, USA
Great Wall of China
Sydney Opera House, Sydney, Australia
The Sydney Opera House has been an iconic feature of the Sydney waterfront since it opened in 1973, housing some of the world's leading artists and performances over the years. The building was designed by Danish architect Jørn Utzon, who resigned from the job and left Australia halfway through its construction due to circumstances involving the Minister for Public Works, Davis Hughes. It was officially opened by Queen Elizabeth II on 20 October 1973 – the building is shown here on its opening day.
Epcot, Disney World, Florida, USA
Walt Disney World in Florida opened on 1 October 1971 and greeted 10,000 eager fans on its first day. Initially, the resort was made up of six individually themed lands: Main Street USA, Adventureland, Fantasyland, Frontierland, Liberty Square and Tomorrowland. In 1982, Epcot (pictured here under construction) opened, and its name initially stood for "Experimental Prototype Community of Tomorrow". Walt Disney World usually attracts more than 52 million people a year, making it the most visited vacation resort in the world.
Louvre Pyramid, Paris, France
The Louvre Museum in Paris was originally built as a fortress in 1190, before being reconstructed in the 1600s so it could serve as a palace. It was opened as a museum in 1793 but had to close just three years later due to structural issues with the building, before being reopened by Napoleon in 1801, as the Musée Napoléon. It was renamed the Louvre in 1815. The pyramid, pictured under construction in 1987, was designed by architect I.M. Pei and was completed in 1989, quickly becoming a symbol of the museum.
Disneyland Paris, Paris, France
Staying in the French capital, Disneyland Paris – initially called Euro Disney – opened on 12 April 1992 and is pictured here on the press preview the day before. The resort had a rocky first few years, struggling with losses and failing to attract as many visitors as its American counterparts. Yet thanks to advertising campaigns in the early 2000s, by 2005 Disneyland Paris had turned its fortunes around and become the number one tourist destination for Europe, selling more tickets than the Louvre and the Eiffel Tower.
Colosseum, Rome, Italy
The Colosseum is a large stone amphitheater in Rome which was built in AD 70-72. Commissioned by the Flavian Emperor Vespasian, who ruled the Roman Empire between AD 69 and 79, it was created to host gladiatorial combats and other forms of public entertainment. The city of Rome became popular with tourists in the mid-1800s, although political upheaval led to a decline in tourism in the 1870s that lasted until the end of the Second World War. Looking quiet in this shot from 1944, it wasn't until the 1950s that tourism picked up again, thanks in part to popular movies including Roman Holiday and La Dolce Vita which were filmed in the city.
Now discover the famous landmarks that were almost destroyed
Taj Mahal, Agra, India
Source: Read Full Article