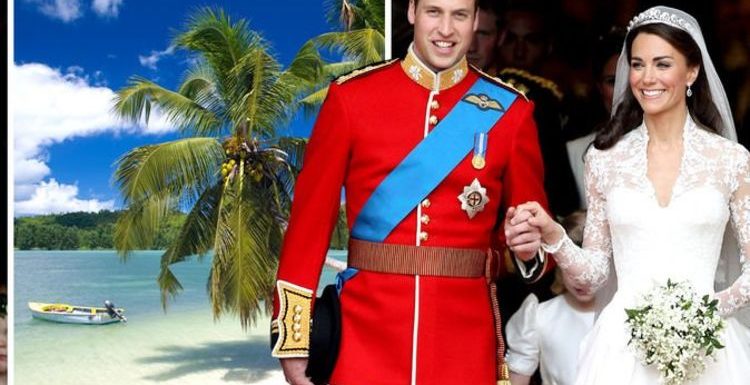 Prince William 'granted stability' by marrying Kate says expert
When you subscribe we will use the information you provide to send you these newsletters. Sometimes they'll include recommendations for other related newsletters or services we offer. Our Privacy Notice explains more about how we use your data, and your rights. You can unsubscribe at any time.
Prince William and his wife Kate Middleton are celebrating 10 years of marriage today, having tied the knot on April 29, 2011. The Duke of Cambridge then whisked his new wife away to the stunning tropical shores of the Seychelles where they enjoyed their honeymoon.
However, according to royal insiders, the island was a draw for more than just its stunning scenery.
In fact, it seems the destination holds a very special place in both of the royal couple's hearts.
Royal biographer Katie Nicholl, says it was in Seychelles four years previously that the duo made a crucial pact that would shape their relationship.
Writing in her 2010 book "William and Harry", Ms Nicholl explained: "Under a moon so bright it cast shadows across the beach, William assured Kate she was the one.
"For the first time, they discussed quite seriously the subject of marriage.
"William, who had inherited something of his father's fear of commitment, knew he would lose Kate if he could not give her some form of guarantee."
A close source of the Duke and Duchess of Cambridge reportedly told the author: "They didn't agree to get married there and then; what they made was a pact.
"William told Kate she was the one, but he was not ready to get married.
DON'T MISS
Fuengirola news: Elliott Wright's Olivia's La Cala restaurant fire [INSIGHT]
Spain holidays: Menorca gears up to welcome back tourists [COMMENT]
Spain holidays: When can I travel to Spain? [TRAVEL ADVICE]
"He promised her his commitment and said he would not let her down and she, in turn, agreed to wait for him."
Ms Nicholl concluded: "The pact they made that night would stand them in good stead."
Marcia Moody, royal author, is in agreement that this moment was the reason why William and Kate chose to spend their post-wedding holiday in Seychelles.
In her 2013 book "Kate: A Biography" she said: "The couple had been to the area three years earlier to cement their relationship after the break-up, and found it so utterly idyllic that they decided to return."
Before their trip, the Royal Family did not announce the honeymoon destination.
This was to ensure the newlyweds could enjoy some privacy and peace on their holidays.
However, according to Ms Moody, it was the Seychelles ministry of tourism who confirmed the destination.
Ms Moody explained: "Because it was a private trip, the destination was not going to be announced, but the ministry of tourism for Seychelles confirmed it."
Prince William and Kate spent their time on the North Island.
Reports at the time suggest the couple stayed in a "luxury villa" with a price tag of "£3,000 a night".
Since then, the couple has travelled around the world together, both on holiday as well as on official trips.
They are also often seen jetting off with their three children in tow.
However, while Prince George and Princess Charlotte have both embarked on royal tours alongside their parents, youngest son Prince Louis has yet to do so.
Source: Read Full Article