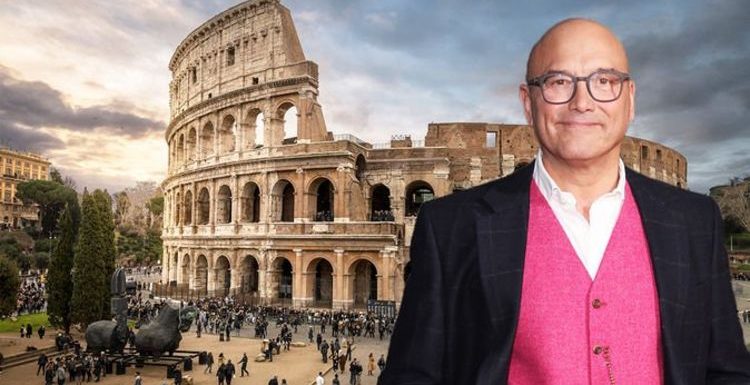 Italy: Restaurant in Rome stays open despite restrictions
When you subscribe we will use the information you provide to send you these newsletters.Sometimes they'll include recommendations for other related newsletters or services we offer.Our Privacy Notice explains more about how we use your data, and your rights.You can unsubscribe at any time.
Rome holidays are hugely popular with British tourists thanks to the culture, history and cuisine the city in Italy has to offer. Tonight media personality Gregg Wallace explores the capital in Gregg Wallace: Big Weekends Away. This is what you need to know about Rome.
When to go to Rome
It's best to go to Rome from April to June or from late September to October.
Temperatures are usually mild at these times and the crowds aren't so intense.
It can get very hot in Rome in the summer months making the city hot, muggy and crowded in peak summer months.
According to travel guide Frommers: "The average high temperatures in central Italy and Rome are 28°C in June, 31°C in July, and 30°C in August; the average lows are 17°C in June and 19°C in July and August."
What to do in Rome
Rome has so much to offer tourists, it's nigh impossible to fit it all in during one trip.
The following attractions are just some of the must-sees.
The Roman Forum
The Colosseum
The Pantheon
Piazza Navona
The Vatican
St. Peter's Basilica
Spanish Steps
Trastevere
Trevi Fountain
Villa Borghese and Galleria Borghese
MAXXI (Museum of 21st Century Art)
Of course, wandering around the city is a brilliant (and free) way to get your Rome fix.
Trastevere is worth a stroll around as is Centro Storico.
There's also lots of shopping to do, whether for high-end goods or ar a simple but high-quality market.
For brilliant views of the city head up to Gianicolo – the highest vantage point from which to see the city.
There are also countless churches to see many of which boast some impressive paintings by the great masters.
What to eat in Rome
Enjoying a gelato or five is a must on a holiday to Rome.
A Roman favourite is Giolitti, a few blocks from the Pantheon. Alternatively, there's Gelateria del Teatro and Fatamorgana.
Of course, you'll struggle to avoid typical Italian cuisine.
According to Fodors travel guide: "Typical appetizers include fried artichokes, fried salt cod filets, and plenty of cheese and salumi.
"The most classic Roman pastas are bucatini all'amatriciana, a spicy tomato sauce with peperoncino, guanciale (pig's cheek), and pecorino romano; spaghetti alla carbonara, a creamy sauce made with raw egg yolk, black pepper, guanciale, and pecorino romano; and tonnarelli cacio e pepe, a winning combination of pecorino romano and black pepper."
The best pizza is said to be sold at Bonci Pizzarium, while Pizzeria ai Marmi and Emma are also worth checking out.
What to drink in Rome
Coffee is a must in Rome, but it's key to do it the right way.
You should drink espresso and remember cappuccinos are only drunk at breakfast.
Two famous cafés, Tazza d'Oro and Caffè Sant'Eustachio, are worth trying out.
As for alcohol, an Aperol Spritz is the classic Roman happy hour drink.
Source: Read Full Article