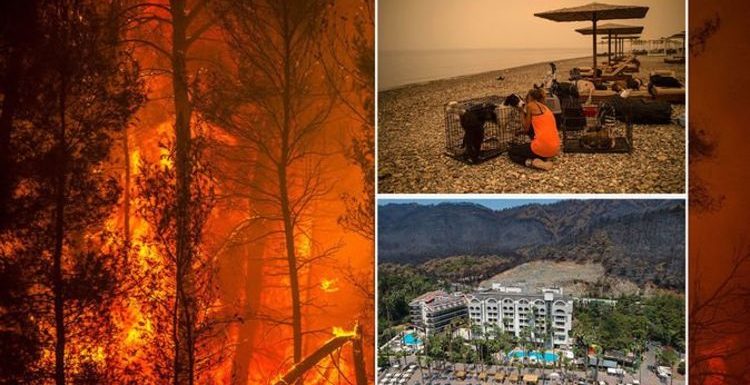 Greece: Homes left destroyed as fires continue to rage
We use your sign-up to provide content in ways you've consented to and to improve our understanding of you. This may include adverts from us and 3rd parties based on our understanding. You can unsubscribe at any time. More info
Wildfires on the outskirts of Greece's capital city have been described as "apocalyptic" by locals, as swarms of people fled over the weekend. The amber list nation has seen an increase in Britons jetting off on holiday since quarantine was axed for fully vaccinated people.
The Foreign, Commonwealth and Development Office (FCDO), which provides travel advice for Britons both abroad or planning to travel overseas in the future, has warned natural occurrences such as wildfires may lead to "travel disruption".
So far, no airlines have issued mass cancellations, but holidaymakers due to visit the nation should remain up-to-date with their operator.
"You should monitor local and international weather updates from the Greek Meteorological Service or European Meteorological Services, follow the advice of local authorities at all times and check with your travel provider for travel updates," advises the FCDO.
It continues: "Forest fires are highly dangerous and unpredictable.
"Take care when visiting or driving through woodland areas.
"Make sure cigarette ends are properly extinguished and don't light barbecues.
"Causing a forest fire is treated as a criminal offence in Greece even if unintentional.
"If you see a forest fire, call the emergency services on 112."
DON'T MISS
Which countries are on the green list? All 36 countries [FULL LIST]
Spain, France, Greece & Germany: Latest FCDO updates for travel [UPDATE]
Travel testing 'a mess' as Covid tests piled high at drop boxes [PICTURES]
Last week, thermal cameras recorded the ground temperature in Athens as 55 degrees celsius.
Thousands of homeowners have faced a race against the flames to escape the fast-spreading fires.
Greece's prime minister, Kyriakos Mitsotakis, said Greece had suffered a "nightmarish summer".
In an email obtained by the Guardian, Eleni Myrivili, Athens' first chief heat officer described the devastation already caused by fires.
"It's been crazy over here. Between the extreme heat and the wildfires, it feels apocalyptic," Eleni Myrivili said.
"Ash is raining down on us here in Athens."
So far, the fires are only in mainland Greece and have impacted popular holiday islands.
However, the FCDO has also warned travellers of other potential holiday disruptions in the likes of Crete and Zante.
Partial lockdowns have been instated in Chania and Zakynthos.
"A partial lockdown is in force in Chania (Crete) and on the island of Zakynthos (Zante) until at least August 13," states the FCDO.
"Restrictions include a curfew between 1am and 6am, and a ban on playing music at entertainment venues."
British tourists are advised to follow the advice of local authorities when in Greece.
Source: Read Full Article