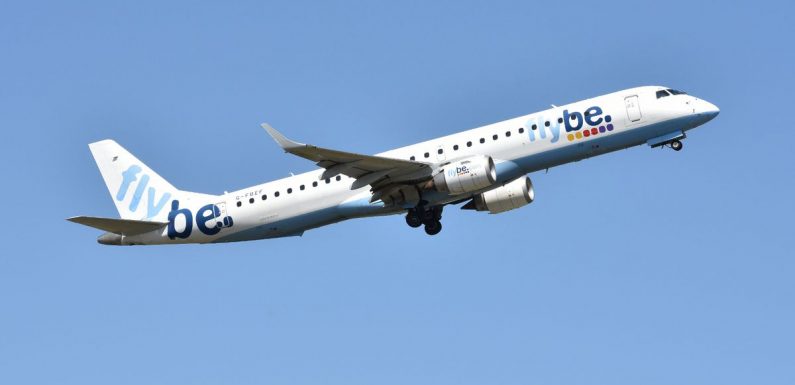 Fuming Flybe customers have hit out at the airline after it announced all flights will be cancelled.
The UK Civil Aviation Authority (CAA) made an announcement that the company had gone into administration on Saturday (January 28) morning and urged those with booked Flybe flights not to travel to airports.
The regional carrier also released a statement on Twitter to announce it has ceased trading.
READ MORE: Plane passenger's fury as airline gives suitcase to charity despite it not being missing
Addressing its 83,200 followers, the airline wrote: "We are sad to announce that Flybe has been placed into administration.
"David Pike and Mike Pink of Interpath have been appointed Administrators.
"Regretfully, Flybe has now ceased trading.
"All Flybe flights from and to the UK are cancelled and will not be rescheduled."
And it seems the news hasn't gone down well with many of it's customers, with some saying they've been left "stranded". Others also claim to have bought tickets from the company just hours ago.
One person wrote on Twitter: "So after being shipped to Cornwall last night with no word from anyone this is how we find out. Do we get a full refund on our journeys? I'm not left with no way to get back home on Friday during strike action."
While another added: "Supposed to be flying with you tomorrow back home. Thanks a lot that's another £250 we can't afford to spend."
A third chimed in: "F**king disgrace, you took my money okay last night literally 12 hours before this announcement. How do i get a refund???"
While a fourth asked: "Will I get my money back for flights that are booked in February then?"
Three early Flybe flights from Belfast, two from Birmingham and two from Amsterdam were all showing as 'scheduled on time' on Flybe's online flight status live tracker at 5am.
Usually, the CAA steps in to help stranded passengers. However, when approached by The Sun a spokesperson said: "Flybe customers who still need to travel, will need to make their own alternative travel arrangements via other airlines, rail or coach operators."
The announcement comes after Flybe returned to the skies in April following an earlier collapse.
It planned to operate up to 530 flights per week across 23 routes, serving airports such as Belfast City, Birmingham, East Midlands, Glasgow, Heathrow and Leeds Bradford.
The airline was pushed into administration in March 2020, with it announcing the loss of 2,400 jobs as the Covid pandemic disrupted large parts of the travel market.
The Government has said that its "immediate priority" is to support anyone trying to get home and those who have lost their jobs.
"This remains a challenging environment for airlines, both old and new, as they recover from the pandemic, and we understand the impact this will have on Flybe's passengers and staff," a spokesperson said.
"Our immediate priority is to support people travelling home and employees who have lost their jobs," a spokesperson said.
"The Civil Aviation Authority is providing advice to passengers to help them make their journeys as smoothly and affordably as possible.
"The majority of destinations served by Flybe are within the UK with alternative transport arrangements available.
"We recognise that this is an uncertain time for affected employees and their families.
"Jobcentre Plus, through its Rapid Response Service, stands ready to support any employee affected."
READ NEXT:
Flight attendant shares dumb questions passengers ask – like how to open windows
Mums-of-7 jet off to Lanzarote for '9 hour holiday' to get a break from kids
How to get refunds for train tickets during February strikes according to travel pro
Brits warned to check blank pages in passports before going on holiday
For more lifestyle stories, sign up to the free Hot Topics newsletter here
Source: Read Full Article