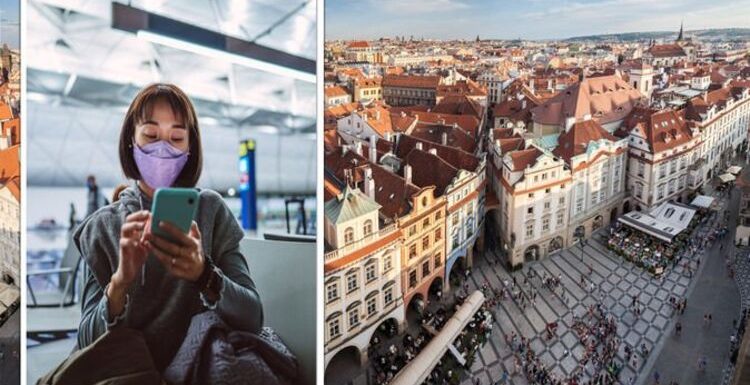 Boris Johnson arrives in Poland amid Ukraine invasion
We use your sign-up to provide content in ways you've consented to and to improve our understanding of you. This may include adverts from us and 3rd parties based on our understanding. You can unsubscribe at any time. More info
Budget carrier, Jet2, recently announced it was cancelling all its flights to Krakow in Poland for the next two months. Many tourists are cautious of travelling to Eastern Europe following the invasion. Is it safe to travel to Eastern Europe at the moment?
British citizens should not travel to Ukraine or Russia following the Russian invasion or attempt to cross the border from a neighbouring country.
The FCDO said on Ukraine: "The Russian invasion of Ukraine is ongoing, with attacks against a number of major cities.
"There is a real risk to life. We advise British nationals to leave Ukraine immediately if you judge it is safe to do so. Ukraine's airspace is closed."
British tourists should not travel to Russia. The FCDO said: "The Foreign, Commonwealth & Development Office (FCDO) advises against all travel to the whole of Russia due to the lack of available flight options to return to the UK, and the increased volatility in the Russian economy.
"If your presence in Russia is not essential, we strongly advise that you consider leaving by remaining commercial routes."
Many countries neighbouring Ukraine have helped by taking in fleeing refugees, including Poland, Romania, Hungary and Moldova.
There are over 1.7 million Ukrainian refugees in Poland at the moment according to the International Rescue Committee.
Although Jet2 has cancelled its flights to Krakow, the FCDO does not advise against travel to Poland.
However, areas close to the Ukrainian border may be very busy and there is also limited access to areas near Poland's border with Belarus.
The Polish Tourism Organisation in the UK said: "Following the invasion of Ukraine thousands of refugees have been welcomed to Poland and also across Europe. All visitors are encouraged to remember that as a member of both the EU and NATO, Poland's safety is secured.
"Poland is inviting overseas travellers to continue supporting the vital tourism industry which helps support the economy.
"Tourist attractions remain open and visitors can book hotels and accommodation as usual."
The FCDO also does not advise against travel to Hungary, Romania, Slovakia, Lithuania or Estonia at the moment.
However, tourists visiting Lithuania should be aware that the country is in a state of emergency and everyone must carry photo identification at all times.
The FCDO said: "Whilst most tourists will not be significantly impacted by the State of Emergency, you should ensure that you are aware of any restrictions that may impact your time in Lithuania."
Several countries that do not share a border with Ukraine or Russia have also seen flight prices fall.
Slovenia and Croatia do not border Ukraine or Russia but have also experienced falling flight prices since the invasion.
Neil Taylor, author of the Bradt Guide to Estonia, told The Independent: "It is a sad commentary on geographical knowledge in the UK that bookings have dropped somewhat to destinations in Eastern Europe and the Baltics, all hundreds of miles from the bombing in Ukraine.
"These countries are granting asylum to thousands of refugees and are crucial in delivering supplies to Ukraine.
"We should show our gratitude to them by continuing to support their tourism industries."
Lithuanian city, Kaunas, is one of the European Capitals of Culture for 2022 and is replacing its Festival of Happiness with a series of Ukraine-related events.
British tourists should check the latest FCDO advice before travelling.
Source: Read Full Article