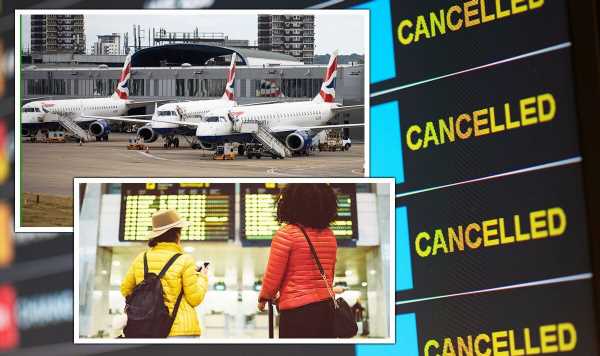 Patel can't 'test' Rwanda Policy if flights are grounded says Smith
We use your sign-up to provide content in ways you've consented to and to improve our understanding of you. This may include adverts from us and 3rd parties based on our understanding. You can unsubscribe at any time. More info
Britons are being warned of a 'summer of holiday disruption' as flight cancellations by major airlines continue to wreak havoc on the travel industry. Ryanair crew across Europe, as well as easyJet and British Airways staff, are all staging strike action throughout June and July, causing severe disruption to flight schedules to and from the UK. Departure caps on airports could also see more than 10,000 flights cancelled this summer, but which airlines are affected? Here's what you need to know about the strikes and cancellations if you're planning to travel abroad.
Which airlines are currently on strike?
Ryanair
Ryanair employees in Belgium, Portugal, France, Italy and Spain are taking part in industrial strike action between June 25 and July 2.
Staff working for the budget airline are staging the action against the company in a row over pay and working conditions.
The Belgian strike was the most recently announced, following the previous decision from other countries to walk out.
Portugal started the scheduled walkouts yesterday, on Friday, June 24, and will continue throughout Saturday, June 25 and Sunday, June 26.
Spain is also on the second day of five days of strikes, taking place between June 24 and 26 and Thursday, June 30 to Saturday, July 2.
In France, a two-day strike is underway, lasting from Saturday, June 25 to Sunday, June 26.
A single day of industrial action is currently underway in Italy.
While Ryanair crew in the UK have not voted to strike, the Irish airline has revealed that the action will affect around 30,000 passengers, adding that it "sincerely regrets these unnecessary customer disruptions".
In addition to Ryanair strikes across Europe, pilots and flight attendants from several other airlines are also taking part in walkouts today.
easyJet, Volotea, Malta Air and Crewlink
Staff working in Italy for the budget airlines Volotea and easyJet will stroke until Sunday, June 26.
Flight attendants employed by Malta Air and CrewLink in Italy will also stop working today.
Scandinavian Airlines
Pilots from Norway, Sweden and Denmark working for Scandinavian airline SAS could also carry out coordinated strike action on Wednesday, June 29.
DON'T MISS:
easyJet strikes: Planned walkout dates and affected airports [INSIGHT]
Everywhere affected by Ryanair strikes this week [REVEAL]
At last… hopes new deal will end railway misery [ANALYSIS]
Which airlines have planned strikes in July?
EasyJet
EasyJet passengers will take another hit in July when onboard crew working for the airline in Spain will stage further strikes.
Airline staff who belong to the Spanish USO union have confirmed that they will take part in industrial action, after easyJet's announcement that 11,000 flights would be axed from its summer schedules.
Three 72-hour stoppages at fortnightly intervals will take place from Friday, July 1, when hundreds of crew members will stop work at easyJet's bases in Barcelona, Málaga and Palma.
Staff will walk out in three phases throughout July on the following dates:
Between Friday, July 1 and Sunday, July 3
Between Friday, July 15 and Sunday, July 17
Between Friday, July 29 and Sunday, July 31
British Airways
It's not just budget airlines taking part in the strikes. In fact, luxury airline British Airways is the latest company to confirm strikes in July.
Some 16,000 BA workers are threatening to stand in solidarity with 700 Heathrow Airport check-in staff that have already planned a walkout.
Workers based at Heathrow who are also members of the GMB and Unite unions could take action as early as Friday, July 8.
If the planned strikes do go ahead, disruption will affect flights from Heathrow terminals three and five, where BA operates.
Lufthansa
German flag carrier Lufthansa has also announced that it will cancel up to 1,000 flights on Fridays, Saturdays and Sundays throughout July.
Source: Read Full Article