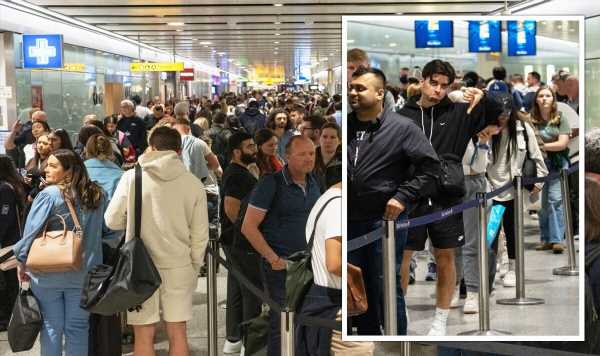 Simon Calder outlines customer rights after EasyJet cancellations
We use your sign-up to provide content in ways you've consented to and to improve our understanding of you. This may include adverts from us and 3rd parties based on our understanding. You can unsubscribe at any time. More info
Heathrow's chief executive, John Holland-Kaye, said it could take up to 18 months for the aviation sector to recover at a Financial Times conference. Thousands of tourists were left stranded across Europe over the weekend due to last minute cancellations.
easyJet cancelled over 30 flights on Tuesday, with Gatwick passengers most affected by the cancellations.
Wizz Air also scrapped flights from UK airports while British Airways cancelled around 120 flights from Heathrow.
BA said that passengers were given advance notice of the cancellations with some removed from the schedule weeks in advance.
Other passengers have reported long queues at airport security with some forced to wait outside the airport.
Britons could continue to face chaos during the peak summer period according to Holland-Kaye.
Many of the issues are caused by critical staff shortages in the industry after tens of thousands of jobs were cut during the pandemic.
The aviation sector has struggled to rehire as the peak travel season gets underway.
Aviation workers can take a long time to train due to the high level of security clearance needed.
Holland-Kaye said ministers could help by easing rules on background checks for new airport staff.
A Government spokesperson said amid the chaos: "The aviation industry is responsible for making sure they have enough staff to meet demand, and we have been clear that they must step up recruitment to make sure disruption is kept to a minimum.
"In addition, using our post-Brexit freedoms, we have changed the law to provide the sector with more flexibility when training new employees, which will help it to fill vacancies more quickly.
"We have also worked with Border Force to ensure preparations meet passenger demand."
However, Paul Charles, a travel expert and CEO of the PC Agency, tweeted earlier this week: "Despite what Government ministers say, the Brexit policy on not allowing EU citizens to work in UK aviation is seriously hampering hiring.
"Cancellations will continue until more EU citizens can be hired."
He added that pay rates and working conditions needed to improve to attract more people to the industry.
Britons are also set to face rail chaos this summer with mass strikes planned for June across the UK network.
Passengers with cancelled flights are entitled to another flight on the same day of travel if one is available.
This is the case even if the only available flight to their destination is on a rival airline.
Passengers are also entitled to cash compensation if the cancellation is short notice and is the airline's fault.
Britons should also keep receipts of any extra expenses if they intend to claim from the airline.
Source: Read Full Article