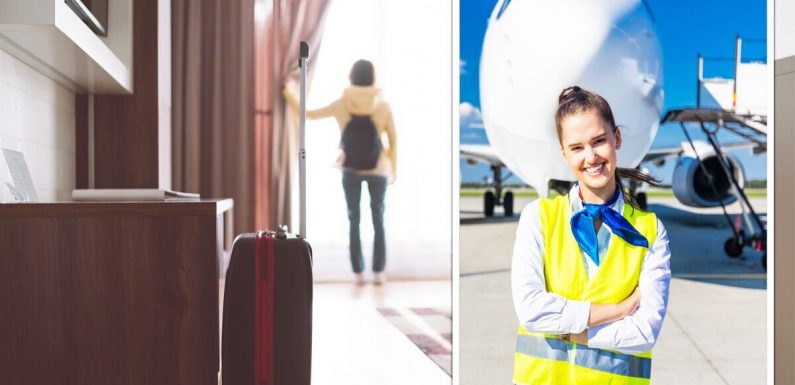 Flight attendant shares tips for packing like a pro
We use your sign-up to provide content in ways you've consented to and to improve our understanding of you. This may include adverts from us and 3rd parties based on our understanding. You can unsubscribe at any time. More info
Flight attendant, @cici_inthesky shared her top safety tips for travellers. She focused on staying safe in a hotel room.
She said the hotel door peephole should have a cover but shared a nifty hack to use if there's no cover.
She said: "Just take some tissue and shove it in there so nobody can see inside your room."
The cabin crew member said: "After I open my door, I prop my door open to do my checks.
"I check the closet, the shower and behind the curtains. Check to make sure the phone works."
She added: "I put my privacy sign outside. When I leave my room, I leave my TV on with the volume up.
"Not loud enough to disturb people, just the normal volume I would watch TV on regularly."
While the TV volume could make people think someone is inside the room, this tip won't work in every hotel.
Many hotels require guests to put their keycard in the holder by the door if they want to use electricity in the room.
This stops electricity being wasted and reminds guests to take their keycard when they leave the room.
However, one flight attendant said guests could try using one of their own cards in the slot to leave the lights on.
This might work in some hotels and could be a way that worried guests could make it seem as though their room is occupied.
The cabin crew member also said she always leaves her bag right in front of the hotel room door.
She wrote in the comments: "I put the bag in front of the door so nobody can stick a wire under the door and open the security lock along with a towel as backup."
She added: "When you're checking in, make sure the front desk person doesn't say your room number and make sure you don't say your room number."
A commenter wrote: "And when riding up in the elevator the man should always select his floor first.
"If you're in first, just ask him what floor."
One hotel worker commented: "I work in a hotel and we are trained to never say the room number.
"We don't even say the floor number, we just say the first number is the floor."
One person said they would always place the hotel room ironing board against the door as it would slam to the floor if the door opened.
Someone added that they bring a recording device so they can see if anyone entered the room while they were gone.
Source: Read Full Article