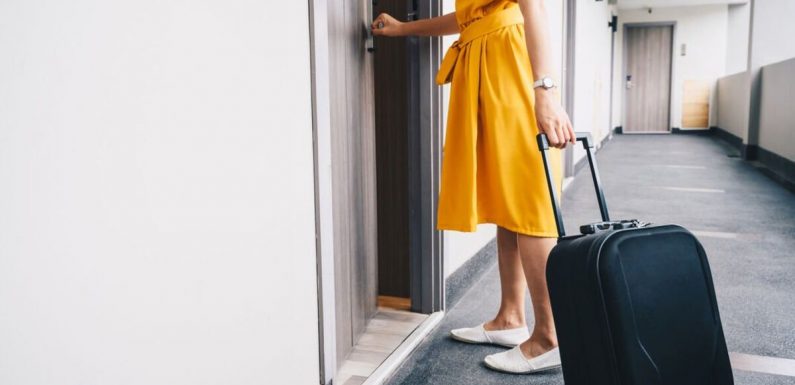 Hotels are usually incredibly safe, but you can never be too careful – especially when travelling alone. A flight attendant took to TikTok to share her top hotel safety tip. She said to check under their bed, inside the shower and the closets.
Flight attendants stay at hotels all around the world, so know a thing or two about travelling safely.
Flight attendant turned TikTok star known as Flight Bae B! took to the social media platform to share an important safety hack for holidaymakers.
It's very easy to get super excited when you see your hotel room for the same time.
There's time to check out the jacuzzi bath, balcony view and maybe even a complimentary bottle on the nightstand.
@flightbae.b Hotel Safety Tips #Part1 #travelsafety #hotelsafety #hotelsafetytips #flightattendanttips #traveldiaries #traveltipsandhacks #hotel #hotelreviews #traveluxury #amazonfinds #cabincrewstories #cabincrewlife ♬ original sound – Flight Bae B!
However, the flight attendant emphasised that safety always comes first.
Before even closing your hotel room door, it is important to do a thorough check of the bedroom and bathroom.
She urged travellers to check under their bed, inside the shower and the closets for any intruders.
To ensure a safe hotel stay, check all the "nooks and crannies" unwanted visitors could be hiding in.
Keeping the door open until you have finished your thorough check is essential.
This is so that you are able to shout for help – and be heard – in the unlikely event there is an unwanted stranger in there.
Her next tip was to give the room a once-over for any hidden cameras that have been planted.
She advised travellers check the light sockets, lampshades and air vents as there are some "voyeuristic weirdos" out there.
Save with Premier Inn's hotel sale £39 View Deal
Premier Inn is discounting hotel rooms and prices start from £39. For stays available between now and May 2022, book now to get a hotel stay for a bargain.
This box contains affiliate links, we may receive a commission on any sales we generate from it. Learn more.
The flight attendant's next tip is to keep the name of your hotel under wraps.
It may be tempting to disclose such information when you're out and about meeting new people, but Flight Bae B! told travellers it's better to "lie".
The same goes for social media; while you may want to post pictures of your hotel stay – and include the name of the hotel – this can compromise your safety.
Never fear, travellers can still share snaps from their lavish hotel, but they're better off doing it from the airport or back at home.
She stated: "People are weird and they do weird things. Keep yourself safe."
She also shared a tip for fellow aviators, advising them not to share the name of their layover hotel – both during their stay and when they leave.
Sharing this information could put future flight attendants at risk as people can then know their exact location.
Source: Read Full Article