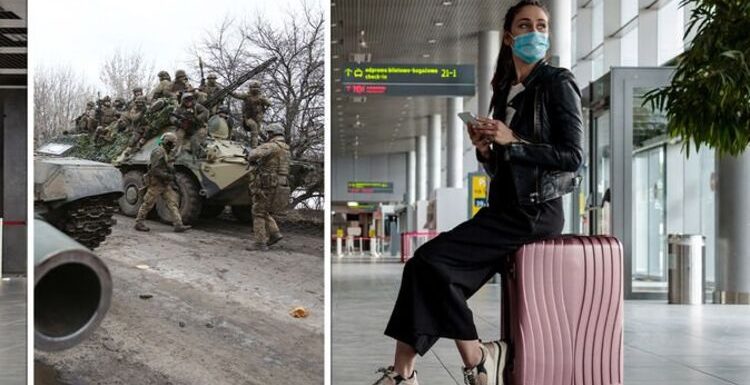 We use your sign-up to provide content in ways you've consented to and to improve our understanding of you. This may include adverts from us and 3rd parties based on our understanding. You can unsubscribe at any time. More info
HotelPlanner CEO and co-founder Tim Hentschel advised Britons to "be prepared" when travelling across Europe amid the Ukraine conflict.
Tim shared his top tips on "what to do if travelling to Europe".
He said: "Definitely register with the UK Embassy or Consulate in your destination city so officials know you're in the country and can assist you in an emergency.
"Whether that's losing your passport, or getting caught up in a war zone."
The travel expert explained it is imperative Britons "register with the country's embassy or consulate".
He also recommended "carrying photocopies of your passport".
Tim advised Britons to "secure them in different places on your body and in your luggage, in case you lose it or it's stolen".
"Follow the news. If war spreads across Eastern Europe or into one inch or NATO soil, you should have a plan to evacuate or relocate to a safer area," he said.
Tim also recommended "always having an emergency plan anytime you travel to a city that's foreign to you".
The expert considered the possibility of Ukraine immediately impacting travel.
Hentschel said: "Travellers rarely visit Russia or Ukraine (especially in the winter). Additionally, most of the market hasn't declined since the war began. In the short term, it's unlikely that the war will directly harm the hospitality sector," he said.
Tim said, however, that "historically, wars have motivated travellers to stay home".
"The US entered a recession following the Afghanistan War, then flight and hotel bookings dropped.
"The Iraq War led to a similar slowdown of travellers hitting the sea and air. According to ABC News, the bombing of Baghdad led to a 20 percent drop off in US air travel bookings.
"Long story, short: When travellers are anxious about what could happen tomorrow, they stay home," he explained.
The Government Foreign travel advice for people travelling to Ukraine reads: "The Russian invasion of Ukraine is ongoing, with attacks against a number of major cities. There is a real risk to life.
"The FCDO advises against all travel to Ukraine, including Crimea, Donetsk oblast and Luhansk oblast."
For Russia, the UK Government advises: "Tell a friend or relative about your travel plans before you go. Give them some idea of your itinerary (if possible), and an emergency contact number.
"Check with your mobile phone provider to make sure your phone will work in Russia. Store useful numbers in your phone, such as the British Embassy (+7 495 956 7200) and the local emergency service number (112). To get a local SIM card, you will need to show your passport. Read our foreign travel checklist for more information and advice on preparing for a safe trip.
"There are reports of increased police presence and ID checks. You should keep your passport with you at all times."
For those heading to Poland, the Government says: "The FCDO currently advises against travel to Ukraine and advises British nationals in Ukraine to leave immediately if they judge it is safe to do so.
"The Russian invasion of Ukraine is ongoing. Russian military strikes have taken place in Ukraine within 20km of the Polish border. You should not attempt to cross into Ukraine from Poland."
Source: Read Full Article