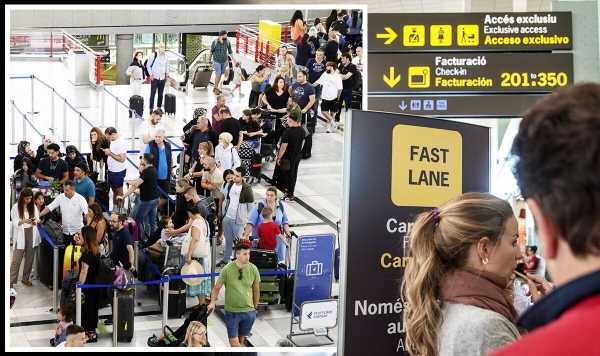 The full list of TUI flights delayed or cancelled amid travel chaos
We use your sign-up to provide content in ways you've consented to and to improve our understanding of you. This may include adverts from us and 3rd parties based on our understanding. You can unsubscribe at any time. More info
Strikes and staff shortages are forcing airlines to cancel thousands of flights and causing hours-long queues at major airports, dashing hopes for a sizzling first summer following widespread Covid-linked lockdowns. To ease things for holidaymakers, current EU rules stipulate that passengers could claim between €250 (£210) and €600 (£500) for the trouble.
But the Czech Presidency of the EU is now mulling whether to revise EU compensation rules.
Airlines are arguing it is unfair they have to pay hundreds of euros to passengers, especially when the cost of the flight is usually minuscule.
Thomas Reynaert, managing director of Brussels-based industry lobby Airlines for Europe (A4E) told Politico: "I think everyone would agree that if you pay €50 for the ticket, then you get €300 back, that's not right.
"It doesn't make sense."
In 2013, the EU Commission proposed extending the window of time before compensation kicks in from three to five hours.
The coronavirus pandemic has also exasperated airlines after the grounding of thousands of flights.
Refunds to passengers for tickets sold and unused amounted to €9.2billion in the EU and the UK between March and May 2020.
Airlines can refuse compensation if the cancellation or the delay of the flight was caused by "extraordinary circumstances".
But there is still no consensus on what that actually entails.
As airline and airport wares have been striking over pay rises, thousands of airlines have now been forced to reduce their summer schedules.
Airlines, including Lufthansa, British Airways, easyJet, KLM and Wizz Air, have cut thousands of flights from their summer schedules to cope with the disruptions, while major airports including London's Heathrow and Amsterdam's Schiphol capped passenger traffic.
READ MORE: Bosnia crisis: Serb politicians back Putin and bash Bosniaks
British Airways halted ticket sales on short-haul flights departing from Heathrow until mid-August, following the airport's decision to cap capacity. The airline's website showed no tickets for flights before Aug. 16 to popular European destinations, including Paris, Milan and Amsterdam.
On August 2, Schiphol extended the passenger cap it had introduced earlier to cope with long waiting times and other logistical problems into September and October.
Airports and airlines are scrambling to hire more workers from pilots to security and border control staff and baggage handlers after many left during the COVID-19 crisis.
Industry executives say it is hard to recruit for often physically demanding, relatively low-paid work at airports often located out of town. Training new hires and getting them security clearance to work at airports also takes months.
DON'T MISS:
Ukraine LIVE: Nuclear horror as Putin pummels Europe's LARGEST plant [LIVE BLOG]
China-Taiwan LIVE: 'Cat and mouse' Horror as Xi pushes warships ahead [ANALYSIS]
Nigel Farage speaks at US rally in Texas to get rid of Nancy Pelosi [VIDEO]
One of Europe's busiest airports needs to hire 500 security staff. It currently has 58,000 workers at and around the airport, 10,000 fewer than before the pandemic.
Charles de Gaulle and Orly airports in Paris need to fill 4,000 jobs mainly in security, maintenance and travel retail, according to airport operator Groupe ADP and the CDG Alliance.
More than 20,000 people were laid off at Charles de Gaulle during the pandemic, according to the CGT union.
Airport security company ICTS, which operates at Charles de Gaulle, is offering a one-off €180 bonus to those delaying their vacation until after September 15 and €150 for staff who sign up new recruits, according to a CGT union representative.
Source: Read Full Article