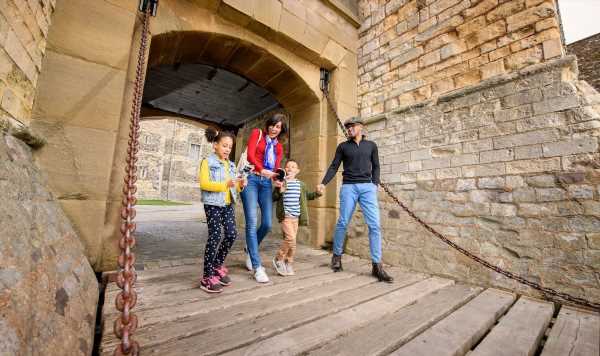 We use your sign-up to provide content in ways you've consented to and to improve our understanding of you. This may include adverts from us and 3rd parties based on our understanding. You can unsubscribe at any time. More info
The UK is filled with historic landmarks and summertime is the perfect season to enjoy a day out at one of these sites. Now, save big on all visits with this incredible offer from English Heritage.
Save 25 percent off
English Heritage is now offering customers a deal where they can save 25 percent off annual memberships. But hurry – this deal expires at the end of August.
View Deal Join here
Just in time for the late summer season, English Heritage is now offering a deal and slashing 25 percent off annual memberships for August.
This deal equates to just over £7 per month for a two parent family with children under £12.
It's also just over £4 per month for a single parent family and up to six children for unlimited days out at English Heritage sites.
English Heritage sites include some of the UK's most famous landmarks like Stonehenge, Hadrian's Wall, Dover Castle and more, so join now to save on all visits.
This is a great deal as memberships for adults are just £49.50 from £66, saving £16.50.
It's also now £86.25 from £115 for two adults, saving £28.75.
In addition to receiving unlimited visits to as many English Heritage sites in the UK, members also get a handbook with information on each of the charity's sites, four magazines per year, free or reduced price entry to historic events, free parking and even access to high street discounts.
But be quick to join here – the deal is only running until August 31, 2022.
It applies to all memberships bought via direct debit.
Johanna Lovesey, Head of Membership Marketing for English Heritage, said, "We hope that people will take advantage of this great value offer to discover more of the fascinating places and stories on their doorstep. All of our sites offer a great family day out and many are also offering fun events – from falconry to period re-enactments – this summer for no extra cost."
Explore the UK's historic castles and locations and visit English heritage sites this summer. Get 50 percent off tickets if you have a Sparks membership and book your visit here.
View Deal Book visit
Here is the full list of memberships.
Individual adult, usually £66, is now £49.50 (up to six children go free)
Senior (65+), usually £59, is now £44.25 (up to six children go free)
Young adult (18-25) / student, usually £53, is now £39.75 (up to six children go free)
Joint adult, usually £115, is now £86.25 (up to 12 children go free)
Joint senior, usually £92, is now £69 (up to 12 children go free)
One adult and one senior joint, usually £103, is now £77.25 (up to 12 children go free
Source: Read Full Article