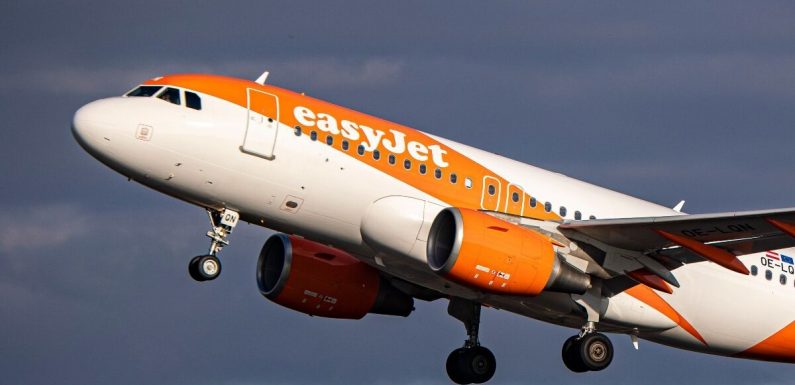 Simon Calder outlines customer rights after EasyJet cancellations
We use your sign-up to provide content in ways you've consented to and to improve our understanding of you. This may include adverts from us and 3rd parties based on our understanding. You can unsubscribe at any time. More info
British tourists have faced widespread travel chaos with long queues at airports over the weekend. easyJet, TUI and British Airways passengers have all faced issues.
One passenger said her easyJet plane was diverted to Luton instead of landing at Gatwick over a fuel issue.
Laurie Nathaniel said the flight was suddenly diverted after the crew said the plane didn't have enough fuel to continue as planned after the plane was given a later landing time.
She said that passengers were then told their luggage would be late as it would be taken to Gatwick.
"We got home today in the early hours of the morning. Our luggage still hasn't arrived after they said it would be sent here," she told MailOnline.
She said that her glasses and contact lenses were in her luggage leaving her unable to "see anything" and forced to miss work.
Nathaniel also claimed that an easyJet flight attendant told passengers she had handed in her notice due to the chaos.
easyJet cancelled over 200 flights at short notice on Friday ahead of the busy half-term period.
The move came after the airline suffered IT issues that led to late notice cancellations last week.
easyJet said on the cancellations: "Over the next week we will be operating around 1,700 flights per day, with around a quarter of these operating to and from Gatwick.
"We have taken the decision to make advance cancellations of around 24 Gatwick flights per day between May 28 until June 6.
"We are very sorry for the late notice of some of these cancellations and inconvenience caused for customers booked on these flights however we believe it is necessary to provide reliable services over this busy period.
"Customers have been informed in advance and provided with the option to rebook their flight or receive a refund and can apply for compensation in line with regulations."
easyJet has cancelled flights to popular destinations including Barcelona and Milan today as well as to Seville.
Many TUI and Jet2 flights are also departing late while British Airways has cancelled over 100 flights.
Passengers at Bristol airport were met with lengthy delays at 5am this morning as the airport struggled to cope with demand.
Manchester airport passengers have also faced chaotic scenes with some saying they saw abandoned luggage.
One Bristol passenger said: "Queue to get in the terminal at 5.15am at Bristol Airport. At least the sky is pretty."
Bristol Airport's head of customer operations, Richard Thomasson, said some passengers had arrived five hours before their flight.
He said this was "adding to the congestion in the terminal." He added the airport had not experienced such early arrivals before.
Passengers are entitled to a flight to their destination on their planned day of travel if one is available if their flight is cancelled.
Source: Read Full Article