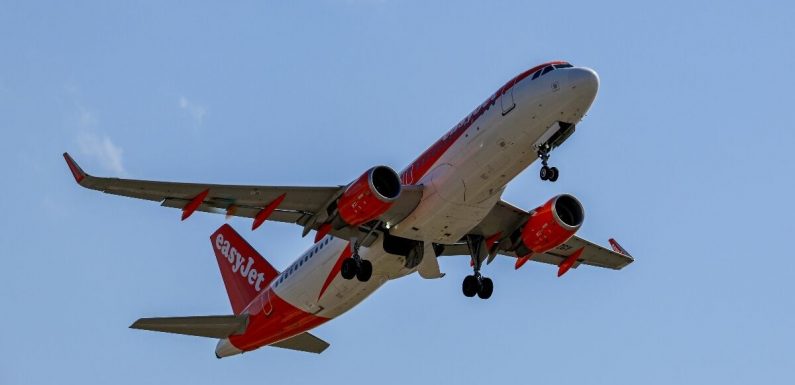 Simon Calder outlines customer rights after EasyJet cancellations
We use your sign-up to provide content in ways you've consented to and to improve our understanding of you. This may include adverts from us and 3rd parties based on our understanding. You can unsubscribe at any time. More info
This week is set to be the busiest period for travel since before the pandemic. easyJet has cancelled over 200 flights during the half-term week.
The budget carrier is set to cancel another 30 flights from Gatwick on Tuesday, according to The Independent.
Meanwhile, passengers at Manchester and Bristol airport were met with chaotic scenes and some had to queue outside the airport.
Bristol Airport issued an apology to customers and said it advised customers not to arrive too early for flights.
Rory Boland, editor of Which? Travel said: "Unacceptably long queues and widespread chaos at airports are causing huge amounts of stress to those who have planned to get away this half-term and bank holiday weekend.
"The situation requires an immediate response and the Government must work with airlines and airports to ensure they have the resources and capacity to put an end to the last-minute flight cancellations and disruption we are seeing.
"When their flight is cancelled, all most passengers want is to be put on another plane and taken to their destination.
"The Civil Aviation Authority should remind airlines of their duty to offer passengers the option of rebooking on any reasonable route as quickly as possible – even if that means using other carriers. Too often this legal requirement is not being met."
Passengers with cancelled journeys have a right to be offered a flight to their destination on the same day if one is available.
This is the case even if the only available flight is on a rival carrier. Customers will be owed cash compensation for short-notice cancellations.
Boland said: "The fiasco of domestic and international flight cancellations shows why consumer travel protections must be strengthened, not weakened.
"The Department for Transport should shelve its plans to water down passengers' rights to compensation when their UK flight is delayed or cancelled, and give the CAA fining powers so they can take swift action when airlines flout the rules."
Labour MP, Ben Bradshaw, said: "We had the most restrictive travel regime for most of last year, but the Government opened up travel all in one go with no warning which meant the industry had no time to prepare.
"The Government should have foreseen and planned for this."
A Government spokesperson said: "The aviation industry is responsible for making sure they have enough staff to meet demand, and we have been clear that they must step up recruitment to bring disruption to a minimum."
The travel chaos looks set to continue as even more Britons aim to get away for the Platinum Jubilee Bank Holiday.
British Airways and TUI have also cancelled flights as the industry struggled to cope with staff shortages.
Travel expert, Paul Charles, told Express.co.uk: "I'm afraid that some of these issues will continue into July as it's taking a long time for airports and airlines to recruit the required number of people.
"Shortages of staff are creating bottlenecks in security channels at airports as well as leading to flight cancellations due to lack of flight crew.
"Slow Government processing of mandatory security passes, for new starters, is adding to the delays in getting enough resources in the right areas."
Source: Read Full Article