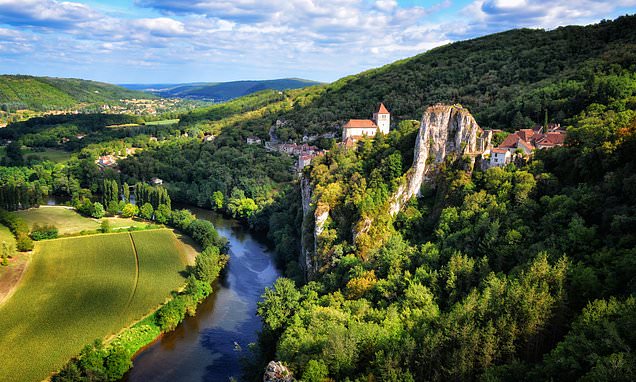 Delights of The Dordogne! This beautiful region has so much to enjoy, AND you can fly direct to Bergerac!
Ad Feature by Jet2.com
Welcome to fairy-tale France. This is the Dordogne, all lush forested valleys, picture-perfect villages and turreted chateaux, paired with a rich foodie culture and sumptuous local wines.
It's the perfect region to explore at your own pace, touring landscaped gardens and historic vineyards, stopping off at village farmers' markets and taking in the regal interiors of elegant castles.
The Dordogne is easier than ever to visit as well, with Jet2.com, flying straight into Bergerac from Birmingham, Leeds Bradford and Manchester airports. Voted Best Airline by Tripadvisor users and a Which? Recommended Travel Provider, Jet2.com always aims for convenient flight times, includes a 22kg baggage allowance plus 10kg hand-luggage included* and offers wallet-friendly low fares.
Still wondering whether your next trip should be a visit to La Belle France and the Dordogne? Here are four delicious reasons to start booking that flight to Bergerac.
Landscape: The medieval village of Saint-Cirq-Lapopie is perched on a cliff above the Lot river
Fabulous food
The Dordogne is the ultimate destination for foodies. From rich foie gras to decadent truffles, fresh strawberries to creamy cheeses, walnuts and tender lamb. 
Whether you're browsing fresh produce piled high in medieval market squares or indulging at a charming al fresco restaurant, make sure to bring your appetite.
The food culture is a key part of everyday life, too. Those black diamonds, found under oak tree roots, are celebrated with a dedicated truffle festival held in the 14th-century fortified town of Sarlat each January, and in charming Cuzance in December, while the honeyed village of Martel has a weekly truffle market over the two months.
Mouthwatering flavours: Enjoy delicious Périgord strawberries when you visit the Dordogne
The harvest of local saffron is celebrated with a festival in October in Carjac, while eight varieties of the Périgord strawberry are celebrated every Sunday in May in Beaulieu-sur-Dordogne. Add in the famous goat's milk Rocamadour cheese, organic fruit and vegetables, and free-range lamb, and you know you'll eat well in the Dordogne.
Vine times
A sunny and warm climate and slightly acidic, chalky soil made the Dordogne a grape-growing favourite when the Romans arrived millennia ago. 
Bergerac wines are remarkably diverse, offering robust reds, dry whites, delicate rosés, sparkling wines and sweet dessert wines. There's not a taste that goes uncatered for on a wine tour of this lush valley.
A dovecote nestling in the middle of vineyards in the Dordogne – Bergerac wines are diverse
From centuries-old straw drying traditions and revived ancient wine varieties to modern wine cooperatives, the winemakers of the Dordogne surpass themselves with every harvest. And with vineyard courtyards shaded by tall lime trees and chateaux opening their doors to wine enthusiasts, it's the perfect place for a romantic wine-tasting getaway.
From rich red Coteaux de Glanes wines that pair perfectly with local cheeses to the fresh whites that refresh a summer's day, all the way through to the local sweet wine Vin de Branceilles that is ideal with duck, there is a vintage for every occasion.
Fairy-tale vistas
As you walk the cobblestone lanes and through the forested valleys of the Dordogne, there is beauty and romance around every corner. Rolling hills, fields of sunflowers, and emerald vineyards provide the perfect backdrop for the charming chateaux and enchanted hamlets that dot the sun-kissed countryside.
Famous for its eponymous contribution to the divine world of French cheeses, the three-tiered clifftop town of Rocamadour is paved with legend and mystery. The thousand-year-old monastic town has attracted pilgrims and the privileged alike for centuries.
There's romance around every corner in this part of France – this is the Chateau de Hautefort
Unlike the honeyed stone of medieval Sarlat and Martel, the red walls and flowering blooms of Collonges-la-Rouge contrast beautifully with its rolling green surrounds.
And the ancient village of Autoire is home to just 350 inhabitants but has many delightful views. A spectacular walk takes you on a steep climb up to the Chateau des Anglais, a beautiful 14th-century golden fort which clings to the cliffside and overlooks the valley for a splendid picnic view.
The great outdoors
The colours of the Dordogne are enchanting, and you can appreciate this nowhere better than in the magnificent gardens, scattered throughout the emerald valleys. A half a mile path in the Jardin de Lostanges botanical gardens escorts you on a journey around the world in the footsteps of old French botanists.
At the Chateau des Milandes, wander the fragrant gardens, listen to exotic birds, and admire the renaissance architecture.
Enjoy a stroll along the river Dordogne in Bergerac – you can fly there direct with Jet2.com
For those searching for true history, at the Grotte des Merveilles near Rocamadour you'll marvel at palaeolithic drawings of horses and deer that date back 22,000 years. The Grotte de Rouffignac is a five-mile-long gallery of similarly old paintings and can be explored on a small train.
Whether you're looking to explore on foot or pedal your way through the countryside, there are endless marked trails to follow, weaving together villages and wonderful landscapes.
Jet to the Dordogne
With Jet2.com escorting you from an airport near you to the front door of this diverse region, exploring the Dordogne has never been so easy. Rent a car or even a bike to enjoy this land that time forgot at your own pace, stopping to marvel at every medieval ruin, quaint hamlet or magnificent chateau.
From clifftop castles to underground wonders of prehistoric days, from freshly baked strawberry tarts to truffle-topped caviar, the Dordogne has so much to offer, and it's only a flight away.
Find out more and book your flight to Bergerac at

Jet2.com

 
*Terms and conditions apply. 
Source: Read Full Article