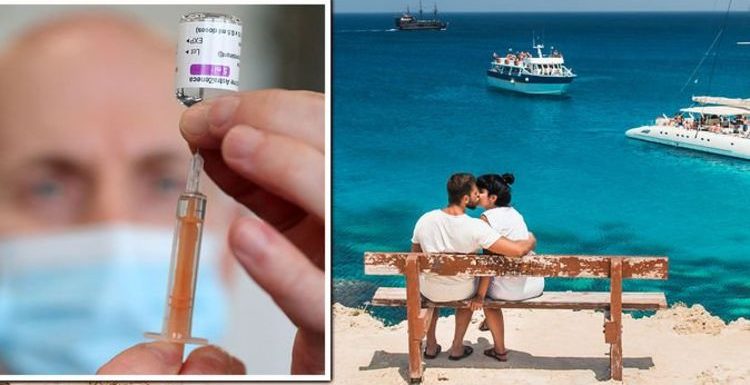 Vaccine: Dr Chris Smith discusses transmission after vaccination
Cyprus is a popular tourist hotspot, attracting around 1.33 million Britons in 2019 before the COVID-19 pandemic hit. Currently, holidays are off the cards for UK residents, but in the future, that may well change for those who have been vaccinated.
In December, Cyprus' transport Minister Yiannis Karousos discussed plans to potentially approve tourists to enter the country who can show evidence of having received the coronavirus vaccine.
"The amended action plan is expected to further boost the interest of airline companies to carry out additional flights to Cyprus, improve connectivity and increase passenger traffic," he told the Cyprus Mail.
Whether to not UK residents will be allowed to benefit from the plans remain to be seen.
Recently Iceland approved a similar rule in order to welcome back tourists.
We will use your email address only for sending you newsletters. Please see our Privacy Notice for details of your data protection rights.
Those visiting Iceland who can prove they have been vaccinated against coronavirus will be allowed to enter the country and side-step current quarantine rules.
However, currently, UK travellers are not on the list of those eligible to make use of the scheme.
Though holidays are off the cards for Britons at the time of writing, it does mean future holidaymakers from the UK may well still face the current coronavirus entry requirements if Iceland does not add the nation to its eligible list.
It is possible the same rule will apply to Cyprus.
DON'T MISS
Ex BA cabin crew shares why fliers must keep shoes on during flights [INSIDER]
Google Maps Street View: Couple caught in bizarre position on boat [VIRAL]
The Mallorca Files: Mallorca travel guide as season two starts [TRAVEL GUIDE]
Currently, the UK is in Cyprus' "Category C List", which means that temporary visitors from the UK are not permitted to travel to Cyprus.
Travel from the UK is permitted only for Cypriot citizens and their family members, and legal residents of the Republic of Cyprus.
The Foreign, Commonwealth and Development Office (FCDO) explains: "Permitted travellers can choose whether to provide a negative COVID-19 result from a PCR test taken within 72 hours before travel or undergo a test on arrival in Cyprus.
"This will be followed by a compulsory 14-day self-isolation in government-assigned accommodation.
"You can choose to undergo a molecular test on the 10th day, at your own expense, and have your self-isolation terminated provided the result is negative, or be released on the 14th day.
"These measures are in place until at least March 1."
Those who need to travel to Cyprus for "essential" purposes are advised not to use the NHS services to facilitate a test for travel.
They should instead seek a private test which travellers must pay for themselves.
Cyprus and Iceland are not alone in plans to make coronavirus vaccinations a rule for tourists.
The Seychelles, Romania and Estonia have also suggested travellers who have been inoculated may be able to avoid quarantine and other entry measures.
Some travel experts have slammed the decision to develop global "vaccination passports" though.
Paul Charles, CEO of travel consultancy The PC Agency, said: "Governments have a duty to protect health but also to get the world moving economically.
"Vaccine passports will initially only be held by the minority. We cannot have a situation where only the privileged few are able to access countries.
"Governments need to coordinate their actions and create an open, consistent approach for anyone who wants to travel. Otherwise, we could see numbers restricted for years until every country has rolled out major vaccination programmes.
"Testing everyone on departure is the only solution to freeing-up travel and tourism."
Source: Read Full Article