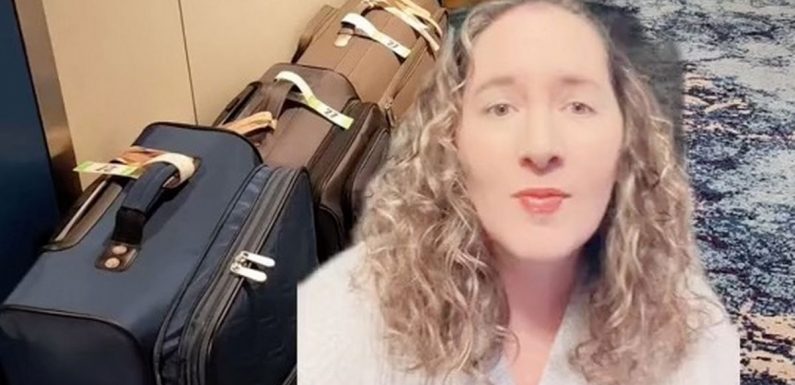 When finishing up a cruise, the one thing many holidaymakers dread is packing the night before and leaving their suitcases outside of their room.
What if you pack something you needed the next day? Or even if you forget to pack something?
Well, according to a viral travel blogger, the instructions to do that are actually optional and people can leave the ship the next day with their luggage with them if they wish to.
READ MORE: Women drivers warned about deadly accessory that could be fatal in crash
Lesley S, who posts online as @lesleyetp, is the business owner of Exclusive Travel Partners and often shares videos about her her travels around the world.
But she also offers people advice on how to make their vacations as stress-free as possible – including how to enjoy the last night of a cruise without worrying about the baggage.
In the video, which has gained more than 155,000 likes, Lesley explained: "I've got a cruise line tip for you. Do you see all of these bags lined up in the hallway?
"That happens on a cruise because a lot of people think that you have to put your luggage out the night before you get off the ship.
"The cruise line's going to tell you to do so, they're even gonna put nice little luggage tags inside your stateroom to make sure that you get them outside by like 10 o'clock the night before you depart.
"But if you're like me and you're last night of the cruise, you just wanna enjoy it and the last thing you wanna do is worry about what needs to go in that bag and what you need to keep behind so you're not walking off the ship in your pyjamas the next morning – then you can follow this tip.
"You're gonna do what they call express walk-off, which means you don't have to put your bags in the hallway. You don't have to put those special luggage tags on.
"You just walk off with your bags when it's your time in the morning. Makes it super easy. A lot of people don't realize that it's a choice.
"You don't have to leave your bags out the night before the cruise ends, so just take your bags with you, easy as that."
TikTok viewers were left relieved after hearing it was an option and thanked Lesley for sharing her advice with them.
One user said: "I would never leave my bags out like that and trust people."
To get more stories from the Daily Star delivered straight to your inbox sign up to one of our free newsletters here.
Another commented: "We always walk off with the bags. So much better!"
A third wrote: "I never put my bags out. Love that you posted this!"
However, some users didn't like the idea as they would have to drag their belongings around the ship themselves when they leave.
A user argued: "Oh hell no! Just did that this summer and you have to drag your bags all through the ship to get off."
Another penned: "Oh heck no. I walk off bag free in the morning. Much easier for me."
READ NEXT:
First footage of Lake Huron 'object' spinning abnormally in sky before being shot down
Miss England finalist attacked on night out called 'snitch' for going to police
'30 kids' terrorise UK estate where 'heads peed on' and sausage rolls used as weapons
F35 pilots who shot down mystery object over Alaska say it 'interfered with sensors'
Source: Read Full Article