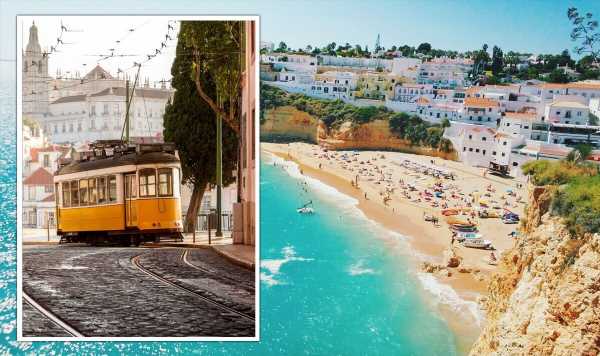 Simon Calder says Briton's will have to 'work' for a holiday
We use your sign-up to provide content in ways you've consented to and to improve our understanding of you. This may include adverts from us and 3rd parties based on our understanding. You can unsubscribe at any time. More info
Portugal is one of the UK's most popular destinations and many Britons travel there each year. The Algarve, Lisbon and Porto are three of the top hotspots.
Portugal travel rules
Fully vaccinated Britons can travel to Portugal without needing to take a test before entering.
To count as fully vaccinated, Britons must have had a booster if their second jab was more than 270 days ago.
Britons will need to present proof they are fully vaccinated when they check in for their flight to Portugal.
Tourists can use their UK Covid pass in paper or digital format to demonstrate they are fully vaccinated.
Britons who are not fully vaccinated will need to show a negative PCR test taken within the last 72 hours.
They can also present a negative lateral flow test if it was taken no more than 24 hours before entry.
Travel tests for Portugal must be carried out by a trained healthcare professional. Britons will not be allowed entry with a self-administered test.
Unvaccinated Britons who are allowed to travel to Portugal without a test by their airline will be denied entry on arrival.
Unvaccinated travellers can also enter Portugal with a Covid recovery certificate from within the last 180 days.
Britons must have recovered from Covid no less than 11 days before travel and will not need to take a test.
Travel to the Azores
Britons will need to take a test to travel to the Azores if they are unvaccinated and haven't recently recovered.
If they haven't taken a test, they will need to take a test on arrival at the island destination.
Travel to Madeira
The UK Government recommends passengers complete a passenger locator form before travelling to Madeira.
Tourists with children aged 11 or younger should include the child's details on their form.
Testing positive while on holiday in Portugal
If British tourists test positive while on holiday in Portugal, they will need to self-isolate for at least seven days.
If they test positive in the Azores or Madeira, they will need to self-isolate for at least five days.
Children aged 11 and under do not need to take a test or show proof of vaccination or recovery to travel to Portugal or the Azores.
Tourists in Portugal will need to wear a mask in enclosed spaces and cafes and restaurants until they are seated.
People are advised to wear a face mask outside if social distancing cannot be maintained.
Tourists will need to demonstrate a recovery certificate, negative test or proof of vaccination to enter healthcare facilities.
Source: Read Full Article