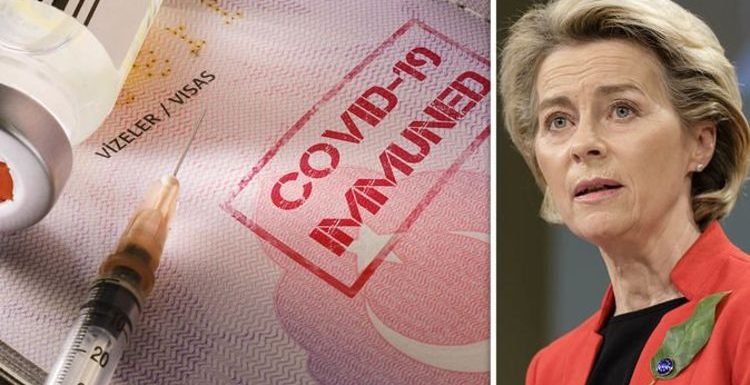 Vaccine passports could be 'unnecessarily divisive' says expert
When you subscribe we will use the information you provide to send you these newsletters.Sometimes they'll include recommendations for other related newsletters or services we offer.Our Privacy Notice explains more about how we use your data, and your rights.You can unsubscribe at any time.
The coronavirus pandemic has been ongoing for more than a year with international travel being hard-hit throughout the crisis as health services attempt to grapple with the deadly virus. Currently, anyone who has the Covid jab receives a vaccination card and the details are added to their medical record. But many countries have announced plans to require specific documentation before permitting entry.
The European Commission today proposed the introduction of a Covid passport to allow 450 million Europeans to travel freely by summer.
These coronavirus passports have been called Digital Green Certificates and should be free of charge.
These passports will be delivered to EU residents who can prove they have been vaccinated.
But they will also be available for those who have tested negative for the virus or have proof they have recovered from it.
The planned introduction of these Covid certificates would open up EU-wide travel.
European Commission President Ursula Von Der Leyen said: "What is the function of this certificate? It states whether the person has either been vaccinated or has a recent negative test or has recovered and thus has antibodies.
"Secondly the certificate will show data [that is] mutually recognised in every member state.
"Thirdly with this certificate, we aim to reinstate the freedom of movement in a safe, responsible and trusted manner.
"We are aiming at the reopening but a precondition of that is vaccination and the vaccines."
These plans are due to be discussed with EU leaders at a summit next week.
Some member states have proposed using technology to help boost tourism over the summer.
The EU Commission said: "Being vaccinated will not be a precondition to travel.
"All EU citizens have a fundamental right to free movement in the EU and this applies regardless of whether they are vaccinated or not.
"The Digital Green Certificate will make it easier to exercise that right, also through testing and recovery certificates."
DON'T MISS
Commission's vaccine passport plans rejected by 70% of French [INSIGHT]
EU vaccine passports 'unnecessarily divisive' as bloc struggles [EXPLAINER]
Dan Walker shut down by business minister over vaccine passports [ANALYSIS]
What could the new EU coronavirus digital green certificate mean for your travel plans?
The EU's Covid passport would predominantly impact its 450 million residents, however, the bloc has said its proposal could also include all countries in the Schengen agreement including Norway, Liechtenstein and Switzerland.
The World Health Organization (WHO) has advised against requiring a coronavirus vaccine passport as a condition for international travel.
However, many countries have said British tourists will be invited to visit countries if they have been vaccinated.
Currently, international travel is not permitted to resume except for essential reasons until May 17.
Outgoing Britons are currently obliged to fill in a form outlining their reasons for essential travel.
Prime Minister Boris Johnson last month said Cabinet Minister Michael Gove was overseeing a review into the possibility of vaccine passports.
Business minister Kwasi Kwarteng today confirmed the UK is looking to introduce its own version of the EU's Digital Green Certificate.
The following countries have announced plans to welcome UK arrivals in the coming weeks and months:
Estonia – accepting fully-vaccinated British tourists from February 1.
Romania – accepting fully-vaccinated British tourists from January 18.
Georgia – accepting fully-vaccinated British tourists, with a document proving their vaccination record, from February.
Poland and Lebanon – now accepting fully-vaccinated British tourists, with a document proving their vaccination record.
Seychelles – opening up to UK tourists from March 25, regardless of vaccination status.
Cyprus – welcoming fully-vaccinated British tourists from May 1.
Greece – accepting vaccinated individuals from May 14.
Portugal – accepting UK tourists from May 17.
Spain – looking to implement a digital passport in May.
Israel – opening to all those with proof of immunity from the middle of 2021.
Thailand – those who can prove a full-vaccination record will be accepted from the third quarter of 2021.
Source: Read Full Article