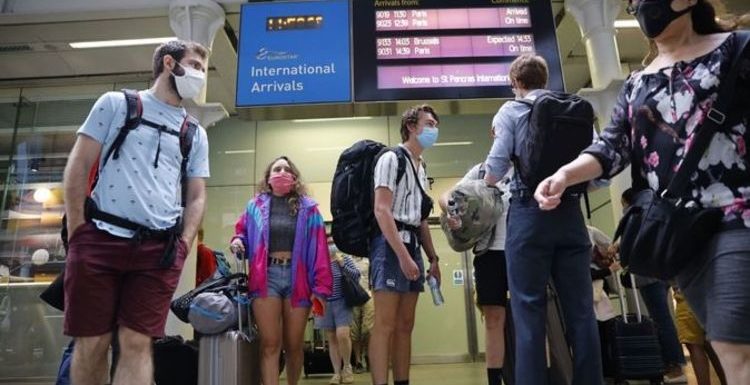 Jenny Harries discusses possible quarantine period extension
When you subscribe we will use the information you provide to send you these newsletters.Sometimes they'll include recommendations for other related newsletters or services we offer.Our Privacy Notice explains more about how we use your data, and your rights.You can unsubscribe at any time.
In February, the government introduced a rule that saw anyone from a "red list" of 33 countries forced to quarantine in a government-designated hotel for 10 days upon arrival in the UK in an attempt to prevent the spread of coronavirus from other nations. But with England on track to end its current lockdown in June, does that mean the hotel quarantine will end too?
As part of the hotel quarantine rule, the government signed contracts with 16 hotels near airports to house those arriving from the "red list".
These contracts will expire at the end of March but are expected to be extended.
According to the governments "roadmap" for lifting lockdown in the UK, international leisure travel could resume from May 17.
Health Secretary Matt Hancock, however, hasn't ruled out extending the hotel quarantine policy into the summer.
He told the House of Commons in February: "We want of course to be able to exit from this into a system of safe international travel as soon as is practicable and as soon as is safe.
"[Chief Medical Officer Professor Jonathan Van Tam] set out some of the details we need to see in the effectiveness of the current vaccines on the variants of concern in order to have that assurance, and if that isn't forthcoming then we'll need to vaccinate with a further booster jab in the autumn on which we're working with the vaccine industry.
"These are the uncertainties within which we're operating."
In February, Prof Van Tam said it was still "too early" for people to be booking summer holidays.
He said: "The more elaborate your plans are for summer holidays, in terms of crossing borders, in terms of house mixing, given where we are now, I think you just have to say, you're stepping into making guesses about the unknown."
Currently, all travel is banned for non-essential purposes.
However, holiday and tourism companies are eager for holidaymakers to return after a devastating year for the industry.
Which countries are on the red list?
Angola
Argentina
Bolivia
Botswana
Brazil
Burundi
Cape Verde
Chile
Colombia
Democratic Republic of the Congo
Ecuador
Eswatini
French Guiana
Guyana
Lesotho
Malawi
Mauritius
Mozambique
Namibia
Panama
Paraguay
Peru
Portugal (including Madeira and the Azores)
Rwanda
Seychelles
South Africa
Suriname
Tanzania
United Arab Emirates (UAE)
Uruguay
Venezuela
Zambia
Zimbabwe
Source: Read Full Article