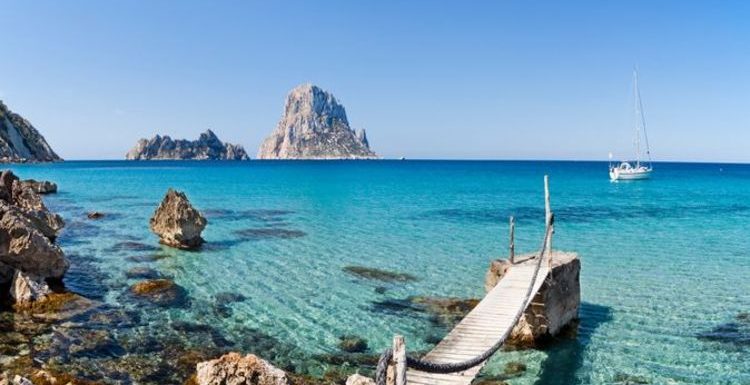 Spain: Balearics 'as safe as anywhere in Europe' says Bauza
We use your sign-up to provide content in ways you've consented to and to improve our understanding of you. This may include adverts from us and 3rd parties based on our understanding. You can unsubscribe at any time. More info
The Balearic islands have welcomed British tourists back to their stunning shores as tourism in the region soars. As Spain is on the UK's amber travel list, British travellers have quickly returned to their favourite islands for holidays.
UK tourists were the biggest group of international arrivals in Menorca and Ibiza as foreign travel picked up in July.
Menorca welcomed over 35,000 British tourists while over 75,000 Brits arrived in Ibiza for a sunny break.
The Balearic archipelago as a whole saw a 900 percent increase in British tourists this July compared to June.
Balearic islands tourism minister, Iago Negueruela, said: "Tourism is bouncing back in the Balearic islands."
The tourism minister added: "July 2021 figures are encouraging and we believe that August statistics will also show a positive upturn.
"We are very grateful for the support of both the UK and local travel industries after such a long lockdown period.
"We have confidence in our loyal British visitors and a speedy tourism recovery."
Hospitality workers are extremely pleased to see loyal and popular British tourists back in the Balearics.
The islands have experienced a difficult period during the pandemic as British tourists were unable to visit for many months.
Some restrictions are still in place on the Balearic islands. Ibiza's lively nightlife is world renowned but clubs remain closed.
DJs and producers in Ibiza have protested against the local Government's tough rules.
Despite the regulations, many loyal British tourists couldn't wait to get back to the islands which are also very popular with expats.
The Balearic islands have a very special place in the hearts of many travellers. One person tweeted: "The Balearic islands have some special power."
They added: "Never ever seen anyone sad or upset on them. Everyone just loving life and loving every single bit of it."
Another tweeter shared some beautiful shots of the coastline and said: "Menorca's not cancelled. Give it a go, you would love it."
One shared a goodbye shot to the island and tweeted: "Adios Majorca. What a wonderful 10 days we have had. Feeling chilled."
British travellers wanting to visit the Balearic islands are advised to check local restrictions and regulations before travelling.
Double-vaccinated passengers must take a pre-departure test before arriving back in the UK and a PCR test on or before day two after arrival.
Double-jabbed British tourists will not need to self-isolate after returning from Spain but the unvaccinated will need to do so for ten days.
Travel experts are calling for changes to the current restrictions and updates to destinations, including Spain, are expected on October 1.
Source: Read Full Article