The hubbub of Liverpool Street station and Spitalfields Market is only a few hundred metres away but on the doorstep of 18 Folgate Street not much is stirring. There is only intermittent noise: the roar of Christmas revellers as the doors to the Water Poet pub opposite open and close. It is 4.58pm and having rat-a-tatted a brass knocker on the door, I'm waiting to be granted entrance to Dennis Severs' House for a 5pm tour. The Grade II-listed Georgian terrace is a wonderful curio, offering a perspective on family life in 18th- and 19th-century London. But more than that – it's a work of art that seems to delight, challenge and perplex visitors in equal measure.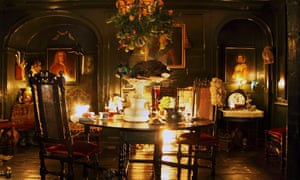 With me on the doorstep are the Daniels, an older American couple who have spent the past 30 minutes in the Water Poet and are eager for some calm. They are going to get it, though perhaps a little more than they had bargained for. At 5pm the front door opens and we are greeted and given (whispered) instructions on what we are about to experience: 10 rooms across four floors, each presented in a different historic style and arranged as if the (fictional) Jervis family had left them just moments before our arrival. This family of Huguenot silk weavers and the "house as artwork" were created by Dennis Severs, a Californian who felt drawn to England, acquired the property in 1979 and spent the next 20 years creating this "still-life drama".
When I ask how Severs, who died in 2000, would have described himself, our greeter says: "Today, maybe as a performance or installation artist." When the Daniels ask if there's an audio guide to hire, our greeter says: "No." Silence is golden here, and present-day London's office blocks will be shuttered from us. We are asked not to talk or take photographs, informed the only light will come from candles and told: "Your senses will be your only guide."
Were we allowed to speak, Gadzooks, gorblimey and yea verily would be the appropriate period language to describe what we see (and hear and smell). However, there is seriousness at the heart of this house: it was Severs' intention that each room be experienced as if it were a painting – with the bonus of being able to stroll around in it.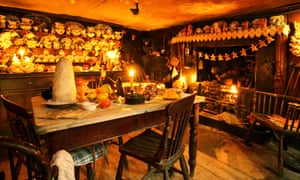 As I walk from the low-ceilinged basement rooms (cellar and kitchen) and up creaking stairs through the house – dallying in its parlours, smoking room, drawing room, print room and bedchambers – Severs' intent becomes clear, bringing a stillness and absorption I rarely experience in galleries and museums. It's the very absence of texts and explanations that makes the house such a contemplative journey. In each room I take in the scene but also focus on details: crockery dashed to the floor, an elaborate vanity screen, a brass bell at a bedside, socks stuffed inside shoes, half-finished meals, half-emptied glasses. And in the first-floor smoking room, beneath a Hogarth-esque painting of extreme merriment, that scene is (almost) duplicated; a chair knocked over, clothing strewn about, glasses and bottles toppled.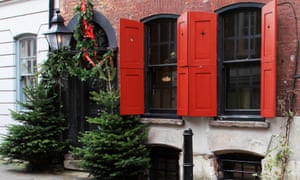 My 45-minute, time-capsule trip over, I chat to our greeter once again outside the house. The Daniels are long gone. He tells me it's precisely what I liked about the house that causes others to "hate" it. Some come expecting detailed explanations: a why, where and how of everything. But Dennis Severs' House is defiantly not a museum. Its motto is "You either see it or you don't," though I feel "You either get it or you don't" might be more appropriate.
• 18 Folgate Street, London, dennissevershouse.co.uk. Tours £10-£15, £17.50 for Christmas nights. At the time of launching this article, the house was already fully booked for five days in December. Seasonal decoration changes are made to the property
Source: Read Full Article