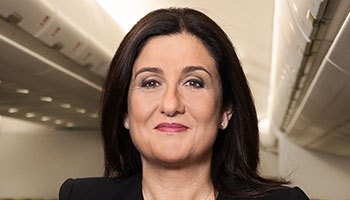 TAP Air Portugal has just emerged from a Covid-era restructuring and has also resumed all eight of the routes it flew to the U.S. pre-pandemic. Senior editor Robert Silk spoke with its CEO, Christine Ourmieres-Widener, about the carrier's future, including its next steps for the U.S., when she made a recent U.S. visit.
Q: You fly from Lisbon to New York JFK, Newark, San Francisco, Chicago, Miami, Washington Dulles and Boston and also serve Newark-Porto. Do you plan to reach 2019 frequency levels soon?
A: From the end of May to the end of September, we will be minus 10% compared to 2019. It's quite a big catch-up, and that's our goal. We had our restructuring plan approved by the European Commission in December. It gives us a cap on our fleet size at 99 aircraft, and we have 96 now. That's why our strategy is to consolidate our network based on the structure we already have. Our intention is not to launch new destinations. It's to make sure we are doing better with the routes we are already flying today.
Q: Portugal opened early to tourism last summer. Where do you expect it to be positioned as a U.S. destination this coming summer compared to a few years ago?
A: Portugal is positioned very strongly this summer. Portuguese citizens have a high vaccination level. It is one of the safest countries in the world in which to travel. We've also put together a stopover program. We want to promote Portugal and not only for point-to-point flying. TAP is also providing a connecting solution via Lisbon. You can stay a few days in Portugal and then move to another destination in Europe.
Q: Are you on solid financial footing now that the restructuring process is complete?
A: The restructuring plan is a commitment between the government and the European Commission. We are now 100% owned by the government. There were a number of commitments we had to make, and we are now doing them one by one. It's ensuring financial stability, of course. The last aid we will receive will be this year. And after that, by law, the next 10 years the airline will not be able to ask the government for anything more.
Q: How much state aid did you receive?
A: It will be more than 3 billion euros (roughly $3.4 billion), but part of it is considered as compensation that all airlines received for loss of traffic. That's a lot of money. We are absolutely conscious that it's an investment for the country and the Portuguese taxpayer.
Q: You're moving locations at JFK due to work in Terminal 5. How might that impact operations?
A: We will move to Terminal 1, and we are working very closely with the airport to provide a great experience for our customers. I like the terminal because the distance between check-in and the flight is very close, so for the customer experience it's good.
Q: As a Star Alliance member, does that terminal change impact access to lounge facilities?
A: Lufthansa is also in Terminal 1, so we are close to our friends. We will be able to offer the service that our clients expect from us.
Q: You are the rare woman CEO of a global carrier. Are airlines making progress in bringing more women into the C-suite and other executive positions, and what are you doing at TAP in this regard?
A: We are not there yet. It's just a fact. I think it would be difficult to say otherwise. But that said, I was speaking to the CEO of Air Transat, Annick Guerard, a few weeks ago. And we also have Joanna Geraghty as president at JetBlue. I feel that we have more exceptions than in the past.
From a TAP perspective, we have good representation from the board level and the executive level, but we have to prepare new talent. We have many talented directors and senior directors. My chief commercial officer is a lady. We are trying to make sure we are motivating and supporting women in the organization.
Source: Read Full Article