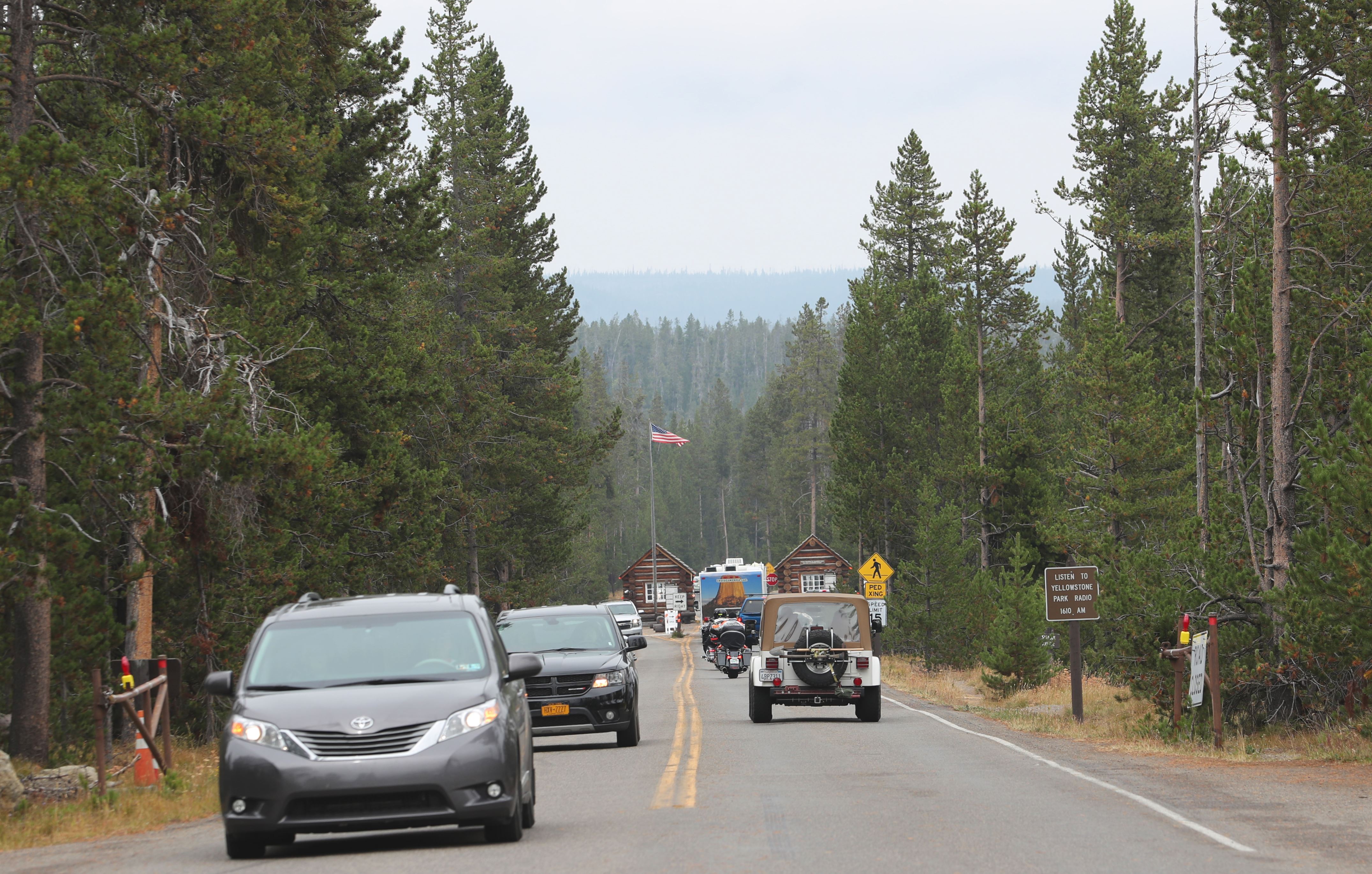 The best places to spot a celebrity in every state
Besides the obvious celebrity hubs of New York and L.A., there are plenty of spots across the country where the glitterati like to get a little R&R, have a bit of fun, and try to keep it all on the down low. From the beaches of Martha's Vineyard to the ski slopes of Jackson Hole, join us as we take a tour of the places celebrities like to visit in every state.
Alabama: Ono Island
This little island has been rumored to be home to stars like Dolly Parton, Jimmy Buffet, Tom Sellek, and even Britney Spears. So head on over to nearby Orange Beach, or even rent a place right on the island, and you just might run into a famous face.
Alaska: Glacier, anyone?
Nicknamed "The Last Frontier," this state is known for its remote wilderness. When you go to Alaska, check out the glaciers—you may just run into the likes of Joe Jonas, Neil Patrick Harris, and more.
See the photo on Instagram
Arizona: Hotel Valley Ho
Since the 1940s, stars looking to hit the desert for a quick getaway from busy L.A. have been flocking to Scottsdale's Hotel Valley Ho. Today, you may be able to spot stars like Yo-Yo Ma, Ice Cube, and Diane Keaton.
Arkansas: Bentonville Film Festival
Co-founded by Geena Davis and Trevor Drinkwater, the Bentonville Film Festival takes place every spring in Bentonville, Arkansas. That's when the burg becomes a magnet for stars like Meg Ryan, pictured here with Geena and friends.
See the photo on Instagram
California: BOA Steakhouse
In a state like California, it's fairly commonplace to see celebrities going about their daily lives. In cities like L.A., there are entire tour companies dedicated to seeking them out! But if you want a surefire opportunity to spot a star, head for dinner at BOA Steakhouse on the Sunset Strip.
See the photo on Instagram
Colorado: Aspen
This popular ski town in the Colorado Rockies has long been a favorite snowy destination among celebrities. Its NYE party is also pretty spectacular! Everyone from Bella Hadid to Leonardo DiCaprio to Mariah Carey has been spotted here, whether out on the slopes or enjoying some après-ski.
Connecticut: Barberie's Black Angus Grill
Connecticut's southwest is a veritable hot spot for glitterati trying to steal a little peace and quiet. Check out Barberie's Black Angus Grill, where stars like Channing Tatum have been sighted.
Delaware: Hit the beach
It may surprise you to learn that Delaware has some amazing beaches. Hit up Dewey or Rehoboth Beach and keep your eyes peeled: celebrities like Dave Grohl of the Foo Fighters have been spotted there.
Florida: Miami Open
While cheering on top athletes at the tournament dubbed the "Winter Wimbledon," don't forget to scan the crowd for famous faces such as Anna Wintour and Victoria Beckham.
See photo on Instagram
Georgia: Atlanta is the Place
Georgia has one of the world's fastest-growing film industries, so you've got a good shot at catching a glimpse of a celebrity out and about. To increase your chances, hit up Serpas True Food in Atlanta. Robert Downey Jr. and Scarlett Johansson are both said to have this eatery on their list of faves.
Hawaii: Turtle Bay Resort
Everyone has their favorite vacation spot in Hawaii, and celebrities are no different. Turtle Bay Resort on the north shore of Oahu is a veritable hot spot for star sightings. Both The Hills and Lost filmed here. It's also where Sean Penn took his family on vacation in 2007.
See the photo on Instagram
Idaho: Ketchum
Considered by certain insiders to be a getaway for some of Hollywood's elite, Ketchum is located in the heart of Idaho and offers plenty of outdoor escapes. Both Tom Hanks and Clint Eastwood own homes here.
Illinois: It's all about Chicago, baby
When in Illinois, hit up one of the many fine restaurants of Chicago. At the top of the list is RPM Italian: co-owners Bill and Giuliana Rancic are one thing, but folks like Michelle Obama have also been spotted.
See the photo on Instagram
Indiana: Long's Bakery in Indianapolis
Did someone say donuts? Stop in for a glazed ring of heaven here and you just might find yourself rubbing shoulders with Martha Stewart.
Iowa: Flying Mango Restaurant in Des Moines
Featured on Diners, Drive-ins and Dives, this eatery serves up can't-miss barbecue—if, that is, you trust the opinion of Guy Fieri (which we obviously do).
Kansas: Big Slick Celebrity Weekend in Kansas City
Kansas is a long way from home for most celebrities, but during the Big Slick Celebrity Weekend in Kansas City, organizers Rob Riggle, Paul Rudd, and Jason Sudeikis host celebs galore to raise money for Children's Mercy Hospital. If you attend this year, you'll be in the company of Kevin Rahm, Michael Ian Black, and Angela Kinsey.
See photo on Instagram
Kentucky: Churchill Downs, Kentucky Derby
Grab your hats, ladies! America's premier horse racing event of the year takes place at the famed Churchill Downs, where horse lovers, race lovers, and hat lovers alike come together to watch the races, make a few bets, and have a few bevvies. Actor Paul Sorvino and figure skater Johnny Weir were among those in attendance this year.
See photo on Instagram
Louisiana: Stroll through the Garden District
Many celebrities have homes in New Orleans. Take a stroll through the leafy, history-rich Garden District and you might spot some famous faces. Sandra Bullock and others actually live in the area.
Maine: Camden
Maine is a favorite summer getaway for stars of all ilks. If you enjoy it too, head to Camden on a busy summer day and keep your eyes peeled: actors Richard Russo and narrator David McCollough have been spied here.
Maryland: Hotel Monaco in Baltimore
Maryland's luxurious Hotel Monaco has hosted the likes of Sade, Robin Thicke, and Danny Glover.
Massachusetts: Martha's Vineyard
Located south of Cape Cod, this picturesque island has been a celebrity summer vacation hot spot for decades. Travel here and you may find yourself amongst stars like Meg Ryan, Chelsea Handler, Bill Gates, and Oprah.
Michigan: Detroit's D'Mongo's Speakeasy Cafe
Owned and operated by local Larry Mongo, this top-secret hideaway has played host to stars like Ryan Gosling and Quentin Tarantino.
Minnesota: Brick and Mortar, Minneapolis
Taking up two floors of a historic brownstone in downtown Minneapolis, this workspace/social club is only open to a "curated crowd"—and only for a fee. But if you do get in, you just might be in the company of celebs.
See photo on Instagram
Mississippi: Leatha's Bar-B-Que Inn, Hattiesburg
This kitschy Hattiesburg staple is always abuzz with locals and tourists alike, all of them drawn in by the irresistible aroma of Leatha's famous BBQ sauce. Drop in here and not only will you be converted for life, but you may even spot a star or two, like Christian Slater or Brett Favre.
Missouri: Missouri State Fair
Held every summer in Sedalia, the Missouri State Fair attracts tourists from far and wide, as well as a few celebs, like Hank Williams Jr., who is playing this year.
See photo on Instagram
Montana: Bozeman
This quaint little town in southwest Montana has recreation aplenty and is a short drive from majestic Yellowstone National Park. It's no surprise that Bozeman, with its extra helping of wide-open spaces and gorgeous scenery, attracts celebs like Johnny Depp, who lives there.
Nebraska: eCreamery ice cream shop
While Nebraska isn't exactly a celebrity mecca, if you find yourself in Omaha, grab a cone at eCreamery and take a careful look around. Rumor has it Paul McCartney's favorite flavor is vanilla.
See photo on Instagram
Nevada: TAO Nightclub at The Venetian, Las Vegas
Vegas is always a good time, boasting non-stop nightlife, buffets as far as the eye can see, and streets teeming with folks looking to party. TAO at The Venetian is a favorite hangout for visiting celebs, including the likes of Diddy and Snoop Dog. Did we mention that there are girls in bathtubs with rose petals? Very Vegas.
New Hampshire: Radisson Manchester
A hub of activity, this hotel frequently hosts local events and has definitely housed a celeb or two in its time. If you're out and about in Manchester, keep your eyes open for comedians Sarah Silverman and Adam Sandler, who both live in town.
New Jersey: Atlantic City
Atlantic City brings a bright infusion of fun to New Jersey, and stars tend to frequent its more upscale casinos and restaurants, such as The Palm or Ruth's Steakhouse. If you're not having any luck in public places, you can always take in a show to see celebrities on stage.
New Mexico: Taos
Nestled in the foothills of some of New Mexico's tallest peaks, this super-laid-back little town attracts its fair share of stars thanks to its mesmerizing scenery and chill vibe. Julia Roberts lives nearby.
New York: New York Fashion Week
While New York is definitely no stranger to stars, if you're in town and want a guaranteed sighting or two, take in some of the bigger-name shows at New York Fashion Week. You never know who else might be in the audience—SJP? Anna Wintour?
North Carolina: Charlotte
Attracted by its cozy charm and relaxed vibe, more than a few celebs call Charlotte home, including Angie Harmon and Michael Jordan. If you want to increase your odds of spotting a celebrity, try Cabo Fish Taco, whose patrons reportedly include Lenny Kravitz and Woody Harrelson.
North Dakota: Fargo
Perhaps the movie of the same name piqued celebrity interest in this small town. Whatever the case may be, these days, it's no big deal to cross paths with a star or two on Fargo's streets. If you're of a musical bent, pop into Gruber Guitars, where Red Hot Chili Peppers guitarist Josh Klinghoffer has stopped in for a quick shop.
See photo on Instagram
Ohio: Dayton
Who knew that Dayton was actually a hub of celeb activity? While it's no great stretch to expect a sighting of local resident Dave Chappelle, the comedian can also bring in a pretty star-studded crew. Just take a look at this celebrity-filled plane, en route to a Chappelle-hosted party in Dayton.
See photo on Instagram
Oklahoma: The Skirvin Hilton, Oklahoma City
This iconic 100-year-old hotel, located in downtown Oklahoma City, has hosted countless stars and politicians over the decades. Some of its more recent guests include Paul McCartney, Ringo Starr, and Richard Dreyfus.
Oregon: Bluehour Restaurant, Portland
Once named "best city to dine with a celebrity," quirky and cool Portland is a draw for stars and has some great restaurants. For celeb sightings, check out Bluehour restaurant, where Sharon Osbourne, Gus Van Sant, and Al Gore have been spotted.
Pennsylvania: Philly!
Although far away from the lights of Hollywood, the City of Brotherly Love has plenty of little hot spots beloved by both locals and big-name stars. Check out Rouge for one of the best burgers ever—and who knows? Maybe you'll spy a celeb or two: Justin Timberlake and M. Night Shamalan are rumored to have visited.
Rhode Island: Olympia Tea Room
Ever since Taylor Swift decided to buy a sprawling estate here, R.I. has become a popular destination for the young and famous. And since Ms. Swift is one of its most popular denizens, you can check out some of her favorite spots, like the Olympia Tea Room. Apparently, she's brought pals like Lena Dunham and Ed Sheeran to this historic little eatery.
South Carolina: Charleston
With boatloads of charm, cobblestone streets, horse-drawn carriages, and those lovely Georgian row houses, Charleston is famous for its laid-back vibe and cozy, down-to-earth feel. Just ask Bill Murray, who has a home here. Other notable sightings include Hilary Swank and Bette Midler.
South Dakota: Mount Rushmore
While South Dakota isn't the biggest draw for stars, you can always count on these famous faces being in town. The iconic carvings of Mount Rushmore make for guaranteed sightings, every time.
Tennessee: Nashville
Nashville is absolutely a huge draw for celebrities, but there are certain places where you're more likely to run into a star. Check out local dive bar Santa's Pub, whose owner resembles the man in red himself. The beer is cheap, and you just might run into stars Ed Sheeran and Gavin DeGraw doing karaoke.
Texas: SXSW Festivals in Austin
Texas is a big state, and the SXSW Festivals in Austin encompass both music and film. They are also a great place to spot big-name stars like Daryl Hannah or Bill Murray reciting poetry.
See photo on Instagram
Utah: Sundance Film Festival, Park City
Founded by Robert Redford and now an annual staple for film festival lovers, the Sundance Film Festival is a celebration of diversity. It wraps up with an awards ceremony where celebrities turn out in droves, so don't miss out if you're in town.
Vermont: Stowe Mountain Ski Resort
Back in the days of Brangelina, the pair was spotted in Stowe with none other than John Travolta and his wife, Kelly Preston. Steven Tyler and Mick Jagger have also been spotted here over the years.
Virginia: Virginia Beach
This East Coast destination has it all: sun, sand, activities—not to mention the distinction of being the birthplace of Pharrell Williams and Timbaland. Missy Elliot was born in neighboring Portsmouth; something musical is happening here . . .
Washington: Seahawks game, Seattle
The Seahawks are the local football team, and both Rainn Wilson and Will Ferrell are said to have been spotted at games.
See photo on Instagram
West Virginia: The Greenbrier Classic, White Sulphur Springs
This official PGA Tour event takes place every year at The Greenbrier resort in White Sulphur Springs. It's the year's hottest ticket in West Virginia, attracting stars like Shaquille O'Neil.
See the photo on Instagram
Wisconsin: Elkhart Lake
This pristine little lake is the epitome of pretty, with its placid blue-green waters and pastoral setting. The locals aren't the only ones who think so: apparently, celebs like Ashley Judd, Michael Jordan, and Tom Cruise have been spotted enjoying the scenery as well.
See photo on Facebook
Wyoming: Jackson Hole
Ready for some extreme skiing in one of the best settings around? Lots of celebrities have had second homes here, including Harrison Ford, Sandra Bullock, and Brad Pitt.
Source: Read Full Article