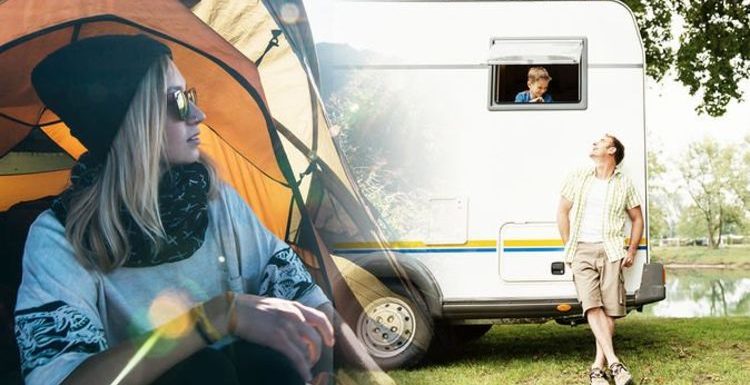 The Camping and Caravanning Club detail virus safety measures
When you subscribe we will use the information you provide to send you these newsletters.Sometimes they'll include recommendations for other related newsletters or services we offer.Our Privacy Notice explains more about how we use your data, and your rights.You can unsubscribe at any time.
Camping and caravan holidays were given a new boost last night as Prime Minister Boris Johnson shared how the UK will emerge from lockdown. "Self-contained accommodation, such as holiday lets, where indoor facilities are not shared with other households" can reopen "no earlier than April 12," according to the latest Government travel advice. This means certain camping cand caravan trips might be able to return at this date followed by campsites with shared wash blocks opening from May 17.
The news of the return of UK holidays has proved highly exciting for many Britons.
Many have rushed to get camping and caravan getaways in the diary.
According to outdoor accommodation booking platform Pitchup.com, bookings yesterday were up five times up from 4pm (compared to bookings made in the hours before the announcement).
Dan Yates, founder of Pitchup.com, said on Monday: "We ran the figures… which showed that more than a third of bookings over the last week related to arrivals across Easter and early summer, with 10 percent of bookings in April, 14 percent in May and 14 percent for June.
"Those that plumped for late May and June are doubtless delighted with [the] encouraging announcement that campsites with shared wash blocks may be able to reopen from May 17 – which means that late May bank holiday and half-term breaks could still be safe."
Yates added: "We've also seen strong bookings for July and August (27 percent and 29 percent of bookings respectively, in the past seven days) and are anticipating a surge… to add to those earlier bookings. "
However, this surge in bookings could well alarm those who do not yet have a camping or caravan holiday in the diary.
Is there still place for those who have not yet booked?
The good news, according to Yates, is that there is.
In fact, there is potentially more availability in the camping and caravan sector than for cottages.
"While cottage companies are trumpeting sell-outs across popular destinations, what many seem to have forgotten (if indeed they knew it in the first place) is that outdoor accommodation accounts for a massive 65 percent of UK non-serviced bed spaces – of which there are still plenty," said Yates.
"A quick search on our site shows there are currently 788 locations available in England for the week of July 31 to August 7."
What's more, new camping sites continue to pop up.
"We're also taking on new sites every week, increasing customer choice and capacity – new sites on the platform in the last week are 60 percent up on the same week last year," said Yates.
"Farmers and other landowners are diversifying, prompted by a relaxation of 'permitted development' rules to allow them to open for up to 56 days across the calendar year.
"The sites not only offer city dwellers an entirely new type of holiday – up close and personal with farm animals, for example – but also a boost to local economies from food, drink and activities helping personal and business recovery."
However, the announcement yesterday was bad news for those hoping for Easter holidays.
Martin Smith, founder of Campsites.co.uk, which works with more than 3,000 camping and glamping sites across said this will impact campsites and holidaymakers.
"It's great for the industry to have a much clearer picture of the months ahead and there is clearly customer demand for holidays in the UK," he said.
"On the downside, it will come as a blow to campsites that they'll miss out on Easter, and that tent campers needing access to shared facilities will have to wait until May 17, missing the normally busy bank holiday weekend for a second year.
"It's important to open safely of course, but this will be a big blow for some."
Source: Read Full Article