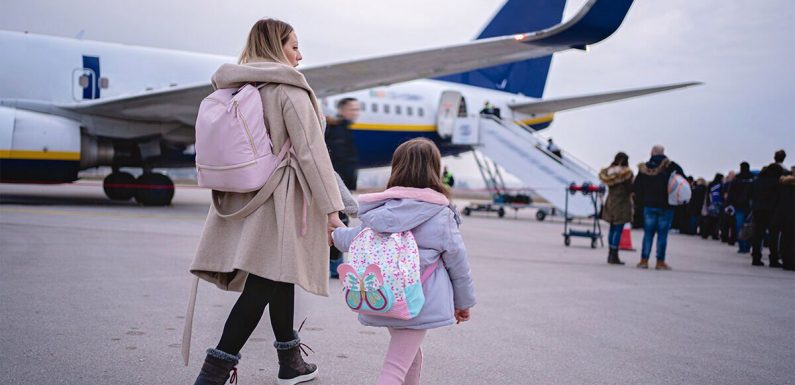 We use your sign-up to provide content in ways you've consented to and to improve our understanding of you. This may include adverts from us and 3rd parties based on our understanding. You can unsubscribe at any time. More info
Because fitting all the clothes in the carry-on luggage is more difficult than ever in winter, head stylist at SilkFred Megan Watkins talked about the "packing hacks to save time and space". The expert shared the five "must-have hacks you need to know before you jet off".
In terms of "how to pack for budget airlines", Megan explained: "We can't be the only ones convinced that the allocated size for carry-on luggage is getting smaller by the year.
"Budget airlines often charge high prices for checked bags and an even bigger fee if you arrive at the airport with oversized hand luggage (we've all been there)."
However, the expert said there is an"ultimate carry-on packing" tip and it all comes down to the items you need to take.
She explained: "It's all about packing lightweight items, which, for summer packing, is perfect. Let's face it, how many times do we go away and always end up wearing the same three items?"
She recommended focusing on the essentials such as a warm cosy jumper, a pair of jeans and perhaps a dressier winter ensemble or dress for the evenings. "Trust me, you won't miss your others," she said.
Packing cubes is one of the most popular packing methods and it is based on compartmentalising all the clothes and organising the items in packing cubes. "They are the holiday essential you never knew you needed," Meghan claimed.
Travellers can buy them on Amazon, but for a more "sleek and stylish cube", travel brands Away or Aerolite offer great alternatives.
Similarly, people can also use bags to organise their clothes. Megan explained that "repurposing" old plastic bags for outfit organisation is a great idea.
The expert added: "Reusing your old online shopping bags is a great hack to keep things organised."
Vacuum-pack bags are another effective way to save space when packing winter clothes. Megan said: "Vacuum-pack bags are no longer just for extra bedding and clothes you'll never wear."
She recommended using them "to make the most of their limited bag space". Although "they won't help you with luggage weight limits, these handy items will save you significant space".
She added: "If you're opting for this hack, it's worth checking ahead of time if your hotel has an iron. If not, I can't live without my travel steamer.
@sideofsequins #packinghack #packinghacks #packingtip #packingtipsandtricks #carryon #overpacker #overpackingatitsfinest #overpacking ♬ Classical Music – Classical Music
"However, if space is a concern, simply hang your most creased items in the bathroom when you're taking a shower – the steam will make those creases drop out in no time."
Flight attendant Miguel Muñoz shared his top tips with Express.co.uk: "First of all, it's very important to only take the clothes you actually need. How many times you've realised after a trip that you didn't wear half of the clothes you packed?
"I always wear the biggest jumper and carry the coat with me on the plane, so I have that extra space in the suitcase.
"Jeans also take up a lot of space so I recommend always wearing them when travelling and only taking one pair with you," he suggested.
@maddykate01 Here are my top tips for packing like a pro: @maddykate01 #homehacks #packinghacks #packingcubes #packing #packingtips #holidaytiktok ♬ Afraid To Feel – LF SYSTEM
He continued: "Don't make the mistake of bringing two of each 'just in case'. If you need to bring boots on your trip, wear these when travelling instead of packing them."
Miguel recommended "always packing and taking with you the things that can be harder to find". These can be items such as swimming caps or ski socks.
The flight attendant, however, warned against vacuum packing: "I think clothes pouches are definitely the best way to pack your clothes. It may seem silly but you can fit more clothes in your suitcase than without these. It's better than vacuum packing.
"Vacuum packing is a big mistake because you can do that on the way there, but probably you won't have a vacuum to use at your destination to pack for your way back. Clothes pouches are so much better!"
Source: Read Full Article