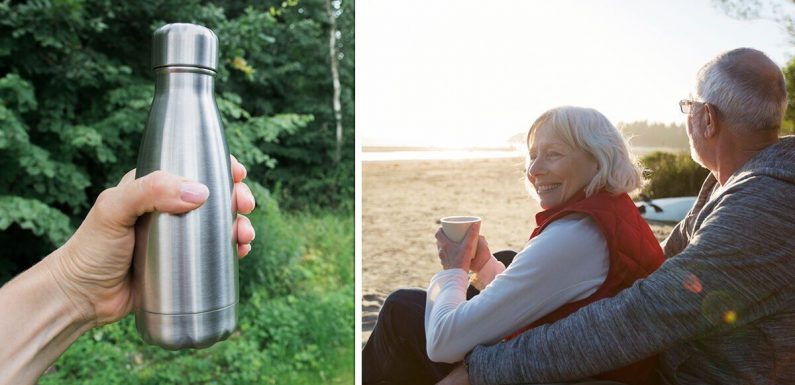 We use your sign-up to provide content in ways you've consented to and to improve our understanding of you. This may include adverts from us and 3rd parties based on our understanding. You can unsubscribe at any time. More info
The camping tips from Eoin Keenan, founder of camping and wellness drink brand Goodrays, include storing eggs in water bottles and starting fires with tumble dryer lint.
Use frozen drink bottles as freezer blocks
Eoin said this trick is a great "space-saver".
He explained: "Make sure everything you pack has a purpose by freezing bottles of your favourite drinks and using them as ice packs in your cooler box.
"Whether that's orange cartons, water bottles or fizzy drinks, get them in the freezer for ice-cold storage."
Start a campfire using egg boxes or lint from your tumble dryer
Eoin explained: "Forget rubbing sticks together, we've surpassed the caveman days and can confirm using used egg boxes or lint from the tumble dryer is a great way to repurpose products.
"Both highly flammable, they can help keep everyone warm around the campfire."
Repurpose a tin can to heat water
This hack can be very useful when having soup for dinner, for example.
All campers need to do is keep hold of their finished tin cans as they can be the perfect container to heat up water whilst camping for that perfect evening brew.
Crack eggs into water bottles for safe storage
Eoin explained: "By storing cracked eggs in water bottles for your trip, they're easy to transport and safely stored.
"It ensures you can enjoy your breakfast sunny side up without any accidents."
Save up sauce sachets from fast food restaurants
Campers should make sure not to throw out their leftover sauce sachets from the restaurant as they can be a great addition to their camping menu.
"Lighter to carry than bottles, you can enjoy your favourite condiments easily for free!" Eoin said.
Commenting on the choice of a camping holiday this summer, he added: "Research has shown substantial support for the assertion that there is a positive correlation between nature-based recreation and mental health.
"Studies show that exposure to green spaces and more time spent in nature can have a positive impact on mental wellbeing, resilience, restoration and can decrease levels of anxiety and stress.
"Camping can be a great way to incorporate all of these positive activities into one.
"It is also a great way to spend time with others.
"Wherever you're getting ready to pitch your tent this summer, make it as fun, easy and enjoyable as possible with these quirky hacks that will help you recoup and recharge."
Source: Read Full Article