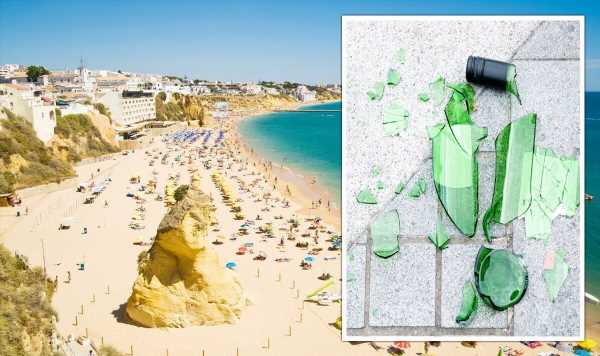 Easyjet CEO says 'nothing new' on the impact of Brexit on travel
We use your sign-up to provide content in ways you've consented to and to improve our understanding of you. This may include adverts from us and 3rd parties based on our understanding. You can unsubscribe at any time. More info
Jose Cerquiera, the hotel owner in the Algarve, said the tourists were "holiday hooligans". He had to call the police on the drunken gang.
Jose said the guests destroyed their rooms, urinated on curtains and exposed themselves to other holidaymakers.
The tourists turned up drunk from the airport and pulled down their trousers and pants while smashing bottles around the hotel pool.
The 66-year-old said the next four nights and three days became a nightmare after the police officers he called said he had to admit them as they had already paid.
The rowdy guests were staying at Jose's hotel, the Regina Apartments near Albufeira's Old Town.
Jose said: "This was large-scale hooliganism and it wouldn't surprise me if it's something they had planned on Whatsapp, had done before and will do again.
"My receptionist was expecting a large family because one person had booked all three apartments on a single credit card through Booking.com and we couldn't tell who was coming in.
"He called me when 20 drunken men in their twenties turned up last Wednesday and told me to come very quickly.
"They were exposing themselves to staff and female guests and I screamed at them in English and told them they weren't going to be admitted and called the police.
"They went to the pool with lots of bottles of alcohol they had brought with them and started breaking bottles around children who were in the water.
"Everyone was frightened. Initially when I called the station in Albufeira the police said they were too busy to come and I had to call a lieutenant in Faro."
The officers that arrived told Jose he had to admit the "hooligans" as they already paid for the apartments.
He said: "Over the next four days why were frightening other guests, behaving scandalously and breaking everything.
"We couldn't go in the apartments because they'd blocked themselves inside saying they didn't want room service.
"We had the passport details of 20 of them but when staff got in on Sunday they discovered three other men who weren't even checked in."
After receiving no help from the police, Jose contacted the UK Foreign Office on an emergency number.
He said: "We've dealt with a lot of the financial damage that was caused but we're struggling to replace a PVC door that was broken and I've had to close an apartment I'd normally be renting for around £160 a day until I can get it fixed.
"And I'm worried about the damage to the apart-hotel's reputation and the negative reviews on social media because that could be a lot worse. I'm 66 years old and I've never experienced a situation like this.
"I'm going public with my grievances because I don't want these men to repeat their behaviour elsewhere which they will if they continue to get away with it.
"Portuguese law stops me from naming them although of course I'd love to. But I intend to speak to the British Consul about what happened to see if there's anything they can do.
"I have a receptionist who comes from Angola and he says he'd never experienced anything like it in the civil war there."
Most of the tourists are believed to come from Wales although the group also included people from Peterborough and Redditch.
Additional reporting by Gerard Couzens.
Source: Read Full Article