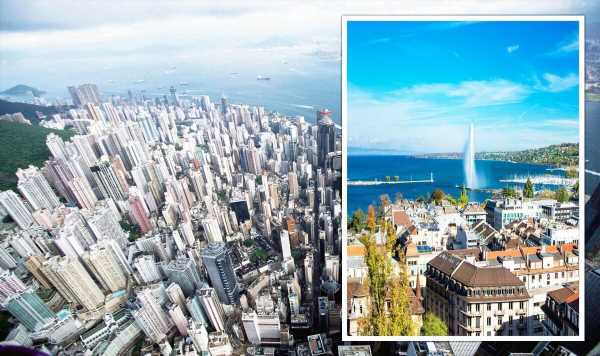 Simon Calder discusses post-Brexit passport rules for travellers
We use your sign-up to provide content in ways you've consented to and to improve our understanding of you. This may include adverts from us and 3rd parties based on our understanding. You can unsubscribe at any time. More info
As the cost of living crisis bites many Britons have seen their household costs rise. But which cities are more expensive than London?
ECA International looked at the prices of groceries, services and utilities around the globe to find the most expensive cities.
Most expensive cities in the world
Hong Kong
New York
Geneva
London
Tokyo
Tel Aviv
Zurich
Shanghai
Guangzhou
Seoul
Hong Kong was ranked as the most expensive destination in the world for British expats.
A coffee at a cafe in the expensive Asian city costs a whopping £3.88 on average. It costs £3.10 in London.
A kilo of tomatoes is extremely expensive in Hong Kong and will set shoppers back £8.57.
Other essentials such as cooking oil and milk were also more expensive in Hong Kong than in London.
Many British expats in Hong Kong work in financial services or schools as English teachers.
Accommodation can be hard to find in the bustling city and many expats live in small one bedroom flats.
New York was ranked as the world's second most expensive city for British expats and the price of accommodation in the Big Apple has risen by 12 percent in a year.
The price of a coffee at a cafe in the city costs £3.78 while a litre of milk is as much as £1.76.
Geneva was the most expensive city for British expats in Europe and expats will have to spend a lot on accommodation in the Swiss metropolis.
The city is also a hub for financial services workers and expats will be able to enjoy easy access to Europe's top ski resorts.
London was ranked as the fourth most expensive city in the world so Britons will not be able to enjoy a bargain by staying at home.
Edinburgh, Manchester and Birmingham also made the top 100 most expensive cities in the world.
Tokyo made the top five most expensive cities for expats. The Japanese capital was closed to tourists for the majority of the pandemic.
Many expats live in Japan for one or two years as it can be very difficult to gain long-term residence.
Tel Aviv is also one of the most expensive cities in the world while Zurich made the top 10 priciest destinations.
Petrol has driven up prices around the globe with an average rise of 37 percent in cost.
Source: Read Full Article