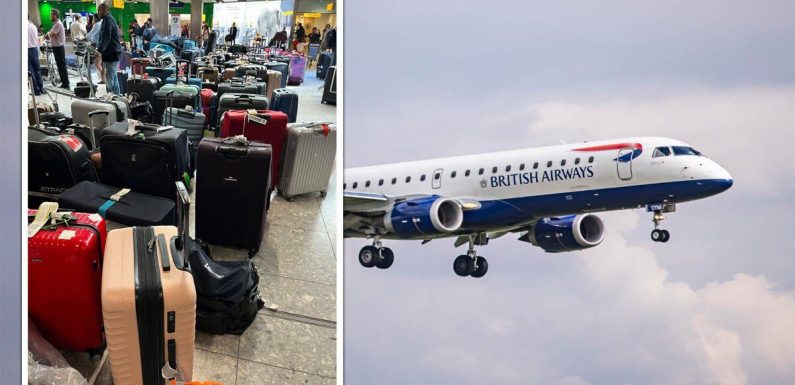 Heathrow Airport: Passengers in long queues on July 1st
We use your sign-up to provide content in ways you've consented to and to improve our understanding of you. This may include adverts from us and 3rd parties based on our understanding. You can unsubscribe at any time. More info
BA has had a difficult year and the airline has cancelled thousands of summer flights. Yesterday, Heathrow Airport announced a passenger cap with around 4,000 seats set to be cut.
According to Aeroroutes, British Airways has cut around half of its planned summer departures to Nice in the south of France.
Prices for flights to Nice on British Airways from London Heathrow in August have soared with some as much as £600.
British Airways will operate far fewer flights than originally planned this summer following travel chaos.
Heathrow has now ordered airlines to stop selling summer tickets after introducing a cap of 100,000 passengers per day.
British Airways cancellations (affected destinations)
Athens
Barcelona
Faro
Frankfurt
Gibraltar
Istanbul
Malaga
Marseille
Nice
Palma de Mallorca
Rome
Venice
At Gatwick Airport, some British Airways flights to Amsterdam, Bordeaux and Venice have been axed for August.
Passengers are entitled to another flight on their intended day of travel if there is a seat available.
This is the case even if the only available flight is on a rival airline or in a higher class of seat.
Britons could qualify for cash compensation if a cancellation is made less than two weeks in advance and is the airline's fault.
More Britons are likely to be impacted by cancellations after Heathrow introduced a passenger cap.
The airport CEO said: "Over the past few weeks, as departing passenger numbers have regularly exceeded 100,000 a day, we have started to see periods when service drops to a level that is not acceptable: long queue times, delays for passengers requiring assistance, bags not travelling with passengers or arriving late, low punctuality and last-minute cancellations.
"Our assessment is that the maximum number of daily departing passengers that airlines, airline ground handlers and the airport can collectively serve over the summer is no more than 100,000.
On average only about 1,500 of these 4,000 daily seats have currently been sold to passengers, and so we are asking our airline partners to stop selling summer tickets to limit the impact on passengers."
However, Willie Walsh, director general of the International Air Transport Association, said: "To tell airlines to stop selling, what a ridiculous thing for an airport to say to an airline."
The former boss of BA said he was surprised that Heathrow hadn't sorted out its issues for the summer season.
Passengers with flights booked with Virgin Atlantic could also be impacted by the passenger cap.
The airline said it was ready to deliver its full schedule but supported proactive measures by Heathrow.
Source: Read Full Article