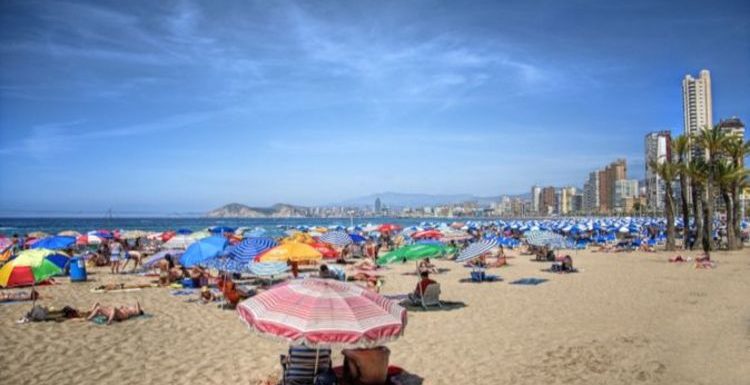 Killer shark spotted near beach in Benidorm
We use your sign-up to provide content in ways you've consented to and to improve our understanding of you. This may include adverts from us and 3rd parties based on our understanding. You can unsubscribe at any time. More info
Beautiful beaches, vibrant nightlife and fantastic weather have made Benidorm one of the UK's top tourist destinations. As holidaymakers regain confidence to travel, British travellers are once again packing out hotels at the Spanish hotspot.
Hospitality workers have said they are absolutely thrilled to see British tourists back in Benidorm.
While Spain is on the UK Government's amber-list throughout summer, strict nightclub curfews in Benidorm have only just been lifted.
The resort's many hotels and hospitality venues have struggled as tough pandemic restrictions discouraged UK travellers from visiting.
Although the number of British visitors to Benidorm is still lower than in previous years, Brits now make up over 10 percent of international tourists in Benidorm.
Currently Spanish tourists are the leading nationality in Benidorm in September, forming almost three quarters of total guests.
As the pandemic state of emergency has ended in Spain, it has become easier for Spaniards to travel across different regions.
British travellers have been the leading international tourists in Benidorm in September, making up 11.2 percent of visitors to the hotspot.
Before September, British tourists had only formed five percent of all international tourists to Benidorm, reflecting a much quieter summer season than normal.
Belgian, French and Dutch tourists made up the next largest groups of international tourists in Benidorm.
Many hotel workers have spoken about how much they missed seeing British holidaymakers in the resort.
A busy September season could help many Benidorm hotels, restaurants and bars recover from lost pandemic earnings.
Toni Mayor, president of the hotel association HOSBEC, said: "If the escalation of international tourism continues, we could be facing an acceptable month of September in Benidorm."
Hotels in Benidorm have managed to fill seven out of ten beds in September, a vast improvement on the summer season.
The recent curfew lifting is also expected to encourage British travellers to return to the region as Benidorm's nightlife scene reopens.
Rules on table numbers in restaurants and bars have also been relaxed and establishments can now seat up to eight guests per table indoors.
One tourist tweeted: "Benidorm is on it's way back" with a picture of the resort's nightlife district.
Another tweeted: "Had a great night in Benidorm watching a Take That tribute band" with a video of a Gary Barlow lookalike performing.
Any UK travellers to Benidorm must follow the latest rules and regulations which include taking a pre-departure test on arrival to the UK.
After arrival, double-vaccinated tourists must take a PCR test on or before day two, while unvaccinated holidaymakers must take another test on or before day eight and self-isolate for 10 days.
All British travellers are advised to check the most recent local restrictions before leaving for Benidorm.
Additional reporting by Rita Sobot.
Source: Read Full Article