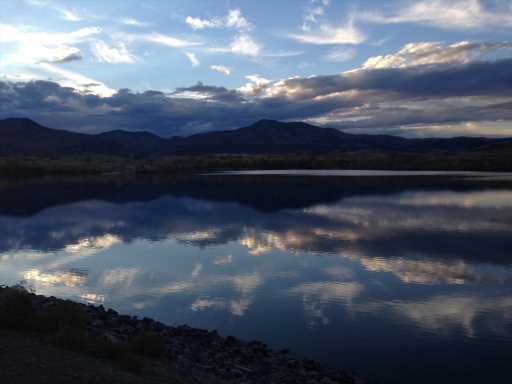 Editor's note: This is part of The Know's series, Staff Favorites. Each week we offer our opinions on the best that Colorado has to offer for dining, shopping, entertainment, outdoor activities and more. (We'll also let you in on some hidden gems).
There is a place in Lakewood where foothills and prairie meet, a quiet refuge from the bustle of Front Range suburbia that ranks as one of my favorite outdoor sanctuaries. A small creek with headwaters 25 miles west on a 14,000-foot mountain feeds into a lake formed by a large flood control dam, emerging as a creek again on the other side.
Upstream from the human-made dam is a lovely beaver dam. I mean no disrespect to the Army Corps of Engineers, but the beaver dam is way more endearing.
This is the heart of Bear Creek Lake Park, one of my regular retreats for running and bike riding. I love it so much, I buy annual passes. It has nearly 15 miles of soft-surface paths for trail running, plus a few miles of asphalt road and concrete bike paths. It is bordered on the south by U.S. 285 and on the west by C-470, but one hardly notices those busy highways in the solitude of this special place.
There are many reasons besides running and riding to visit this oasis that covers about four square miles, starting with a pair of smaller lakes on the western side of the park. Big Soda Lake has a swim beach and Little Soda Lake offers water skiing. Stand-up paddleboarders flock to Big Soda Lake and the larger Bear Creek Lake after work on hot summer evenings.
Bear Creek Lake attracts anglers seeking rainbow trout, brown trout, tiger muskies, yellow perch and small mouth bass. There is a campground with 47 sites equipped with electrical hookups. There are lots of picnic tables and five shelters which can be reserved, accommodating 80 to 300 people. There is an equestrian arena and an archery range.
There is a cool little visitor center with exhibits depicting the park's wildlife species and history. In the late 1800s and early 1900s, the area where the lake is now located was the site of a small town associated with a clay mine, a pottery kiln, a one-room school house and a rail line which transported clay to a brick company in Denver. The town was abandoned in the 1920s and the Army Corps of Engineers built the dam in 1977. Like those at Chatfield and Cherry Creek state parks, it was built for flood control after disastrous flooding in Denver killed 21 people in 1965.
Swimming and fishing aren't the reasons I cherish this park, though. I love running on its asphalt roads and dirt trails, which also attract lots of road cyclists and mountain bikers. There is very little shade in the park, but there is dense vegetation along the creek where there is a trail.
There are four ways to enter the park, three of which provide free entry for runners and riders. Many people park across the street from the Pocket gas station at C470 and Morrison Road, which is a half mile west of the park entrance. From there you can run or ride into the park.
Another way in is to park along Morrison Road at a spot a mile and a half east of C470, and run into the park's north side via one of two trails accessible from the road. Still another way is to park on the south side of the park, adjacent to a roundabout on Simms Street about 0.2 of a mile south of U.S. 285, and run into the park after crossing 285 via an overpass.
Bear Creek Lake Park may be threatened, though. The Corps of Engineers is conducting a feasibility study to determine whether the reservoir should be "reallocated," which is to say repurposed from its original purpose of flood control to store more water for Colorado's rapidly growing population. Depending on whether the decision is made to store more water — and if so, how much — large areas of the park could be inundated, including its riparian habitat along the creek. A group called Save Bear Creek Lake Park has organized to lobby for preservation, and the Lakewood City Council expressed "strong support" for the group's efforts last year.
Daily entry fees are $10 per car ($5 for seniors). An annual pass costs $80 ($50 for seniors).
Subscribe to our weekly newsletter, The Adventurist, to get outdoors news sent straight to your inbox.
Source: Read Full Article