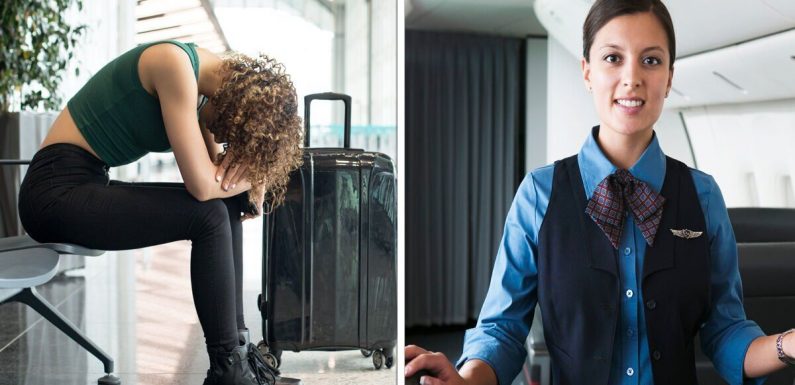 Simon Calder explains your rights if your flight is cancelled
We use your sign-up to provide content in ways you've consented to and to improve our understanding of you. This may include adverts from us and 3rd parties based on our understanding. You can unsubscribe at any time. More info
Flight attendant @thevictorialeighproject shared her top tips for connecting flights on her TikTok. She said passengers need to "be really careful".
The flight attendant said: "You have to be really careful when you book these tickets.
"When you go to book one of those connection flights, make sure to take a look at the connection time.
"If you see that your connection time is six hours, you're going to be stuck sitting in the airport for a really long time."
She added: "It could be a good thing depending on the airport, there might be a lot of food or things to do.
"But if you're in a smaller airport, there might not be anything to do for that whole time.
"And you're just stuck there waiting for your flight."
However, she said passengers could also face issues if the time between their flights was too short.
She said: "Anything under an hour and you are running a risk of missing your second flight because if your first flight is delayed for pretty much any reason at all, you're probably not going to make your second flight."
She said under an hour is a "very short amount of time" to have to catch a second connecting flight.
The cabin crew member said some airlines won't let passengers book tickets if the connecting time is too short.
However, she said passengers need to "be really careful" using deal websites to book plane tickets.
She said: "They don't have a rule on how short your connection time will be so make sure to double check."
The flight attendant said sometimes third party websites will let passengers book connecting flights with no time to change planes.
She said that people at the airport "can't help you" if you booked your ticket through a third party site.
The cabin crew member said she recommends passengers to book a one- to three-hour window between connecting flights.
This will allow passengers to go to the toilet, get some food to eat and catch their plane without having to rush.
If passengers miss a connecting flight they may be able to get an alternative option but could end up stuck in the wrong city.
If tourists do end up waiting a long time at a connecting airport, Doha Hamad might be the best option.
Named the best airport in the world by Skytrax, the flight hub is one of the world's most luxurious.
Another of the world's top airports, Singapore Changi is one of the busiest hubs in southeast Asia.
The incredible airport even has a butterfly garden with a working waterfall to keep passengers entertained.
Source: Read Full Article